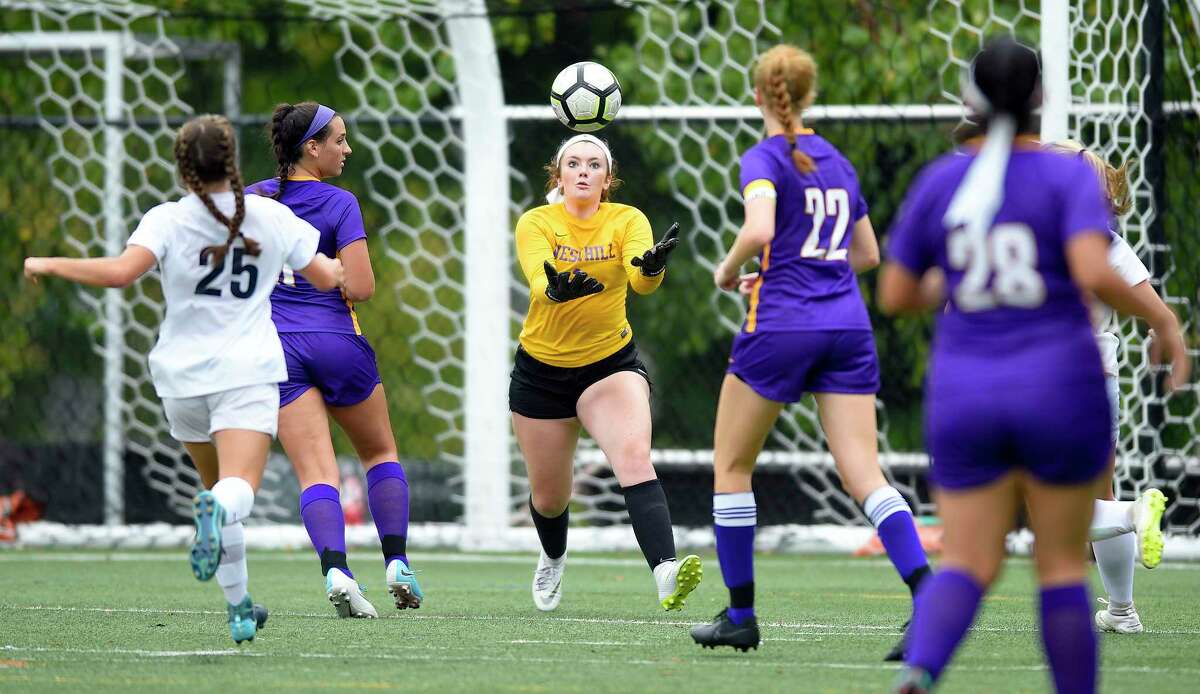 STAMFORD — Westhill goalkeeper Niamh Keogh made saves in every which way Thursday afternoon, even saving one shot with her face after falling to the ground making another save.
Keogh made 18 saves on the day, many in the second half on point-blank shots which seemed destined for the back of the net as the Westhill girls tied Wilton 0-0.
"I have had some hard games before but probably not like this," Keogh said. "I am happy with how we played and getting the tie is better than taking a loss. I always feel confident back there."
Wilton controlled the ball for the majority of the second half but could not finish despite creating scoring opportunity after scoring opportunity.
While leaving with the one point from a tie was satisfactory for Westhill, Wilton walked off the pitch with several players visibly upset at the outcome.
"It's really frustrating. We just needed to want it more," Wilton senior forward Lindsay Groves said. "There was too much emotion from us and we didn't stay focused enough. I think we let (Westhill) get to us and we didn't play like we should and how we can. We let this one slide and it's really, really frustrating because we know we can do better than this."
Groves was relentless up top for Wilton, working all game to create scoring chances but unable to get one by Keogh.
Wilton coach Renato Topali said letting scoring chances go by the boards is not how the Warriors have played so far in 2018.
"This definitely feels like a loss," Topali said. "Credit to Westhill, they worked hard. At the end of the day, we didn't put our chances away. We missed too many good chances. It is early in the season but I think our composure needs to be a little better in the final third."
While Wilton would have liked the three points from a victory, Westhill was glad to get off the field with the point from the tie.
"We worked on making things tighter and making sure players didn't go free and we did a really good job of that," Westhill coach Dave Flower said. "We are happy with the point. More than getting through the barrage, we like to look at progression. Last year, we played very similarly against them at Wilton and they beat us because we let up a couple of goals in the end. Today we did better than that and we progressed."
Sericson
@stamfordadvocate.com; @EricsonSports
WILTON 0 WESTHILL 0
WILTON 0 0—0
WESTHILL 0 0—0
Records: Wi—1-0-1; We—1-0-1
Goalies: Wi—Erynn Floyd 4 saves; We—Niamh Keogh 18 saves