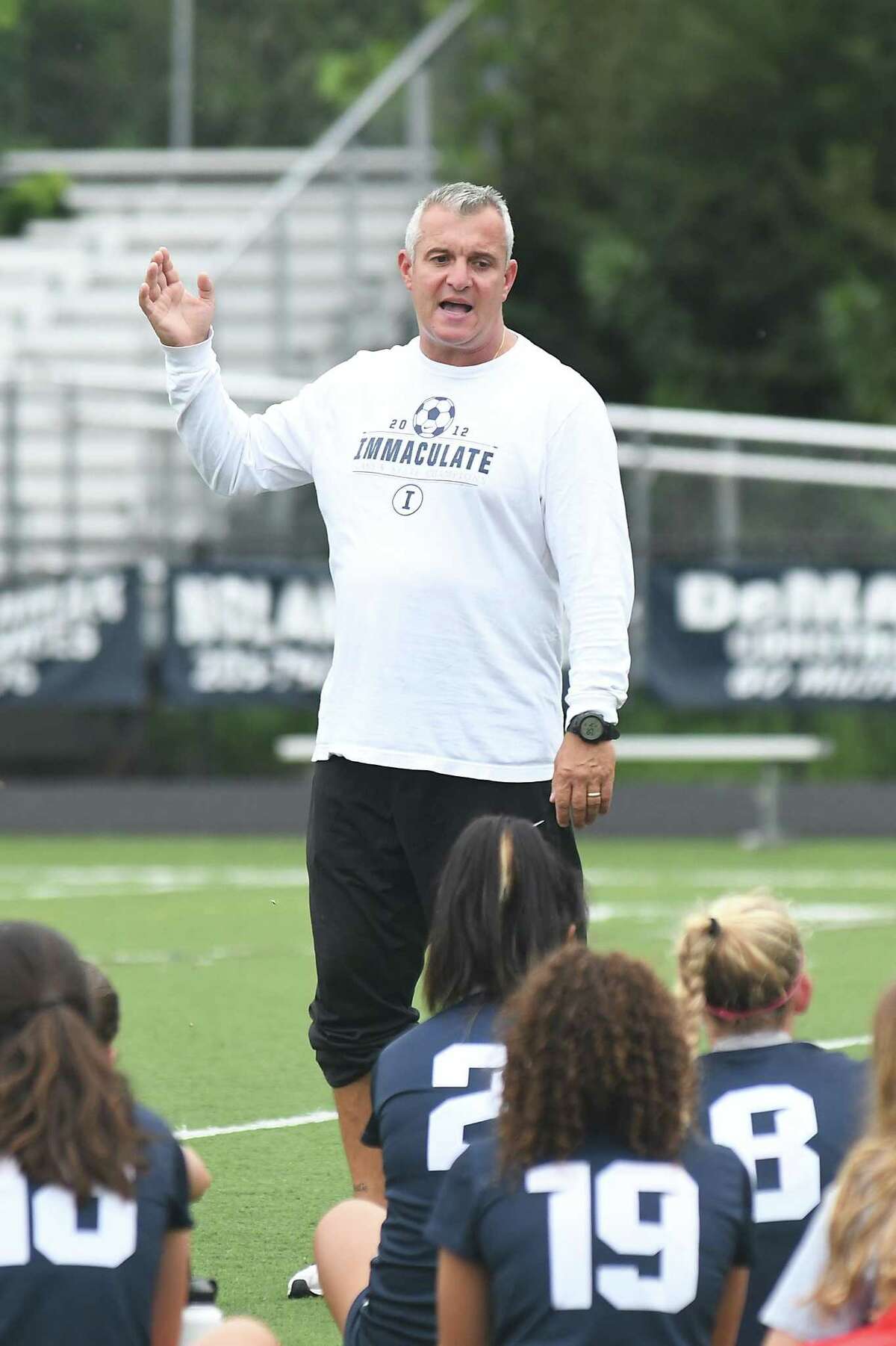 DANBURY — There isn't a younger team in the SWC than the league's defending champion, Immaculate, putting a sizable rebuild up against several other experienced teams looking to claim the top spot.
The Mustangs may be the most dangerous by the end of the season, though.
If recent history is any indication, Immaculate will be a tough out regardless of experience. The Mustangs are 4-1-1 after beating Bunnell 4-0 Wednesday afternoon as five freshman starters continued to hone their skills in the starting lineup.
The win came after Immaculate was blanked in consecutive games by Masuk (a 2-0 loss) and Pomperaug (a 0-0 tie).
"We started off with three wins and had a little slump with a loss against Masuk and a tie against Pomperaug," senior Kayla Mingachos said. "We had to get back on our feet. We hope this win will keep us up for the rest of the season."
Forward Kayla Ondy and wingers Maddie Borque and Giselle Rodriguez have arrived to boost the attack, while Lauren Manning plays at the back. Immaculate has scored 13 times so far this year.
"All of them are solid players and are competing," Immaculate coach Nelson Mingachos said. "I think they're starting to get used to playing girls four years older than them. I thought they were a little timid in the beginning. Six games in I think they understand how they have to play against bigger, stronger, faster girls."
One of the bigger changes comes in goal where freshman Aimee Cirella takes over from All-American standout Kristen Roessler, who was the latest in a string of excellent keepers at the school and is now at Central Connecticut. Cirella has four shutouts in six games to start her career.
"Aimee is another one of those goalies who has come through Immaculate and is going to have a special career," Mingachos said. "She knows all the shoes she's fallen into. She's been as solid as she can be so far. She's going to be special."
Sophomore Henny Rodriguez is another newcomer to the team, having transferred from Bethel High.
"It's nice being a sophomore on this team," Rodriguez said. "Being at Immaculate is something new, but it is fun. It's a lot more intense and a lot of commitment being on a varsity team."
Their anchor couldn't have more experience, though. Kayla Mingachos is in her fourth season on the team and pulls the strings — both physically and verbally — in the center of midfield.
"We want her talking to the kids, and the kids respect her," Nelson Mingachos said. "She's a Division I player (Quinnipiac), an All-American candidate. She knows what she's talking about and we as coaches always talk to her and let her know how to talk to the younger kids."
The standard is always high at the school. Immaculate has reached the SWC final three times in the last six seasons and captured three state titles in that time. The Mustangs were bumped down to Class S this year and will be one of the favorites there.
Most of Immaculate's challenging matches take place in the season's final stages as Newtown, Weston and ND-Fairfield close the league season. By then the freshmen five will have covered plenty of miles at Mustang Valley.
"When we're more relaxed, we are a much better team," Kayla Mingachos said. "We have to play like we always do. Immaculate is always a team that possesses the ball and controls the game, and that's what we have to continue to do."
rlacey@bcnnew.com, twitter.com/ryanlacey11