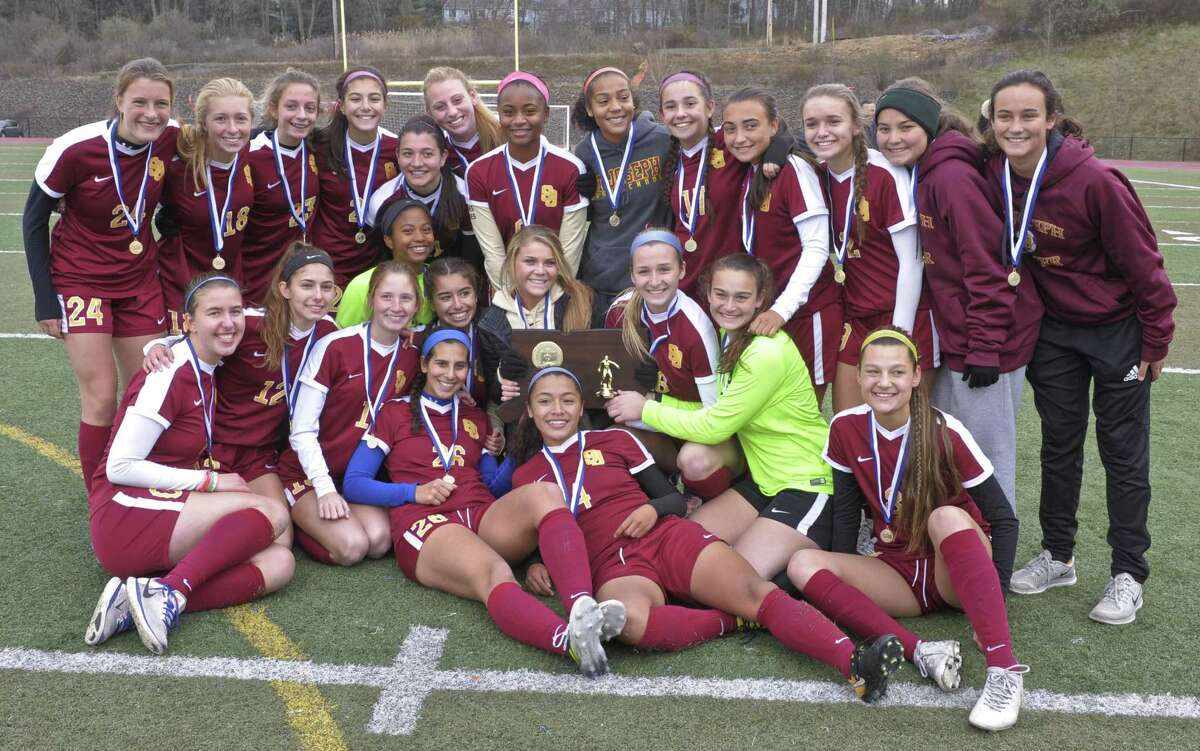 MIDDLETOWN—The third time was the sweetest.
For the third year in a row and fourth time in five years, the St. Joseph girls soccer team is state champions after beating RHAM 1-0 in the Class L championship game Saturday.
As the team celebrated on the field at Rosek-Skubel Stadium on the campus of Middletown High School, Cadets' coach Jack Nogueria took a minute to soak it all in.
"They are all sweet, obviously, but if you ask me right now which is the sweetest I'd have to say this one," Nogueria said. "They are all sweet but this one is a big one because it's three in a row and it's a double winning the conference and state championship.
"It's sweet because we had a lot of road blocks. We started four freshmen, we had a lot of people hurt midyear but these girls kept pushing and kept working."
No. 3 St. Joseph dominated nearly every facet of the game, allowing No. 1 RHAM very few quality scoring chances while dominating control of the ball throughout.
The Cadets midfield, led by junior Jessica Mazo, was simply dominant in winning the majority of 50/50 balls and keeping possession of the ball all morning.
St Joseph wins third straight Class L championship 1-0 over RHAM #ctgsoc pic.twitter.com/Hj8FemrMGn

— Scott Ericson (@EricsonSports) November 18, 2017
RHAM coach Nick Libera said he was pleased with the effort of his team but the St. Joe's midfield was too much to handle.
"I am happy with the way we played and I am proud of our team. I thought we competed and we had our chances," Libera said. "They have a couple great players in the midfield. Jessica Mazo is a big difference maker in the midfield and their forward Maddie Fried caused a lot of problems. They put us under a lot of pressure, they are quick to the ball and strong."
St. Joe's came out applying pressure on RHAM from the opening whistle and never relented, contesting every pass and dribble.
With one shot hitting the crossbar and a few more going just wide in the first half, the Cadets finally broke through early in the second.
Mazo took the ball, dribbling through two defenders on the end line before passing to Fried in the middle.
Fried one-timed the pass from Mazo for a goal five minutes into the second half.
From there it was continued dominance in the midfield and stellar defense led by center back Tory Bike on the backline, turning the ball back out anytime RHAM tried to muster some offense.
"Tory came in as Jenna Bike's little sister and she leaving as Tory Bike, captain and three years state champion," Nogueria said. "She did her own thing which I am very proud of."
PLAYER OF THE GAME
Jessica Mazo, St. Joseph. Mazo was named game MVP for good reason. She dominated play from her center midfield position as the offense ran through her all day. Her play on the goal was quintessential Mazo as she fought through defenders before finding Fried.
"Man, she is special," Nogueria said of Mazo. "We have had a lot of great players in the program but Mazo is Mazo. She has the heart of a lion, the heart of a champion."
QUOTABLE
"Words can't even explain how I feel right now. We worked so hard to get to this point and it just feels great to finish it off," Mazo said. "I didn't want not give up on the ball. She kind of poked it away for a second and I got it back and dribbled around her and saw Maddie was open, slipped it to her and she made a great finish."
ST. JOSEPH 1, RHAM 0
ST. JOSEPH ……….. 0 1 — 1
RHAM ……….. 0 0—0
Goals: SJ–Maddie Fried. Assists: SJ—Jessica Mazo. Goalies: SJ—Veronica O'Rourke 3 saves' R—Sierra Blank 15 saves, Sara Egazarian 1 save