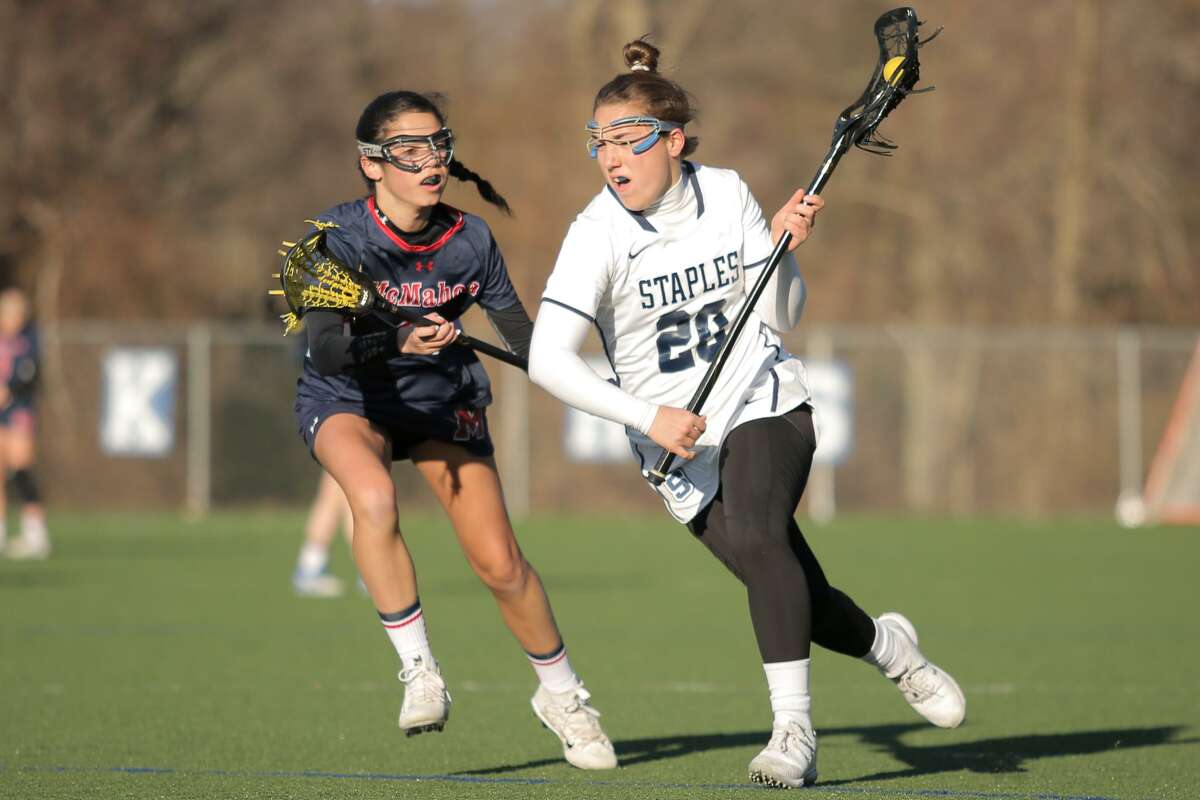 WESTPORT — Staples' girls lacrosse team got its season off on the right foot with a dominant 17-2 win over McMahon at home on Thursday afternoon.
"I think they played as a true team," Staples coach Nicole Gerosa said. "I think we had really balanced scoring. Everyone is really trying from freshmen to seniors. They're going through all the plays, they're working through off the plays, they're doing their own thing. I mean they're playing some great lacrosse."
The Wreckers' offense jumped on the Senators early and often as they scored 13 of their 17 goals in the first half, led by senior Christine Taylor and junior Elle Fair.
"Home openers are always good for the first game," said Taylor, who finished with four goals and three assists. "And coming out strong with this big win is definitely getting us hyped."
Fair, who finished with three goals, and senior Meghan Johnson, who finished with a goal and four assists, helped pace the Wreckers' attack.
But it was the defense that made it difficult for the Senators to get anything going on the offensive end.
"We've got to work harder off the ball," McMahon coach Mary Peters said, "and be a little bit more sneaky and deceptive. We've got to nail our plays. There were moments when we could have been more effective and we missed the opportunities. So we're going to work on capitalizing on those opportunities."
Anna Makover and Caitlyn Hocker each scored a goal for McMahon in the loss.
With one game under their belts, the Wreckers hope to continue to build on the good things from their win, Gerosa said.
"Today was a great way to start," she said. "We now know what we need to work on. The scrimmages are great, but you don't really know until you get in and play a real game. Moving on forward, we know what we need to fix and what we need to work on, and we'll be good to go."
PLAYER OF THE GAME
Staples' Johnson and Fair had big days, but the nod goes to Taylor with her four goals and three assists to anchor the Wreckers' win.
MORE MOMENTUM
"Games like this we can come off of and say what we can improve on and what we did well. So the momentum heading into Westhill, we can come in and try to do the same thing. And try to keep it going until Saturday (against Darien)" — Christine Taylor after the Wreckers' 17-2 win over McMahon on Thursday.
ajohnson@hearstmediact.com; Twitter: @aronJohnson_
STAPLES 17, MCMAHON 2
MCMAHON 2 0—2
STAPLES 13 4—17
Records: McMahon 0-1, Staples 1-0. Scoring: M—Anna Makover 1g, Caitlyn Hocker 1g; S—Christine Taylor 4g, 3a, Elle Fair 3g, Jane Lukens 2g, Abby Najarian 1g, Emma Ashe 1g, Meghan Johnson 1g, 4a, Maria Shorrock 2g, Kathleen Cozzi 2g, Olivia Bessey 1a. Goalies: M—Kate Ely (7 saves); S—Alexa Moro (3 saves). Shots: M—6; S—27