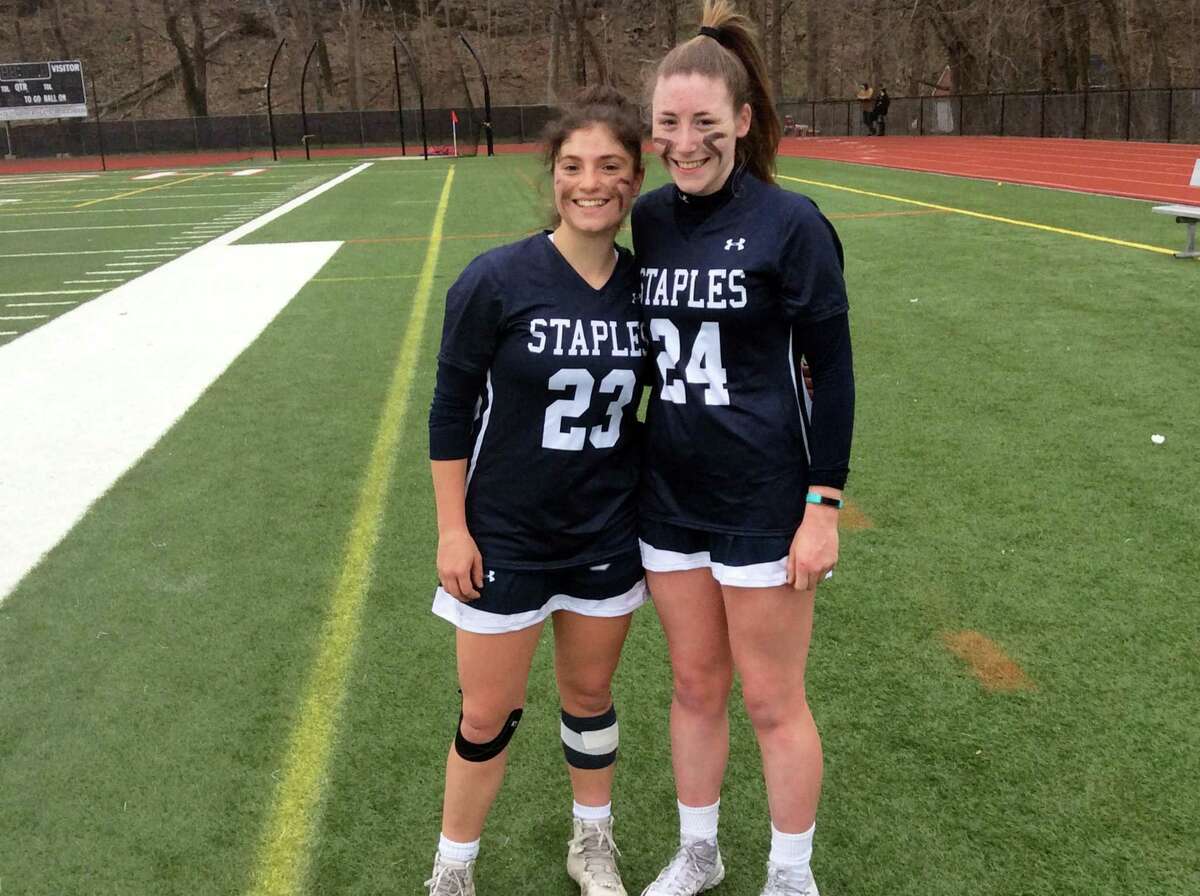 When the New Canaan girls lacrosse team defeated the rival Darien Blue Wave 12-11 in the Class L semifinals last spring, a massive celebration ensued for the Rams. The only item of concern at the time: There was still one more game left to play.
"That was a great win, but the state championship was even better," head coach Kristin Woods said this week. "If we hadn't beat Ridgefield (19-7 in the final), then it would've been just another game. At the end of the season last year, we put four really good games together at the perfect time and hopefully, that can happen again this year."
If the Rams are to have another deep postseason run, their current run of four games will likely loom large.
New Canaan (9-2), which is ranked No. 2 in the latest Connecticut Coaches Top 10 Poll, toppled No. 3 Wilton (7-3), 11-6, at Dunning Field on Tuesday, bouncing back from an 11-9 loss to Cold Spring Harbor (NY) at the Gains for Brains Tournament in New York on Saturday.
Next up? A showdown between the state's two top-ranked teams as the No. 1 Darien Blue Wave (9-1) comes to Dunning Field in New Canaan at 3 p.m., Saturday.
There will be plenty of hype for the rivalry this week, especially after last year's semifinal game, but the Rams are approaching it as just another step on the way to the playoffs.
"It's the big rivalry, but we treat it as just another game," Woods said. "It's a regular-season game, so we'll put our best foot forward and see what happens."
It doesn't end there, either, as the Rams will host the Bronxville (NY) Broncos at 4:45 p.m., Tuesday, May 7.
Among the keys for New Canaan has been the play of the defense, which was in fine form against Wilton, as the Rams outscored the Warriors 8-1 during the second half,
"Defensively our unit starting with Caroline O'Dea in goal and then Caroline Schuh, Natalie (Lopez), Lizzy (DeMarino), Nora (Belodeau), and Katelyn Sparks has been playing very well," Woods said. "They're all juniors and seniors so it's a great core defense to have."
Then there's the play of Jane Charlton, a junior midfielder who has committed to Duke. Charlton seems to shine against the biggest opponents, and has already scored six goals in a game twice this season: Against Longmeadow (Mass.) and Wilton — all New Canaan victories. She also scored the game-winner at the buzzer to beat Ridgefield 6-5 at Tiger Hollow on April 22.
Charlton missed about half of her sophomore season with an injury, but is rolling this spring. Woods said she's also started shooting more and that's paid off with the great offensive output.
"This year, she's healthy and she has the experience," Woods said. "She's playing with a lot of confidence. She's been improving and making sure she looks at the cage. There were a few games at the beginning of the season when she didn't even shoot. So now, we're making sure we're looking to go to goal and taking advantage of our best opportunities for her and everyone else."
Following the games with Darien and Bronxville, the Rams have three regular-season remaining and will be looking to put everything together for the playoffs.
"We're focusing over the next few weeks with putting a whole 50 minutes together," Woods said. "We've been playing well in either the first half or the second half, so we need to really get that complete game put together."
A FIRST FOR ENFIELD
Being a new varsity program is never easy and wins can be difficult to come by.
For the Enfield Eagles, it was finally time to soar to victory.
Led by four goals from junior Rachael Tweedlie and a hat trick from senior co-captain Bella Laramee, the Eagles scored the program's first win at the varsity level, defeating Bristol Eastern 12-9 Monday in Enfield.
The Eagles had played a junior varsity schedule for the past two years before moving up a level this spring. They lost their first five games before Monday's win.
"The team is really starting to step it up," head coach Kelsey McGuire said. "It hasn't been easy going up against some of these varsity teams but I can honestly say the coaches have seen improvements in every game. We worked on changing our mindset and the girls realized the competition they are up against. The girls have worked hard at practice and it is showing on the field."
One of the biggest factors for Enfield has been keeping the outlook positive despite some of the defeats.
"I think a key piece has been keeping morale up after some of the tough losses," McGuire said. "To that I will credit the entire team but especially our captains: Nicole Prosinksi, Bella Laramee, and Emily Marullo."
The Eagles' team is filled with younger players, as just six seniors — the three captains along with Rebecca Angelica, Mariah McBride and Jazmyne Quiles — are on a roster of more than 30.
In addition to the seven combined goals from Tweedlie and Laramee, Enfield also had two goals from Marullo, and one each from sophomores Cassidy Langevin, Riley Bridge and Alexia Morelli.
Emma Rubin, a freshman, started at goalie and made nine saves to help nail down the victory.
"I think the key to winning the game on Monday was our passing and transition game," McGuire said. "We've been working hard at moving the ball up the field and that showed on Monday. Our offense made some great passes and kept the ball moving for some open shots. Our defense also stepped it up by stopping some fast breaks."
Moving forward, McGuire and her assistant coaches Kelly Mazzone and Coach Michelle Burlingame are hoping to see the team improve with experience.
"The coaches look forward to seeing the growth we will continue to make this season," McGuire said.
Enfield hosts Tolland on Friday at 4:30 p.m., with home games against Berlin and Northwest Catholic on tap for next week.