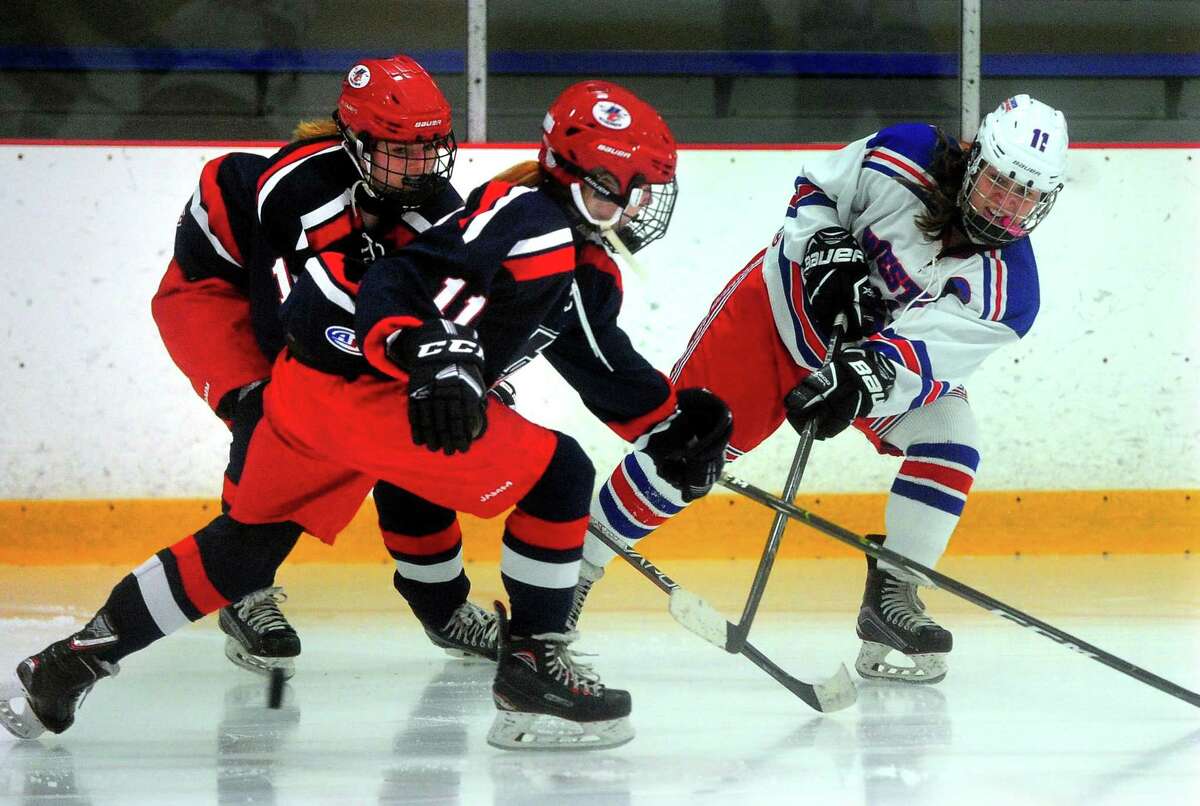 TOP PERFORMERS
Caitlyn Caldon, ETB: Caldon amassed 35 saves and allowed just one goal to help ETB tie the Amity co-op, 1-1, on Jan. 4 at Astorino Rink in Hamden. For the season, Caldon has a 1.49 goals against average and a .939 save percentage.
Demeri Carangelo, Hamden/Wilbur Cross/Lyman Hall: Carangelo had a hat trick and an assist for four points in the Hamden co-op's 10-8 loss to West Haven/SHA last Wednesday.
Tess Csejka, Amity/North Haven/Cheshire: Csejka had four points on two goals and two assists as the Amity co-op topped Hamden/Wilbur Cross/Lyman Hall 6-2 at Astorino Rink on Saturday.
Sidney Falterer, Fairfield co-op: Falterer racked up 51 saves as the Fairfield co-op tied defending state champion New Canaan 3-3 at the Wonderland of Ice on Friday. Falterer had 40 saves versus New Canaan earlier this season, and now has more than 130 in her last three games against the Rams.
Megan Froelich, West Haven/SHA: Froelich collected five points with two goals and three assists as West Haven/SHA won a slugfest with the Hamden co-op, 10-8, last Wednesday at Astorino Rink.
Kaleigh Harden, New Canaan: Harden scored two goals in the third period as the Rams topped Greenwich 4-1 at the Darien Ice House on Thursday. Her first goal was a killer, as she found the net just 40 seconds after Greenwich had closed the gap to one.
Sam Henchcliffe, Fairfield co-op: Henchcliffe scored four goals in two games as the Fairfield co-op downed Branford/North Branford/East Haven 3-2 on Saturday, and Stamford/Westhill/Staples 5-3 on Monday.
Bethany Karp, Notre Dame-Fairfield: Karp, a junior goalie, collected 80 saves over two games earlier this month. She returned from an injury and, in her first game back, made 41 stops in a 6-2 victory over Guilford at The Rinks at Shelton on Jan. 3. Karp then made 39 saves in a 2-1 loss to the Daniel Hand co-op at the Northford Ice Pavilion on Jan. 8.
Grace Melanson, Simsbury: Melanson had a hat trick in the Trojans' 7-2 victory over ETB last Wednesday. Two of the goals came in the first period when Simsbury took a 4-0 lead.
Taylor Nowak, West Haven/SHA: Nowak scored four goals, one each in the first and third periods, and two in the second, as the Sharks edged Notre Dame-Fairfield, 6-5, at Bennett Rink on Saturday.
Daniella Vickerman, Guilford: The sophomore forward tallied four goals for more than half of the Indians' scoring in a 6-1 victory over Branford/North Branford/East Haven at Veteran's Rink in East Haven on Friday.
GAMES TO WATCH
Darien vs. Greenwich at Hamill Rink, Thursday, 8 p.m.: This is the second meeting of the season between the two FCIAC powers. Darien won the first meeting 2-0, and took three of four clashes last year. Greenwich, however, won a big one when they defeated the Wave in overtime of last year's FCIAC semis.
Greenwich vs. West Haven/SHA at Bennett Rink, Saturday, 1 p.m.: Greenwich's stretch of big games continues with a road trip to take on an SCC contender. West Haven entered the week undefeated, while Greenwich had just two losses to Darien and New Canaan.
Darien vs. Suffield co-op at Enfield Twins Rink, Saturday, 5:20 p.m.: The Blue Wave heads north to take on unbeaten Suffield in an FCIAC-CCC showdown. These two teams last met in the 2018 state championship game, with Darien winning 5-2.
New Canaan vs. East Catholic co-op (ETB) at Newington Ice Arena, Saturday, 6:35 p.m.: Another inter-conference battle pits defending FCIAC and state champion New Canaan, against perennial contender East Catholic of the CCC.
Amity vs. Simsbury at the International Skating Center, Saturday, 7:30 p.m.: The Amity co-cop, which has a 7-2-1 record this season, takes on unbeaten Simsbury (6-0), which owns the top spot in the state point rankings. Simsbury has allowed just six goals this season.
West Haven/SHA vs. New Canaan at Darien Ice House, Monday, 6 p.m.: A meeting of the top two seeds in last year's state tournament. Both teams were ranked in the top six in the state standings entering this week.
Simsbury vs. Suffield co-op at Enfield Twin Rinks, Monday, 8:10 p.m.: Simsbury and Suffield are both unbeaten this season, so something could give here. They'll play twice in a span of six days, as Simsbury hosts the second game on Saturday, Jan. 25.
Darien at Morristown-Beard (NJ),, Wednesday, 4:45 p.m.: The Blue Wave visits the New Jersey power in their annual meeting. Darien won this meeting for two straight seasons, before Morristown-Beard took the game last winter, 3-1.