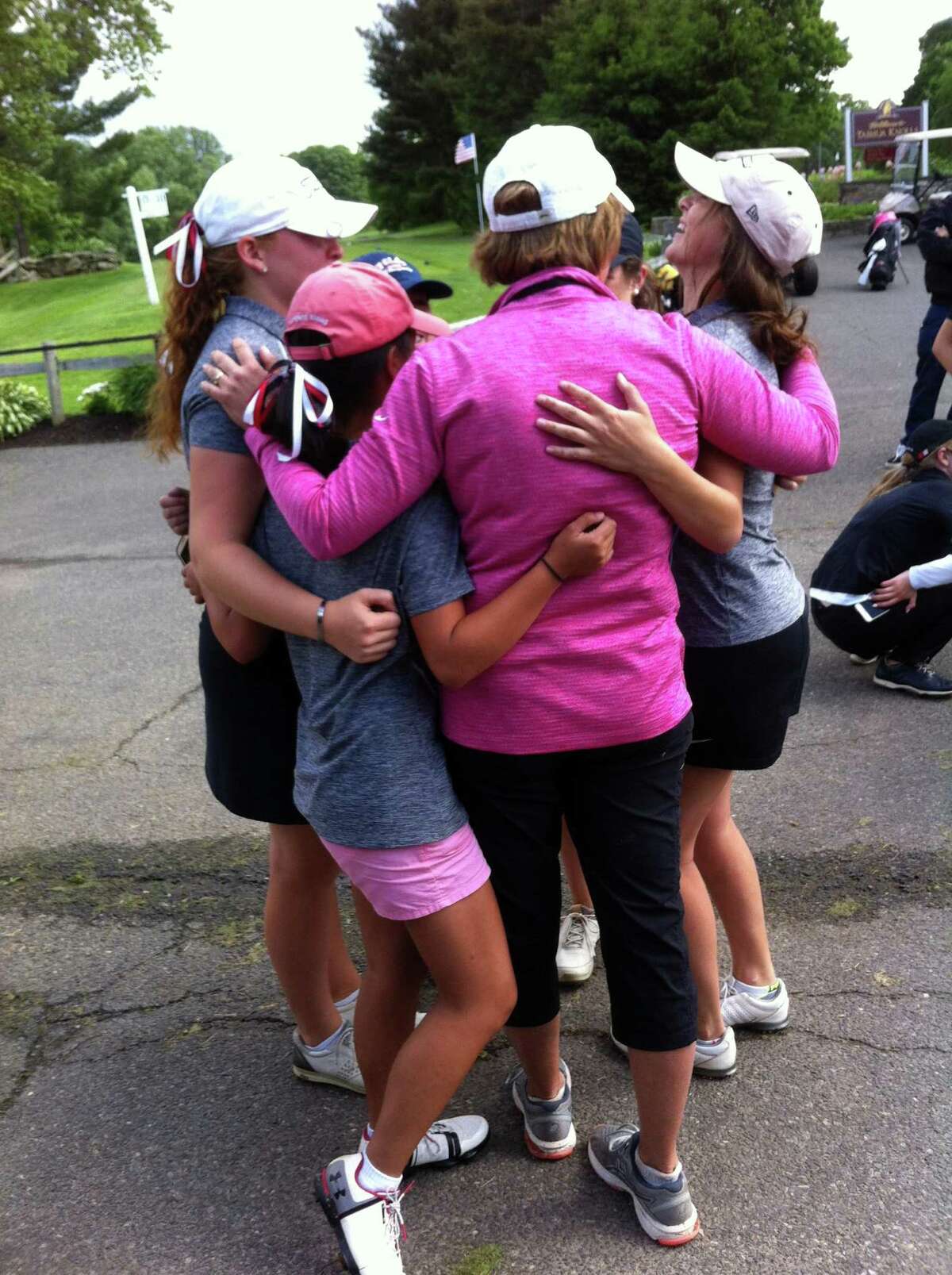 TRUMBULL — New Canaan and Fairfield Warde finished in a tie when they met during the regular season, so what happened when the two formidable girls golf teams competed in the CIAC Championship on Tuesday? They finished their respective rounds of 18 with the same team aggregate scores, of course.
Yet Tuesday's tie had to be broken.
After the Rams and Mustangs each registered a state record team score of 327 in the championship tournament held at Tashua Knolls Golf Club, more golf was played to determine the team title.
And New Canaan successfully defended its title by the slimmest of margins.
Edging Fairfield Warde in a three-hole, aggregate playoff, New Canaan captured its second straight state championship. The Rams shot a 54, which was played on the course's 10th-12th holes, while the Mustangs carded a 55. Five players from each team played each hole, with the top four scores counting toward the team total. This marked the second consecutive year that New Canaan placed ahead of Warde for the state team title.
"It feels incredible, coming up here we just tried to go out here and have fun, so for us to win it is that much sweeter," said New Canaan senior Lauren Capone, who shot an 87 over 18 holes. "We tied them during the season, so to have a playoff today was one of the most serendipitous events that could happen. This was my last competitive event and to have a playoff and have us win it was special."
Sarah Houle of Newtown claimed medalist honors at the event for the second year in a row. A senior, Houle shot a 2-under-par 70 to win the individual championship. She was the only player to shoot under par on Tuesday.
"It got off to a good start with a birdie on the first hole, making a 3-footer," said Houle, who proudly wore her first-place medal. "Then I just played steady throughout my first nine — I had an eagle on 14, which really helped me. To end my senior year this way is amazing. I am so grateful."
Wethersfield placed third in the team standings with a score of 359, followed by Glastonbury (359) and Greenwich (369). Fairfield Ludlowe (370), Mercy (371), Newtown (374), Ridgefield (384) and Darien (386) rounded out the top-10 teams. Junior Meghan Mitchell led New Canaan with a 3-over-par 75, while junior Mia Gramesty carded a 77 for Warde.
"I'm very proud of our team, we all did very well," Gramesty said. "We work really well together and we had a great tournament. New Canaan is an amazing team as well. Overall, we had a very strong season."
Said Mitchell: "It matters so much more, because of the playoff, which made it very exciting. We had to focus on what we had to do and go out there and play better. It was such a fun way to win it."
Greenwich sophomore Sydney Nethercott shot a 75 and along with Mitchell, had the second lowest score. Gramesty and Praewa Treekul of Mercy were tied for fourth with a 77.
"I hit a lot of greens in regulation, which made it easier for me," Nethercott said. "I was struggling with my drive today, so it was good that some of the holes were short, because I didn't have to use it on every hole. It's a little nerve-wracking to play in this tournament, but it's also fun playing against this competition."
Junior Jessica Nuzzaci of Warde finished with a solid round of 78, while teammates Bethany Fell and Emily Healy came in with an 83 and 89, respectively.
"That was very exciting, I have never been involved in a playoff before in any tournament," Nuzzaci said. "Our team was really special this year and very consistent — we had a 10-match winning streak during the season. We have a really good team dynamic, so hopefully, we can take it home next year."
New Canaan and Warde significantly improved their team scores from last year's state tourney. The Rams won it with a 348 a year ago, while Warde posted a 354.
"I couldn't ask for anything more, regardless of how it turned out," New Canaan coach Priscilla Schulz said. "There was a lot of pressure on both teams in the playoff, but I think everyone handled it so well. I am ecstatic for the girls and for the seniors."
Julia Bazata shot an 81 for the Rams, placing among the top 10.
For Bazata, it has indeed, been a freshman season to remember.
"I've had a lot of help and support from our upper classmen, who have guided me and have been my mentors throughout the season," Bazata said.
Morgan Hibbert, a junior, posted an 84, while teammate Caroline Addeo, a senior, shot a 93.
"Every year is a grind, but we got through it again," Hibbert said. "My short game improved a lot compared to FCIACs — I just tried to play shot-by-shot."
Molly Healey from Joel Barlow shot an 81, while Meghan DeVille from Mercy posted an 84. Katie Chan (Ludlowe, 86), Bridget Barnsley (Amity, 85), Grace Sunoo (Greenwich, 88) and Alyssa Maiolo (89) also helped pace their respective squads.
"I am really happy with our scores, other than Sydney, our players aren't used to playing 18 holes," GHS coach Marie Shimchick said. "They battled out there and put up some impressive scores at a competitive event."
CIAC GIRLS GOLF CHAMPIONSHIPS
at Tashua Knolls CC, Trumbull
Team scores
1. New Canaan 327* (*won three-hole playoff), 2. Warde 327, 3. Wethersfield 347, 4. Glastonbury 359, 5. Greenwich 369, 6. Ludlowe 370, 7. Mercy 371, 8. Newtown 374, 9. Ridgefield 384, 10. Darien 386, 11. Amity 392, 12. (tie) Staples and Trumbull 395, 14. Hall 401, 15. Newington 406, 16. (tie) Berlin and Masuk 407, 18. Wilton 408, 19. Conard 414, 20. Farmington 426.
Individual results
1. Sarah Houle (Newtown) 70; 2. (tie) Sydney Nethercott (Greenwich) and Meghan Mitchell (New Canaan) 75; 4. (tie) Mia Gramesty (Warde) and Praewa Treekul (Mercy) 77; 6. (tie) Mia Grzywinski (Farmington) and Jessica Nuzzaci (Warde) 78; 8. Alexandra Fox (Ellington) 79; 9. (tie) Molly Healey (Barlow) and Julia Bazata (New Canaan) 81; 11. Caroline Petchark (Waterford) 82; 12. Bethany Fell (Warde) 83; 13. (tie) Leah Ayers (Wethersfield), Meghan DeVille (Mercy), Morgan Hibbert (New Canaan) and Emily McKenna (Wethersfield) 84; 17. (tie) Heidi Kaelin (Glastonbury) and Bridget Barnsley (Amity) 85; 19. Katie Chan (Ludlowe) 86; 20. (tie) Brianna Kearney (Glastonbury) and Lauren Capone (New Canaan) 87; 22. (tie) Anna Montalto (Rocky Hill) and Grace Sunoo (Greenwich) 88; 24. (tie) Alyssa Maiolo (Ridgefield), Jessica Pierzchalski (Newington), Emily Healy (Warde) and Lilly Moreau (Wethersfield) 89.