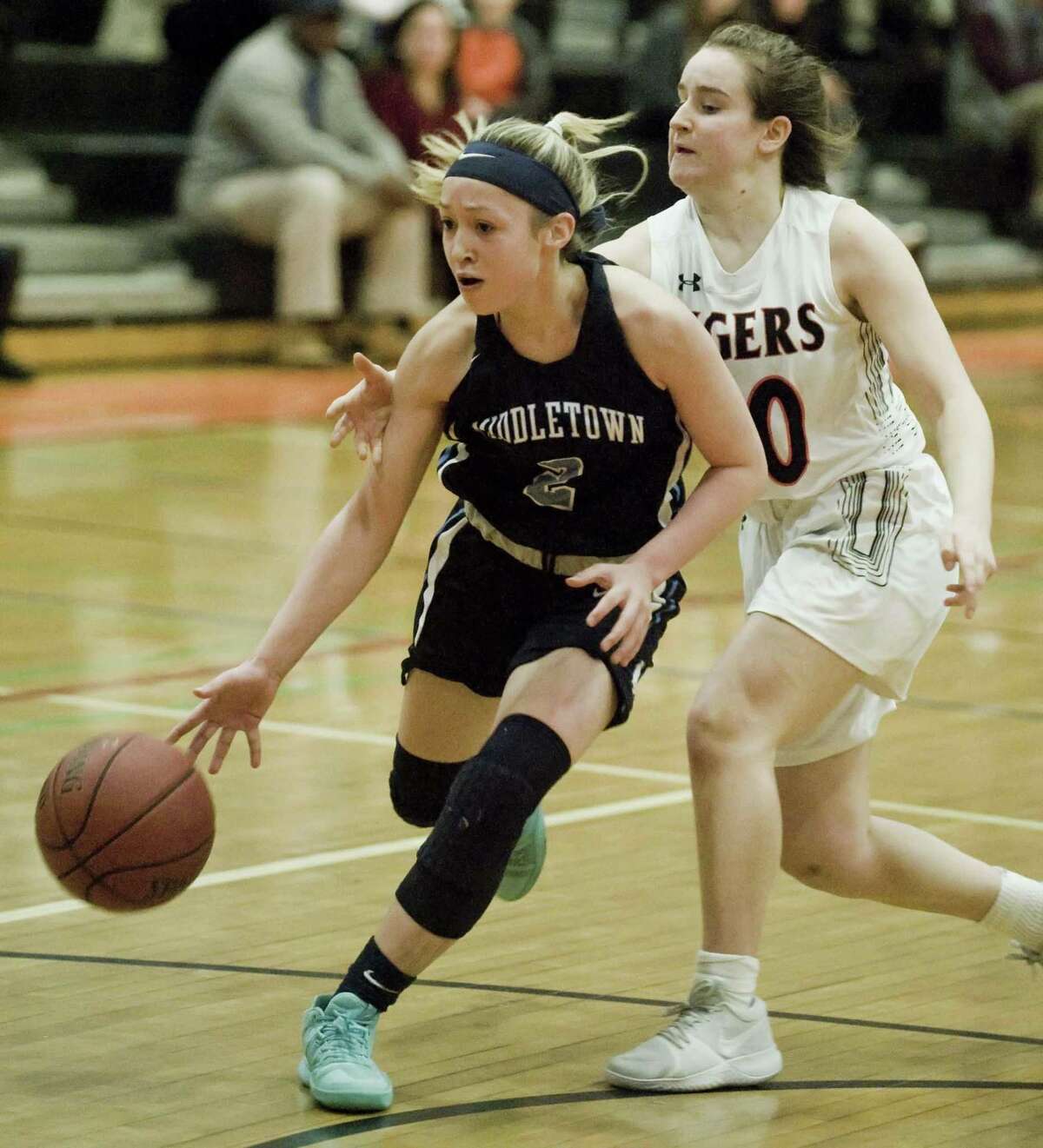 RIDGEFIELD — After putting a fitting exclamation point at the end of the Middletown girls basketball team's victory over Ridgefield with an electrifying steal, drive and layup in the final minute Monday night, Amanda Fudge crumpled awkwardly to the floor under the basket and grabbed the back of her leg in pain.
All night long, the feisty 5-foot-2 senior guard with the non-stop motor, had been zipping around the court at 100 miles per hour, providing constant energy and relentless defense in the Blue Dragons' 51-43 victory in the first round of the Class LL state tournament. However, that final sprint up the floor did her in, as a cramped-up calf sent her hobbling to the bench to watch the final 40 seconds.
It was a brief but well-deserved break after a hard night's work.
Fudge scored 10 points, including seven in the pivotal fourth quarter, to help 19th-seeded Middletown advance past 14th-seeded Ridgefield. Dominique Highsmith led the Dragons with 11 points, and Silvana Barcomb chipped in with nine points, including a 3-point dagger in the fourth quarter.
"I feel like we're the underdogs, so our main objective is to keep on going and let them know who we are," Fudge said with a smile after limping through the hand-shake line with her leg wrapped in ice.
The Dragons (13-8) are set to visit third-seeded Trumbull — the two-time defending FCIAC champion — in the second round on Thursday at 7 p.m.
"I think a lot of people doubted us," said Middletown coach Rob Smernoff, whose team won its third straight divisional title in the Central Connecticut Conference this year. "They have a heck of a team, and when you can beat a really good team, it's a great thing. We felt like, if we stuck to our game plan, we could come out with a win."
For Ridgefield (14-7), Katie Flynn, Kate Wagner, Faith Arnold and Caroline Curnal led the way with eight points apiece. It was another solid season for the Tigers, whose roster was loaded with freshmen and sophomores, and who will only graduate one senior.
TURNING POINT
Ridgefield had led by as many as six in the third quarter, and was still ahead by five in the final seconds of the quarter when Middletown's Mackenzie Dunn sank a baseline jumper to trim the deficit to three.
Middletown then opened the fourth quarter with a 15-1 run to take a 42-31 lead with 2:56 remaining. That run included a conventional three-point play by DeZiar Rose-Daniels, the aforementioned 3-ball by Barcomb and another steal, drive and layup by Fudge.
The Dragons were not out of the woods yet, however, as a 9-2 Ridgefield run over the next 59 seconds — including a huge 3-pointer by Cameron McClellan from the corner, right in front of the Ridgefield High student section — trimmed the Tigers' deficit to four with 1:57 to go.
Middletown shot 5-of-6 from the foul line down the stretch to preserve its lead, and Fudge's last-minute steal and bucket all but sealed the deal.
"The main thing was keeping control of the game and making sure we didn't get down by too much," Fudge said. "That's happened in previous games where we were up by 10, and all of a sudden, we were down by 10."
WHO'S NEXT
Having taken down a perennial FCIAC contender in Ridgefield in the first round, the Dragons hope to do the same to the reigning queens of the FCIAC in Trumbull in the second round. Trumbull — which made it to the Class LL state final last year before falling to New London — has lost only one game this year, that coming on Jan. 20 against, coincidentally, Ridgefield. Trumbull topped 30th-seeded Shelton 44-20 in the first round Monday.
"They're going to present some matchup troubles for us," Smernoff said. "But we certainly have confidence that we can throw some things at them that they're going to struggle with. We're just happy to be playing another day."
MIDDLETOWN 51, RIDGEFIELD 43
Class LL, first round
MIDDLETOWN (13-8)
Amanda Fudge 4 1-4 10; Mariah Monroe 0 0-0 0; Dominique Highsmith 3 5-13 11; Kya Mayo 0 1-2 1; DeZiar Rose-Daniels 1 5-7 7; Mackenzie Dunn 2 2-4 6; Silvana Barcomb 3 1-2 9; Ayanna McCalla 1 5-6 7. Totals: 14 20-38 51.
RIDGEFIELD (14-7)
Kelly Chittenden 0 0-0 0; Katie Flynn 4 0-0 8; Kate Wagner 2 3-5 8; Bella Giordano 0 0-0 0; Faith Arnold 3 1-4 8; Cameron McClellan 1 0-0 3; Caroline Curnal 2 4-8 8; Megan Klosowski 1 2-3 4; Norah McNeece 0 0-0 0; Sabrina Grizzaffi 1 2-2 4; Claire Tannian 0 0-0 0; Kate Garson 0 0-0 0. Totals: 14 12-22 43.
MIDDLETOWN12 9 6 24 — 51
RIDGEFIELD11 7 12 13 — 43
3-pointers: M—Barcomb 2, Fudge; R—Wagner, Arnold, McClellan.
The 2018 CIAC Girls basketball Tournament schedule / scoreboard