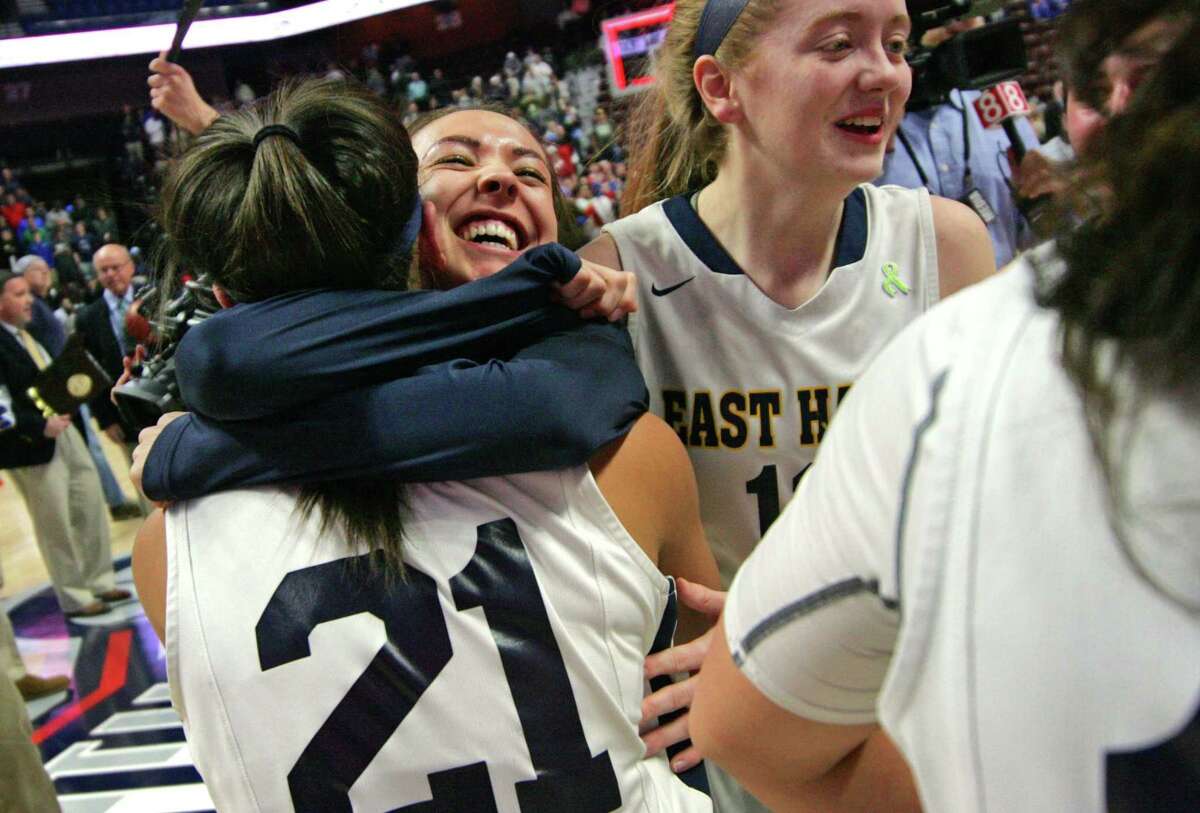 UNCASVILLE — Two times earlier this season, East Haven figured out a way to top Career. The third time the teams met did not look as if it would go the way of the Yellowjackets.
Then, the group of Kylie Schlottman, MaKenzie Helms, Olivia Coyle and Isabella Ragaini took over. Battling back from eight points down with 3 minutes, 10 seconds to go in regulation, Ragaini capped a vintage comeback, draining a bucket from six feet out as time expired to cap a wild 49-47 East Haven victory in the Class M final at the Mohegan Sun Arena in Uncasville on Saturday.
"It is unbelievable," Ragaini said of her game-winner. "I don't think it has sunk in yet. I was just in the right place at the right time. I just knew we were not going to give up. Once we put on the pressure, I knew they were not going to be able to hang with us."
The title for the Yellowjackets was the first in the program's history and caps a season in which East Haven finished 24-3.
"Everybody did something," East Haven coach Anthony Russell said. "It was a big shot, a big rebound, a great hustle play, or something. Everyone contributed. Bella's shot was just a hustle play."
Trailing by six points after Helms drained a pair of 3-pointers, East Haven got within three at 45-42 on a 3-pointer by Helms. With the pressure on the Panthers, the game turned in an instant when Coyle converted a steal into a layup to cut the Career lead to 45-44 with 2:15 to go in the fourth quarter.
"We knew we had it in us," Coyle said after finishing with five points. "We knew what we had to do. It is the craziest feeling right now. We pressured and I was able to come up with the steal. It is the greatest feeling. It is surreal."
The Yellowjackets used a 10-0 run, which ended with a pair of free throws by Schlottman, and another by Ragaini for a 47-45 East Haven lead with less than a minute to go. Career would not go away and evened the game when Carmen Rosemond drained a shot with 14.8 seconds left in regulation.
"I didn't think the pressure would bother us," Career coach Steve Bethke said after his team fell short in a bid for its first state title since 2011. "I was a little bit surprised. I will take the blame for that as much as the kids. But, I couldn't be prouder, especially the last three weeks. We came out and beat Kolbe and Cromwell. To be here today with a chance to win it? I could not be prouder of them."
The rest was up to Ragaini. Coming off a set play, Helms' shot hit the rim and was tipped back by Schlottman. With a perfect read off the wing, Ragaini raced in and grabbed the rebound untouched, before draining the winner as time expired.
"She's a Ragaini," Russell said of the winning play. "She comes from good stock. MaKenzie Helms made a nice play, and then Kylie Schlottman got a hand on it, batting the ball back to Bella. We wanted to run a play where the last shot went up as time expired. We did not want to give them any time."
Added Helms, "We are down and in the timeout, and Coach (Russell) asked if we wanted to blow this game. Obviously, the answer is no, and we just started pressuring them. It turned around once we did that. There are no words to describe this. It is absolutely unbelievable."
For three quarters, the Panthers (17-10) did their best to contain Schlottman and Helms, holding Helms to just five points and Schlottman to 14 with a variety of defensive looks. During that time, Career used an 8-0 run, led by a 3-pointer by Yariliz Santiago, for a 25-19 lead. When Ciara Little connected in the final seconds of the quarter, Career led 35-26 with eight minutes to play.
"We had a few things we wanted to do," Bethke said. "We ended up putting Ciara Little down in the paint. She is our best defensive player. But, in the end, (MaKenzie) Helms is a very good player and she made some great plays for them."
Both teams struggled from the floor in the first half and only managed 35 combined points. The Panthers shot just 13 percent (2-of-16), while East Haven was just a bit better at 25 percent (3-of-12).
For the Yellowjackets, it was the play of Ragaini early as she scored three points in the opening quarter, but more importantly drew three Career fouls early. With Ragaini doing the work inside in the opening quarter, Schlottman scored the final four points for a 9-6 East Haven lead after eight minutes of play.
East Haven had the biggest lead of the first half, twice taking leads of five points, at 11-6 on a bucket by Schlottman and 13-8 on Schlottman's two free throws.
The Panthers quickly washed that deficit away, going on a 9-2 run. Kayla Franklin opened the run with a bucket, and Rosemond connected for the final four points to give Career a 17-15 advantage with 2:31 left in the opening half.
East Haven capped the second quarter on a run of its own, scoring the final three points for an 18-17 lead after Schlottman evened the game with a bucket and Coyle gave her team the lead with a free throw late in the half.
Schlottman led all scorers with 20 points, and added seven rebounds. Helms had 17 points and seven boards, while Ragaini finished with six points and four rebounds.
Rosemond led Career with 13 points, four rebounds, and four steals, while Santiago had 11 points and Hargrove 10 points and seven rebounds.
The 2018 CIAC Winter Championship Weekend Scoreboard (Final)