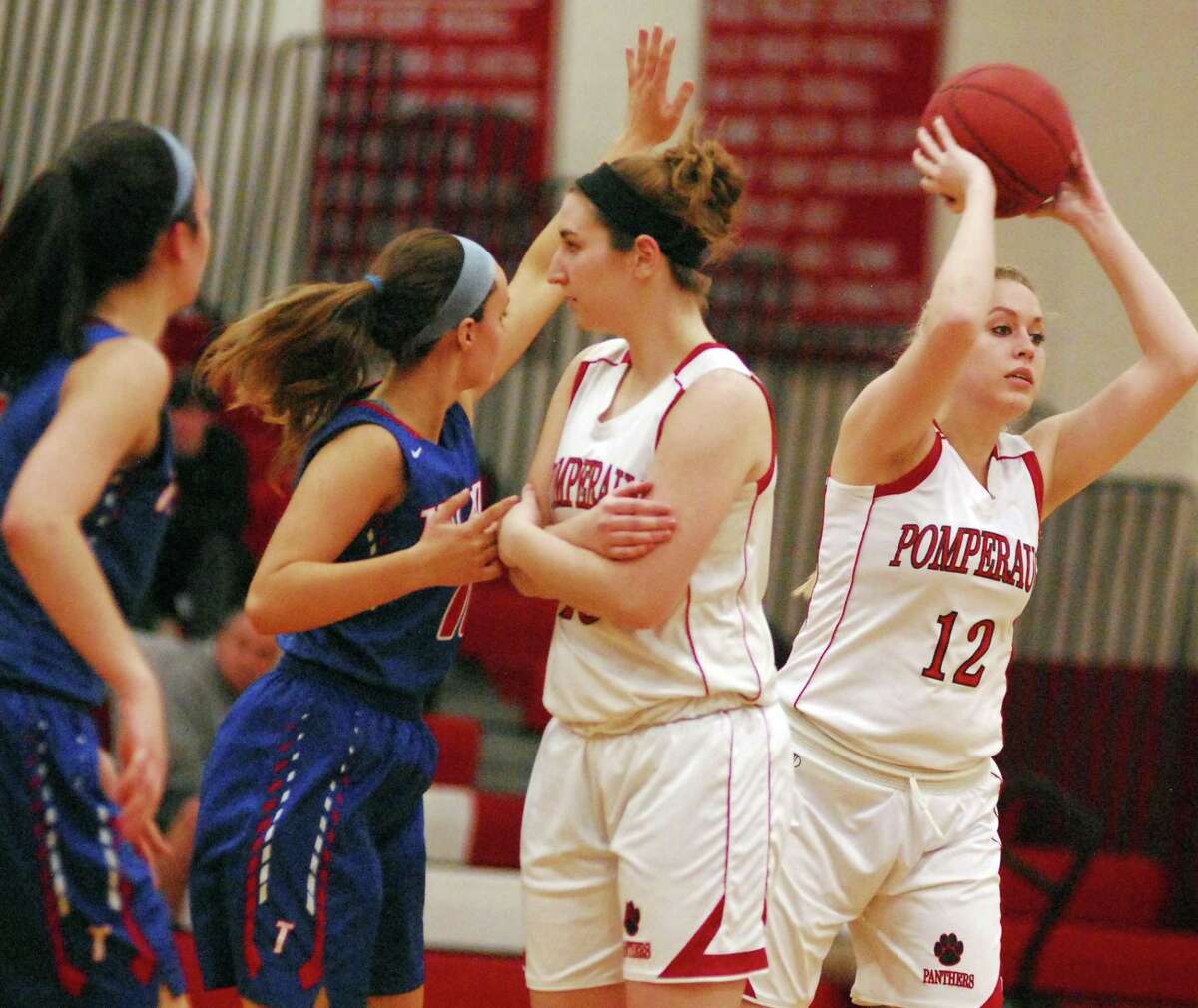 SOUTHBURY — To say the very least, the end of the SWC season was not satisfactory for the Pomperaug girls basketball team.
But fortunately for the Panthers, one big prize lies ahead of them: a possible Class L championship.
Seventh-seeded Pomperaug took its first step toward that Tuesday with a comfortable 51-32 win over Tolland in the first round. The Panthers (16-6) will host No. 10 Wethersfield or No. 23 Lyman Hall in Friday's round of 16.
"Everybody is super-excited and it's a little bittersweet for us," Panthers senior Karli Opalka said. "It's our last time getting on the court together; everyone is excited to go as far as possible."
Behind a brutal late-season schedule, five losses in its last eight games — including a defeat to now SWC-champion Kolbe Cathedral in the quarterfinals — put a damper on what was an excellent regular season for the Panthers. For a senior-laden starting lineup, an appearance at Mohegan Sun for the final would make that a distant memory, however.
"We really liked the way we played against Kolbe in the quarterfinals (a 65-61 defeat)," Pomperaug coach Joe Fortier said. "We had the lead until late and obviously Kolbe was hot. We want to build off of that; if we can get a little hotter than we are now, it's a four-game season."
The Panthers built a double-digit lead in the first quarter, then doubled that lead in the third quarter to lead by as many as 20. Pomperaug led wire-to-wire in holding the opposition to its third lowest point total of the season.
"We played to our strengths and played good defense," Opalka said. "Having a lot of ball pressure was huge."
The closest Tolland would get came early in the third, when senior Sophia Webster (seven points) hit a 3-pointer to cut the Panthers lead to 26-18. Pomperaug woke up with a 15-2 run to ice the game.
With no one more than 5-foot-9 on Tolland's roster, the Panthers had a significant size advantage that heavily aided the game plan. Maggie Lee had 16 points for Pomperaug, while Opalka added 10.
"Most people's game plan is to swarm Karli," Fortier said. "We want to take advantage of that every time; it's not always there, but that's our game plan. That's our strength."
The 2018 CIAC Girls basketball Tournament schedule / scoreboard