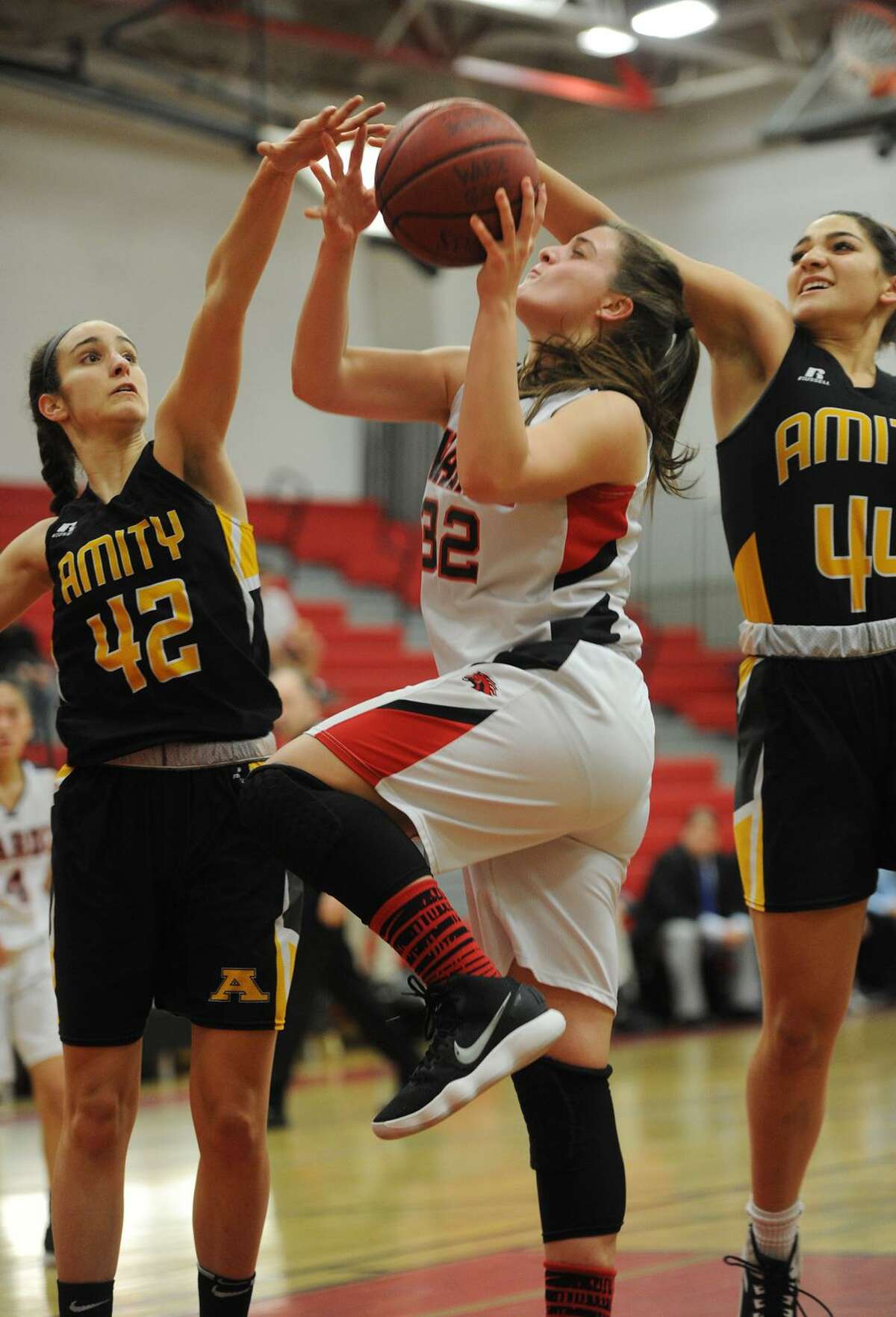 FAIRFIELD — At this point of the season, when the parameters change from simply turning the page to one-and-done, every team's focus becomes single-minded.
Survive and advance.
And that's just what 23rd-seeded Amity did in its first-round Class LL tournament game against No. 10 Warde Monday night, the Spartans survived and the Spartans advanced. Thanks to a stellar performance from Tara Laugeni, Amity held off the determined Mustangs squad 51-38 at the Warde gym.
"This is how I know our team could have played all season," Amity coach Michelle Shoop said. "We knew Warde was going to be tough. They have a great inside presence and we needed to come in and put all the pieces together and we did that very well tonight."
The Spartans (13-10) advance into the second round on Thursday against No. 7 seed Norwalk at 7 p.m. at the Bears' gym. Warde ends its season with a 17-6 record.
"Just a bad night for the Mustangs," Warde coach Dave Danko said. "After what this team accomplished this season, we just were a little slow on our (defensive) rotations, a little slow in transition. Our match-up zone has been holding teams in the 40s all season, yet there were little breakdowns. We dug ourselves a hole and they were the better team tonight."
Laugeni scored 17 points to lead Amity, six of her seven baskets coming in the paint. Jillian Martin added 12, thanks to three key 3-pointers, two that came in a game-breaking third quarter.
"They were a very spaced-out team and that's what we love to see, the openings," Laugeni said. "We focus on that in practice, finding the open areas down in the post. We were able to isolate down low, move the flow and shift their defense and get to those openings."
Amity came right at Warde, attacking the basket whenever the opportunity presented itself, which was a lot as five of the Spartans opening six baskets in the first quarter were layups, allowing them to take a 15-14 lead. And when they weren't working for open looks at the offensive end, Amity was playing some solid defense, controlling the backboards and keeping Warde's top gun, Olivia Parisi, in check.
An 8-3 second quarter-ending surge by Amity — six points coming from Laugeni — gave the Spartans a 25-19 lead at halftime. Parisi, the lone unanimous All-FCIAC first team selection, was held to just five points at the break.
A 19-point third quarter, sparked by those two 3-pointers from Martin, pushed the Amity lead to 44-27 heading into the final eight minutes.
If one play could sum up the entire game, this was it. Amity's Leia Foyer (who had just come into the game) chased down a ball going out of bounds and threw a no-look, behind-the-back pass right to Jenna Van Hise — who was standing all alone under the basket — for a layup.
"We did get a couple of lucky bounces that we hadn't been getting earlier this year," Shoop said. "But that all comes from hustling, being in the right spots and just playing hard."
Parisi finished with 17 points and Cat Allison added 10 for Warde.
"It's wasn't our night, we didn't play our game," Parisi said. "We showed up a little in the fourth quarter, but it was too late. We just got beat."
PLAYER OF THE GAME
Amity's Tara Laugeni. The junior forward scored 17 points, 10 coming in the first half as the Spartans took a six-point halftime lead and never let it go.
NOT IN THE BOX
This was the 27th consecutive season that the Mustangs have participated in the CIAC state tournament, the 25th straight season under Danko.
QUOTABLE
"I'm really proud of all the underclassmen for the way they stepped up this season. We could not have had this kind of season without them." — Warde's Olivia Parisi
Amity 51, Fairfield Warde 38
(at Fairfield)
AMITY15 10 19 7—51
FAIRFIELD WARDE14 5 8 11—38
AMITY (13-10)
Amanda Granados 1 5-6 8, Carly Marchitto 1 0-0 2, Tara Laugeni 7 3-4 17, Hayley Esparo 3 0-0 6, Jill Martin 4 1-3 12, Senna Van Hise 3 0-0 6, Skylar Burzyniski 0 0-0 0, Leia Foyer 0 0-0 0, Meadow Blakeslee 0 0-0 0, Abby Ganun 0 0-0 0. Totals: 19 9-13 51
WARDE (17-6)
Toni Lamparski 1 0-0 3, Ava Fitzpatrick 3 0-0 6, Kristina Krasniqi 1 0-0 2, Cat Allison 4 2-5 10, Caroline Aufiero 0 0-0 0, Olivia Parisi 7 3-8 17, Aleysha Henry 0 0-0 0. Totals: 16 4-10 38.
3-pointers: A – Granados, Martin 3; W – Lamparski
The 2018 CIAC Girls basketball Tournament schedule / scoreboard