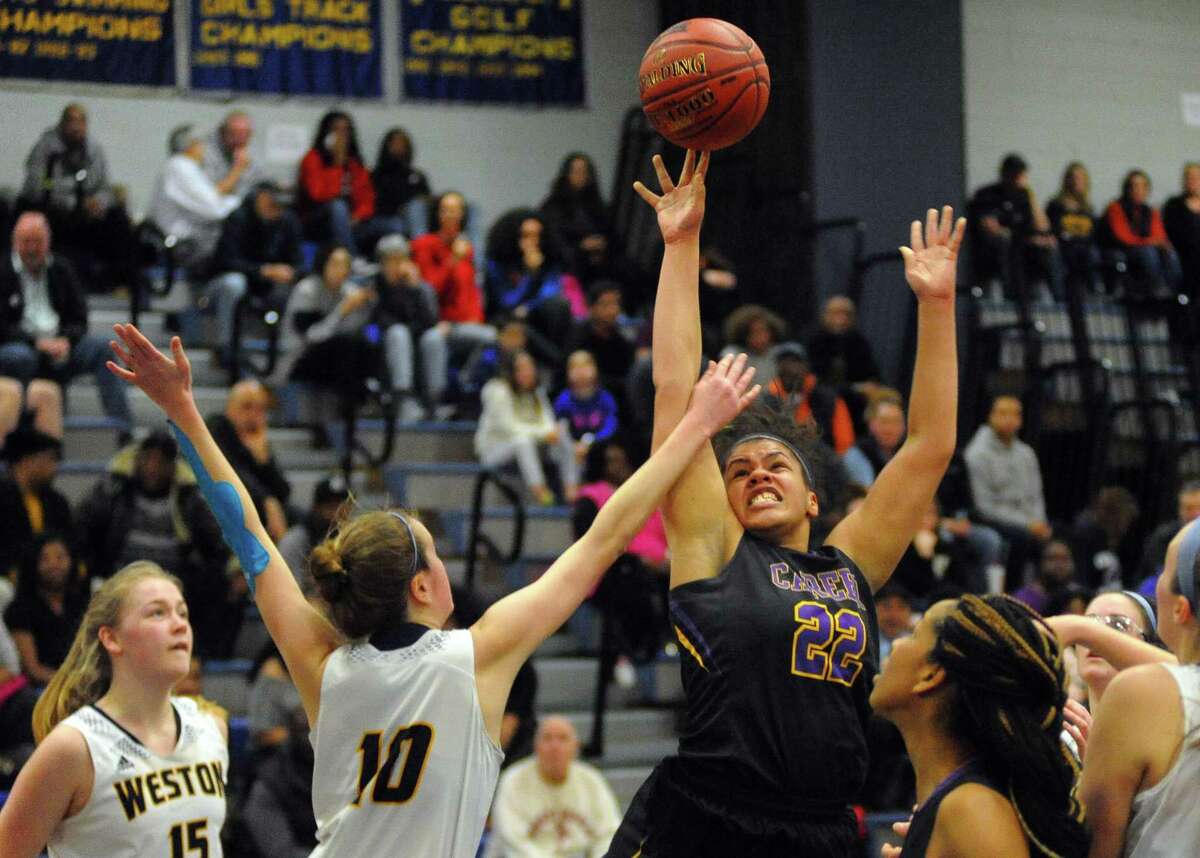 STRATFORD — Sometimes even the most unselfish player needs to take over a game.
Career Magnet senior point guard Ky'Jae Hargrove scored 14 of her game-high 20 points in the second half, leading 20th-seeded Career Magnet to a 39-34 win over Weston in a CIAC Class M semifinal at Bunnell High School on Saturday.
The Panthers (16-8) advance to next weekend's state championship game, where they will face rival and second-seeded East Haven in an all-SCC Class M final. It will be Career's sixth state girls basketball championship appearance and first since winning its third title in 2011.
"It's been's long overdue," Hargrove said, referring to the team's 2011 state championship. "It means a lot to me, but we're not where we want to be yet. We have to keep going."
Weston led by four (23-19) midway through the third quarter when Hargrove stepped up her game. She scored eight of Career's next 10 points, sending the Panthers into the fourth quarter with a 29-26 lead.
"Sometimes you have to be selfish and I've talked to her about that," Career coach Steve Bethke said. "When we were behind, that's what was on her mind. She wasn't going to lose tonight."
"You want to be a leader, and sometimes being a leader means taking over a game," Hargrove added.
While she was handling things on offense, Career's Ciara Little was sparking the Panthers' defensive unit, limiting Weston's top offensive threat Katie Orefice in shots.
The junior guard for the Trojans finished with 16, but only two came in the fourth quarter.
"She's as good a defensive guard as anybody in the state," Bethke said. "She has good basketball IQ and we always (put) CC (Little) on the best."
BOARD-DOM AN ISSUE
Weston might have had the bigger team up and down the lineup, but the Panthers used their quickness to track down caroms all over the court.
In fact, Career dominated the glass from the opening minute to the final seconds.
"We were capable of winning the game, no question, but we struggled on the boards," Weston coach Dan Rosen said. "I think that was the difference. You can't give a good team three opportunities to score."
Bethke thought both teams shot poorly because the rims at the Bunnell gym seemed tight, but his team tracked down far more misses than the taller Trojans.
"We were aggressive on the boards," he said. "They had size compared to us, but we more than held our own in rebounding."
Case in point: In the closing minutes as Weston was in hack-and-hope mode, the Panthers missed three foul shots.
Three times, though, players came up with offensive rebounds.
BUILDING ON THIS
An appearance in a Class M semifinal seemed highly unlikely for the Weston program just five years ago.
The Trojans were 0-20 when this year's senior class was in eighth grade.
This year's senior group — Grace Toner, Georgia Burkhard and Claire DeMarco — ended their careers with an 18-6 record.
"They came into a program that hadn't won a game and some people told them not to bother playing," Rosen said. "Look at what they've helped build. We have a great core. We hope it's sustainable."
CAREER MAGNET 39, WESTON 34
CAREER MAGNET (16-8)
Ky'Jae Hargrove 7 6-7 20, Carmen Rosemond 0 4-9 4, Yarliz Santiago 4 0-0 9, Kayla Franklin 1 0-0 3, Ciara Little 1 1-2 3, Kayla Emery 0 0-0 0, Arkaysee Booker 0 0-0 0, Totals 13 11-18 39
WESTON (18-6)
Katie Orefice 7 1-1 16, Georgia Burkhard 1 0-0 2, Grace Toner 3 0-0 7, Kate Joyce 3 3-6 9, Bridget Angus 0 0-0 0, Jennifer Welsh 0 0-0 0, Claire DeMarco 0 0-0 0, Totals 14 4-7 34
CAREER MAGNET 10 6 13 10—39
WESTON 8 5 13 8—34
3-pointers: CM—Santiago, Franklin; W—Toner, Orefice.