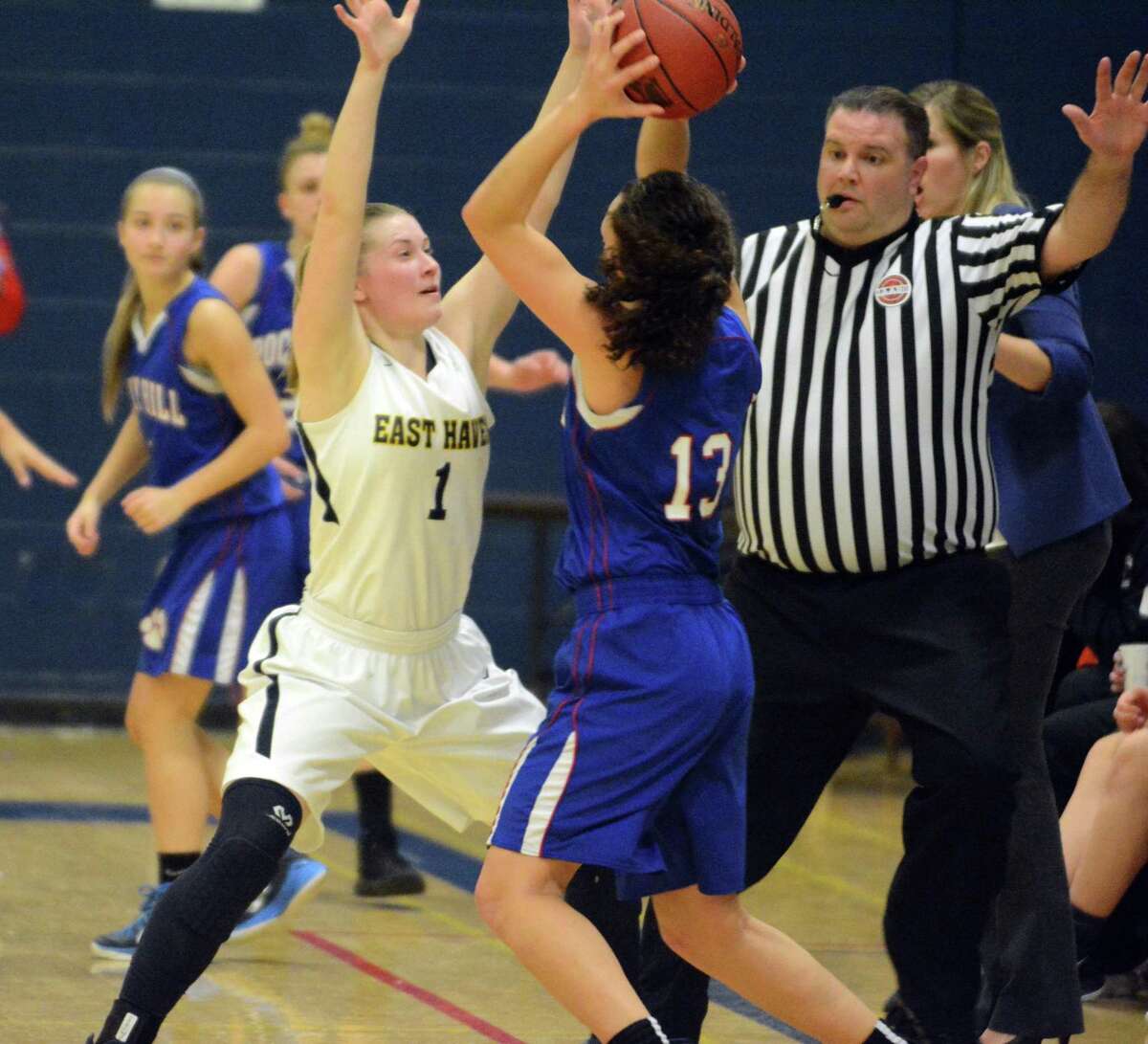 PLAINVILLE — It was far from easy, but East Haven will be going where it has never gone before.
The Yellowjackets earned its first ever berth in a state championship girls' basketball game Friday night by beating Rocky Hill 56-52 in the CIAC Class M semifinals at Plainville High School.
Second-seeded East Haven (23-3) will meet the winner of Saturday afternoon's game between ninth-seeded Weston and 20th-seeded Career in the Class M championship game next weekend at the Mohegan Sun. The Yellowjackets defeated Career twice this season including a 56-54 overtime victory in the Southern Connecticut Conference quarterfinals on Feb. 17.
"It's wonderful," East Haven coach Anthony Russell said. "I am so proud of our girls and how hard they worked. We're glad to be going to there. It's awesome."
For most of the night, it looked as if East Haven's season would come to a screeching halt. The Yellowjackets were outplayed for the first 27 minutes and trailed, 50-43, with 4:59 left when Grace Moore gave Rocky Hill the seven-point lead.
It was at that point that Russell put some added defensive pressure on the ball and Rocky Hill struggled with it, turning the ball over several times.
"We started to put passive pressure in the halfcourt and it disrupted them a little bit," Russell said. "We forced kids to make decisions and do things they normally don't do."\
Proud of the @EHGVB and their coaches for a great win tonight in the @ciacsports Class M Semis! Your heart carried you tonight and you brought our community together! Great night to be an Eastie! Congratulations! #yellowjacketpride #WeAreEHPS pic.twitter.com/alSDbmTRPe

— East Haven HS (@EHHSPrincipal) March 10, 2018
Alexis Pendziwater canned a big 3-pointer to close it to four points, 50-46, with 4:26 to play and then it became a free throw parade for the Yellowjackets down the stretch as they went inside with the ball and were fouled.
After a Pendziwater bucket made it a two-point game, Makenzie Helms (18 points) hit four in a row to give East Haven the lead for the first time since the opening minutes. Then Kylie Schlottman (22 points) hit the front end of a one-and-one to make it 53-50 with 47 seconds left.
Nicole Lukens, who scored the 1,000th point of her Rocky Hill career in the third quarter, hit a runner in the lane with 37 seconds left to close it to one, 53-52. The Terriers had a couple of chances in the final 30 seconds but committed two turnovers.
Meanwhile, East Haven's Olivia Coyle, who missed 15 games due to knee surgery, hit a pair of freebies to make it 55-52 with 19 seconds remaining to ice it.
"You have absolutely no idea how this feels," Helms said. "It's amazing to be a part of it."
East Haven struggled in the first half, committing too many turnovers and Rocky Hill was able to take advantage of offensive rebounds.
"They constantly changed defenses and kept us off balance," Russell said.
The Terriers took the lead at 11-8 midway through the first quarter on a three-point play by Elizabeth DeNardo. They extended it to 18-11 at the end of the quarter on a bucket by Sam Steinman.
Rocky Hill continued to give East Haven fits in the second quarter, taking its biggest lead of the night, 28-16 on a free throw by Nicole Lukens with 4:29 remaining until halftime. Schlottman, who had 14 points at halftime, scored six of those in the next two minutes to pull the Yellowjackets within three, 30-27.
Steinman gave the Terriers a 34-29 lead the break with a layup.
"We were sporadic in the first half and nothing was going well," Helms said. They were cheating towards me, so we weren't getting opening looks."
For Rocky Hill, it was bitter disappointment as the Terriers completed their season at 20-6.
"I think we played a complete of a game as we have," Rocky Hill coach Allyson Smith said. "I don't think you could draw it up any better for us. We came in underestimated and we're devastated, but tonight we gained a lot of respect around the state."