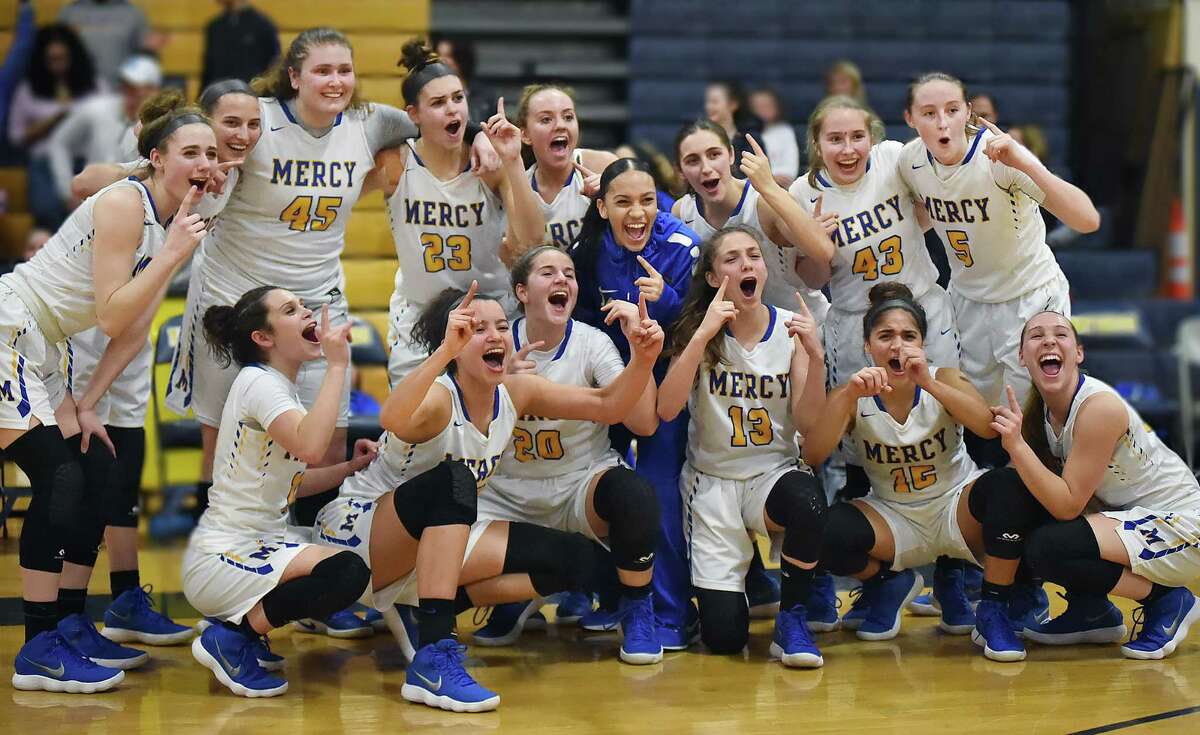 The Southern Connecticut Conference girls' basketball trophy will reside in Middletown.
Again.
For the fourth time in the last five seasons, Mercy captured the SCC championship by beating East Haven, 64-40, Wednesday night before a packed house at East Haven High. The only time the Tigers haven't won the SCC title in the last five years came in 2016 when Hand knocked off Mercy, 48-46, to win its only league crown.
"Winning is fun, but this is a hell of a class," Mercy coach Tim Kohs said. "They put us in a position to win."
The key to the game was Mercy (22-1) starting strong in both halves, especially in the second half. The No. 2 ranked Tigers scored the first 17 points of the third quarter to match East Haven's entire output up to that point as it was 39-17. Bella Santoro (game high 24 points) scored eight of those points.
"Every day we come in and say we're going to get a good start," said Mercy center Meghan DeVille, who scored 19 points and was named the Most Valuable Player of the tournament. "That fuels us the rest of the game."
After that run, it was just a matter of time until the final buzzer. Mercy took its biggest lead of the night, 59-32, with 3:17 to play.
"We're No. 2 in the state, but it feels like we're No. 1," Santoro said. "We work hard every day and we put the extra effort in."
In front of a PACKED crowd at East Haven, @MercyTigers won their 4th SCC championship in 5 years, defeating @EHGVB 64-40 in tonight's conference final. #ctgb @SCCcommissioner @MercyMiddletown @EhHive pic.twitter.com/L9Y70TeDzQ

— CT Sports Now (@CT_Sports_Now) February 22, 2018
East Haven just didn't have any answers for Mercy at that point.
"Unfortunately, the first four or five minutes of the third quarter was so critical," said East Haven coach Anthony Russell.
East Haven, which utilizes the three-point jumper as much as anyone in the area, struggled from the behind the arc all night. The Yellowjackets didn't make a three-pointer until Alexis Pendziwater canned one to close out the third quarter.
"We struggled to get into a rhythm offensively," Russell said. "We got a lot of open looks, but we couldn't knock anything down. If we a few more shots fell in critical spots, it could have been a little tighter."
East Haven looked nervous playing in its first SCC title game, missing badly on its first four possessions. Meanwhile, Mercy center Meghan DeVille was a handful for the Yellowjackets to contend with in the low post as she scored the first eight Tigers' points as they took a quick 8-4 lead. However, DeVille was forced to the bench with two fouls. Kameryn King had a couple of buckets at the end of the quarter as Mercy took a 14-8 lead.
Kylie Schlottman scored four straight points early in the second quarter as the Yellowjackets closed it to 16-14. Mercy followed with a 6-0 run of its own with Bella Santoro finishing it off with a conventional three-point play with 1:52 remaining until halftime to make it 22-17.
"We saw a kid with some size (DeVille) that could neutralize Kylie," Russell said." We did the best we could to get the ball inside to her."
East Haven fell to 20-3 with the loss.
"It's been a long journey and it's important to remember the kids who didn't have the opportunity to get here," Russell said. "These kids that are here did it on the backs of those who came before them. Hopefully we can have continued success."
Video via CT Sports Now on Vantage.
MERCY 64, EAST HAVEN 40
MERCY (22-1)
Bella Santoro 6 12-13 24, Kameryn King 3 0-2 7, Lexi Leon 1 0-0 2, Samantha Chapps 2 0-0 5, Meghan Deville 8 3-4 19, Jessica Carroll 1 1-2 3, Sophia Finkeldey 0 1-2 1, Vienna Knox 1 0-0 2, Nicole Bauman 0 1-2 1. Totals 22 18-25 64.
EAST HAVEN (20-3)
Kylie Schlottman 5 12-14 22, Makenzie Helms 3 7-7 13, Alexis Pendziwater 1 0-0 3, Taylor Salato 1 0-3 2. Totals 20 19-24 40.
3-point field goals: Mercy (King, Chapps). East Haven (Pendziwater).
Updates every minute –
View full tournament