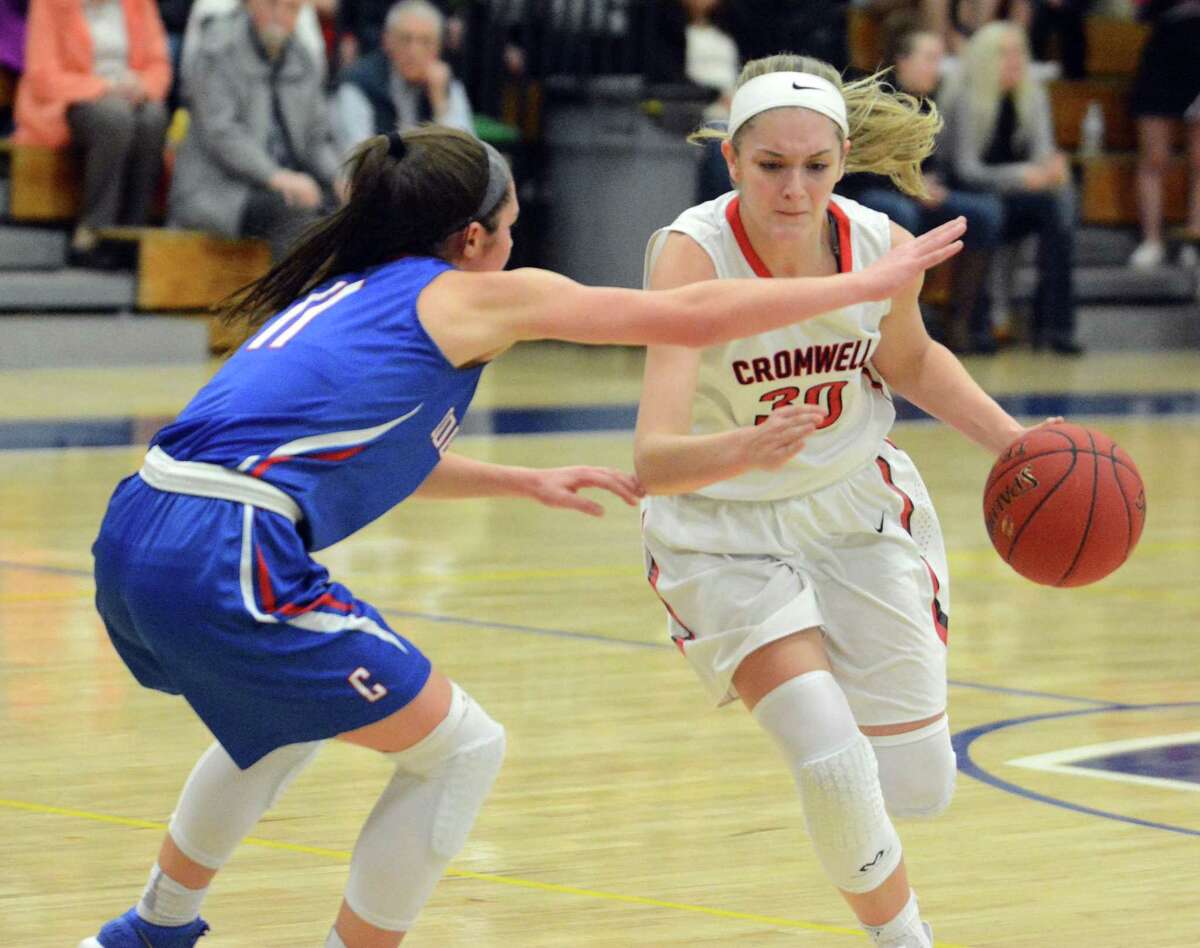 DURHAM – Perfect.
That's how Cromwell finished the Shoreline Conference regular season. The Panthers put the topper on it with a 55-51 overtime victory over Coginchaug in the Shoreline Conference girls basketball championship game at Coginchaug High Friday night.
It was Cromwell's third consecutive Shoreline Conference title and sixth in eight seasons.
"The kids wanted this one," Cromwell coach Kelly Maher said. "A lot of people didn't give them a lot of respect all year, thinking they were beatable. To do it on their home floor is a big added bonus."
Despite having beaten Coginchaug twice in the regular season, most of Friday night's game was tight with the neither team leading by more than eight points. Down the stretch in regulation, Coginchaug took its only lead of the second half, 43-41, but the Blue Devils missed a pair of key free throws before Jenna Serrantino tied it at 43-43 with 1:11 left.
The Blue Devils had a chance to win the game at the end of regulation after a Cromwell turnover with 5.7 seconds remaining. Jessica King drove down the lane, but her pass to the post to Jessica Berens was picked off by the Panthers just as time ran out.
"We were trying to have one of our guards drive and she had it, take a shot," Coginchaug coach Chris Watson said. "If not, find one of the bigs."
Cromwell topped Coginchaug in an overtime THRILLER to win the Shoreline Conference championship. #ctgb pic.twitter.com/QgpIOH2NgG

— CT Sports Now (@CT_Sports_Now) February 24, 2018
Cromwell (20-3 overall) controlled most of the overtime. The Panthers took the lead for good, 45-44, on a bucket by Najla Cecunjanin with 2:29 in the overtime and stretched it to 51-47 with 37 seconds left.
King closed it back to one, 51-50, with a 30-foot 3 from the left side, but free throws were the difference as Gina Sousa and Vanessa Stolstajner each canned a pair to ice the game.
Coginchaug came out hot, zipping out to a 12-4 lead with 3:06 remaining in the first quarter. The Blue Devils were able to bang the ball inside for three layups en route to that lead before the Panthers were forced to use their first time out.
Cromwell settled down from there, going on an 11-3 run to take the lead for the first time with 4:34 to go in the first half.
"We told them to relax and keep their composure," Maher said. "We weren't playing like we were capable of."
Coginchaug regained the lead, 20-18, on a layup by Molly Shields with three minutes to go in the half, but it was short-lived as Cromwell scored the final eight points before intermission, including a layup off an offensive rebound by Stolstajner at the buzzer.
CROMWELL 55, COGINCHAUG 51
COGINCHAUG 15 5 13 10 8 – 51
CROMWELL 8 18 12 5 12 — 55
COGINCHAUG (17-6)
Carly Lane 4 2-3 10, Raegan Moore 0 2-3 2, Jessica Berens 2 3-4 7, Ginny Benbow 5 1-2 15, Michaela Grenier 1 0-0 2, Jessica King 4 2-4 12, Molly Shields 1 1-2 3. Totals 17 11-18 51.
CROMWELL (20-3)
Jenna Serrantino 8 3-3 21, Gina Sousa 1 4-6 7, Jessica DellaRatta 2 0-2 4, Vanessa Stolstajner3 2-2 8, Najla Cecunjanin 6 0-0 15. Totals 20 9-15 55.
3-point field goals: Coginchaug (Benbow 4, King 2). Cromwell (Serrantino 2, Sousa, Cecunjanin 4).
Updates every minute –
View full tournament