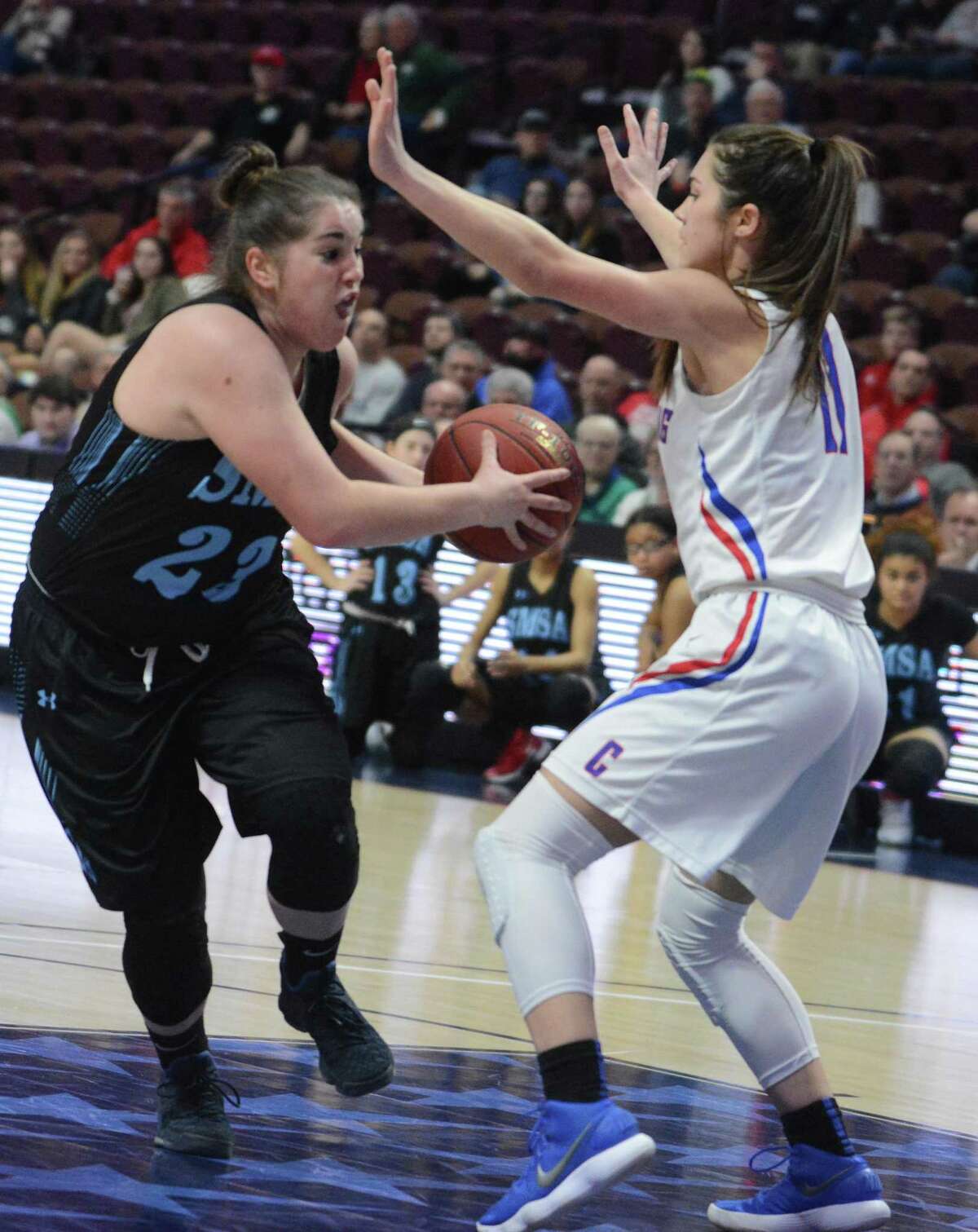 UNCASVILLE – For the first time in six years, Coginchaug is on top of the mountain in girls' basketball.
The Blue Devils won their first CIAC Class S state championship since 2012 in dominating fashion Saturday morning, beating Sports and Medical Sciences Academy 71-42 at the Mohegan Sun Arena.
"We set this as a goal to be here and it's such a storybook ending, it's surreal," Coginchaug coach Chris Watson said. "It's very rare to get an opportunity to do what you planned on."
Ironically, it was an overtime loss to Cromwell just 22 days ago in the Shoreline Conference final that helped the Blue Devils in their run to the title.
"We wanted the Shoreline so bad. To be so close and not get it only fueled our fire," Watson said. "I told the girls not to worry about it anymore. That game prepared us so much to be in this position. Frankly, I'm glad we lost because it made us so hungry."
The Blue Devils (21-7) raced out to a quick 7-0 lead just two and a half minutes into the game, with Virginia Benbow scoring four of those points.
SMSA (18-7) closed it to 19-18 midway through the second quarter thanks to a three-pointer by Kalissa Jameson (16 points). However, Coginchaug went on a 10-0 run to take a 29-18 lead with 37 seconds remaining in the half. Jameson's bucket just before the buzzer made it 29-20 at the break.
"We were very nervous in the beginning, including me," Coginchaug's Carly Lane said. "Once we got into the game, we were okay."
The second half was all Coginchaug. The Blue Devils went on a 20-4 run to open the third quarter to break the game wide open. From there, the closest SMSA would get would be 58-39 with 4:35 to go on a free throw by Christina Marcoux.
"We hit some big shots at the end of the first half and to start the second half," Watson said. "We felt if we went out and pushed the ball up the court, attack the basket and take the open threes, there's a good chance they couldn't hang with us."
Jessica King, who led all scorers with 25 points, had eight in the fourth quarter as the Blue Devils stretched out their lead with the 29-point margin being its largest edge of the day.
"We had an hour to warm up before the game, so I practiced my shooting," King said. "I like my threes and I kept shooting it."
Coginchaug had three other players in double figures. Freshman center Jessica Berens had 12 points, Benbow added 11 and Lane 10.
COGINCHAUG 71, SMSA 42
SMSA 6 14 12 10 – 42
COGINCHAUG 13 16 23 19 – 71
SMSA (18-7)
Kalissa Jameson 6 6-13 16, Rebecca Mayer 2 1-2 5, Christina Marcoux 5 1-2 9, Julia Beebe 2 2-3 6, Kennedi Joseph 1 1-3 3, Tatiana Stokes 1 0-0 2, Chyna Jones, 0 1-2 1, Rianne Mayer 0 0-2 0, Datari Mathis 0 0-2 0. Totals 18 11-26 42.
COGINCHAUG (21-7)
Carly Lane 4 2-6 10, Raegan Moore 0 2-3 2, Jessica Berens 5 2-3 12, Virginia Benbow 4 4-5 11, Jessica King 11 5-5 25, Molly Shields 2 0-2 4, Taylor McDermott 1 0-0 2, Lindsey Marino 2 0-0 3, Shannon Carey 1 0-0 2. Totals 30 15-25 71.
3-point field goals: SMSA (Jameson 2, Marcoux 2, Joseph). Coginchaug (Benbow, King 2, Marino).

Happy Blue Devils #ctgb pic.twitter.com/rlMPZD5inf

— GameTimeCT (@GameTimeCT) March 17, 2018