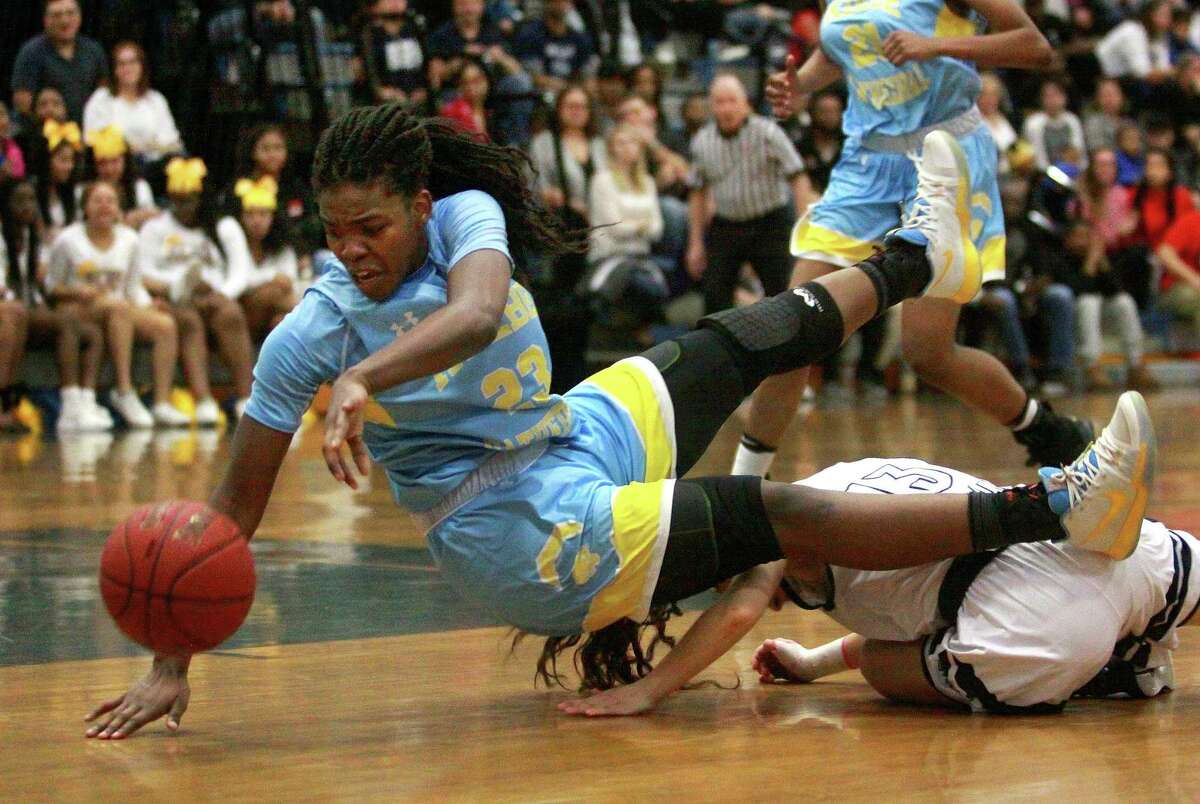 STRATFORD — Bravo, Trinity. Bravo.
The Kolbe Cathedral senior guard not only delivered an emotional halftime speech that rallied her troops, but she scored 23 points, nine coming in an electric fourth quarter that saw the Cougars erase an eight-point deficit and rally to win the SWC tournament championship with a 48-45 victory over Notre Dame-Fairfield before a big crowd Wednesday night at Bunnell High School.
"I always tell my girls, 'keep playing' because that's all we can do," Bravo said, who was named the tournament's Most Valuable Player. "All we could do is keep fighting because they can't take that fight away from us."
Fight as they may, however, Kolbe found itself trailing Notre Dame-Fairfield 36-28 after three quarters, and that was only after a mini 5-0 burst cut what had been a 13-point hole (36-23) with a minute to play in the third.
"We just had to get our heads on straight. We had to let the nerves go," Bravo said. "We just had to come out and fight because we weren't fighting. Fight, that was our word of the day, keep fighting."
"It took a while to get our chemistry going," Kolbe coach Lisa Hodges said. "At halftime, the kids talked, I let them talk in the locker room, so they could get themselves together and in the fourth quarter they just decided that they had to do this. I just told them what was wrong and said they have to figure it out."
It was the fourth SWC title for Kolbe, who also won titles in 2009, 2008 and 2005. It was the fifth runner-up award for the Lancers, who finished second in 2003, 2007, 2013 and 2015. ND won its lone title in 2016.
Trinity Bravo's 23 points helped @KolbeCougars upset @NDFFLD in the SWC final. The Cougars edged out the Lancers for a 48-45 win. #ctgb@BEHSFANSECTION pic.twitter.com/ZYjLg7WJDq

— CT Sports Now (@CT_Sports_Now) February 22, 2018
Bravo scored four points to open the fourth and Gracen Kerr added a 3-point goal and a 3-point play to put Kolbe in front 38-36 with 4:50 left. The Lancers, to their credit, didn't fold and with Yamani McCullough hitting three free throws, Gabby Joseph converting a 3-point play and three points from Ciara Brown, gave the Lancers a 45-42 lead with 58 seconds left.
"That was so intense, going back and forth, point for point," Bravo said. "It just came down to who had the ball last at the end and who could make stops."
And that turned out to be Kolbe, who, after Bravo missed a second free throw, with 14.9 seconds left, controlled the offensive rebound and Kerr was fouled and her two free throws made it 48-45, Cougars.
"I think Kolbe … I don't think that we lessened our effort in any way," Lancers coach Eric DeMarco said. "I think Kolbe just stepped up and every time we seemed to get a lead, they just answered right back, which is a credit to them. Hats off to Kolbe."
Still, Notre Dame-Fairfield had a chance to tie but McCullough, a freshman playing well beyond her years, lost the ball on a turnover with three seconds left and Kolbe was able to run out the clock.
"Yamani is a very talented young lady and the best of her basketball is in front of her. Kolbe just matched us at every turn," DeMarco said. "We were just hoping to contain (Bravo), as I'm sure they were hoping to contain (McCullough), just grind it out. But they did a great job of getting their playmakers open at the end of the game."
Along with Bravo's 23, Kerr added 13, making a pair of 3-pointers, and Brianna Meekins had six. McCullough lad everyone with 26 and Gabby Joseph had 10 for the Lancers.
PLAYER OF THE GAME
Kolbe's Trinity Bravo. The senior scored 23 points, nine coming in the fourth quarter as the Cougars erased an eight-point deficit and won their fourth SWC title.
QUOTABLE
"I told the kids, last year, we didn't get here, and that's more upsetting. When you're in the moment, this feels … it's not the feeling you want but we'd rather play here than sit in the stands where we were last year." — Lancers coach Eric DeMarco
ALL-SWC
Newtown's Riley Mulligan, Bethel's Lily Daniels, ND's Yamani McCullough and Gabby Joseph, along with Kolbe's Gracen Kerr and Trinity Stackhouse, were named to the all-tournament team. Kolbe's Bravo was named MVP.
KOLBE CATHEDRAL 48. NOTRE DAME-Fairfield 45
KOLBE CATHEDRAL (17-6)
Brianna Davis 0 0-0 0, Beatriz Honorio 1 0-2 2, Gracen Kerr 4 3-3 13, Aniyah Pettway 0 0-4 0, Trinity Stackhouse 1 2-4 4, Trinity Bravo 9 5-6 23, Brianna Meekins 2 1-3 6, Mishell Pringle 0 0-0 0. Totals: 17 11-22 48
ND-FAIRFIELD (18-5)
Yamani McCullough 8 7-9 26, Erin Harris 1 2-3 5, Aliyah Louis 0 0-0 0, Krystalee Frenendez 0 0-0 0, Ciara Brown 1 1-2 3, Gabby Joseph 4 2-3 10, Brittany Fulton 0 1-2 1, Zuquila Mbachiantim 0 0-2 0. Totals: 14 13-20 45
KOLBE CATHEDRAL 9 6 13 20 — 48
ND-FAIRFIELD 13 12 11 9 — 45
3-pointers: K — Meekins Kerr 2; ND — McCullough 3, Harris
Updates every minute –
View full tournament