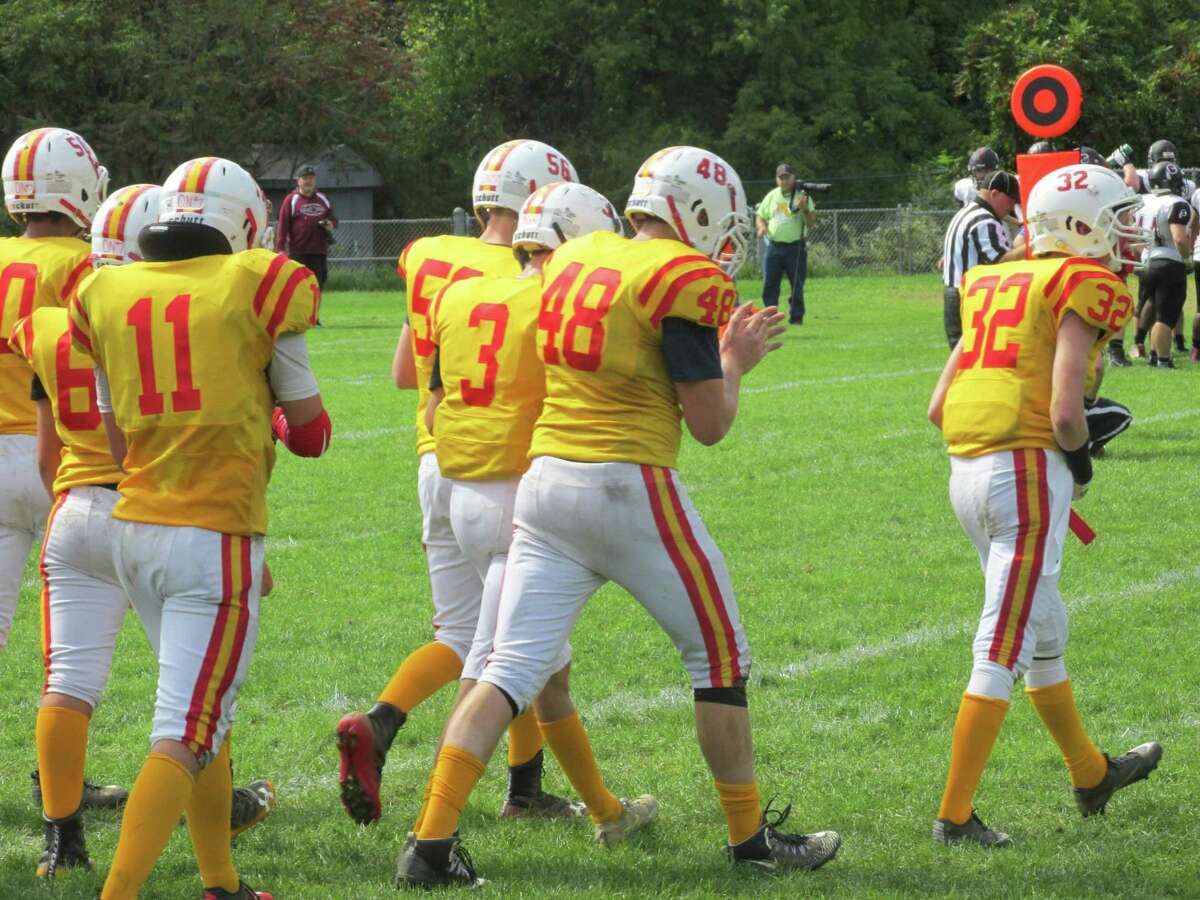 WINSTED — Gilbert/Northwestern's football team came home from a three-week start on the road for a resounding 45-14 win over Canton Saturday afternoon at Van Why Field.
"We ran the ball well today," said Coach Scott Salius.
The Yellowjackets evened their record at 2-2 while galloping for seven touchdowns on the ground — three by Chase Sanden, two by fullback Alex Smith and another pair by sophomore Marco Folino in the final period.
"This is what we want to be," said Salius, whose team began the season with a big win at Old Saybrook, then dropped the next two at Rockville and Stafford.
"The teams that beat us were more powerful than us, but we could be as good as everyone else on our schedule," said Salius.
Salius' preseason view featured his comment, "Check with us in three weeks to see if a group of young country kids can make some noise."
Saturday, the Yellowjackets' noise was deafening for 0-4 Canton.
The Warriors stayed with G/N in a 6-6 tie for all but the final seconds of the first quarter behind senior quarterback Dugan Lloyd (149 yards rushing; 104 yards passing) and running back Carter Gavin (98 yards on 15 carries), but those starring efforts weren't nearly enough for the scoreboard or their coach.
"We did not come here prepared for a hard-fought football game," said Warrior coach Dante Boffi. "We looked at the tapes and assumed G/N was going to roll over for us. We got smacked in the mouth early.
"We had impressive performances by a few guys; they had 11," Dante said. "There's no way it should have been that easy for them, but give G/N credit. They deserved it."
G/N started a freshman, sophomore and three juniors on its front line.
They combined to spring holes for 15 and 9-yard scoring runs for Sanden and Smith in the first quarter; a 34-yard TD run by Smith in the second; two 16-yard scoring jaunts by Sanden in the third; and 68 and 15 more by Folino in the fourth.
Quarterback Eric Lissy took off for another 62 yards, completing three of his five passing attempts for 53 yards.
If the G/N noise needed a final booming drum roll, fullback Smith provided it late in the fourth quarter. On fourth-and-three from the 50-yard line, the converted All-State lineman dragged most of Canton's team on his back for 16 yards and a first down setting up the final Yellowjacket score.
Clearly, there's much more noise to come.
Gilbert/Northwestern 45, Canton 14
Canton 6 0 0 8 — 14
Gilbert/NW 13 6 13 13 — 45
G/N — Chase Sanden 15-yard run (kick failed)
C — Colin Mackin 30-yard pass from Dugan Lloyd (run failed)
G/N — Alex Smith 9-yard run (Josh Hamel kick)
G/N — Smith 34-yard run (kick blocked)
G/N — C. Sanden 16-yard run (Hamel kick)
G/N — C. Sanden 16-yard run (kick failed)
G/N — Marco Folino 68-yard run (Hamel kick)
C — Joey Fitzgerald 1-yard run (Fitzgerald run)
G/N — Folino 15-yard run (kick failed)
Individual Statistics
Rushing: C — Carter Gavin 15 carries/98 yards; Dugan Lloyd 21/149; Nate Biega 3/11. G/N — Alex Smith 4/84; Eric Lissy 8/62; Chase Sanden 3/34; Marco Folino 2/83; Hunter Sanden 2/16; Ryan VanDyke 1/11.
Passing: C — Dugan Lloyd 8 completions/16 attempts/104 yards/interception. G/N — Eric Lissy 3/5/53/interception.
Receiving: C — Colin Mackin 2 receptxions/41 yards; Michael Brosnan ¼; Carter Gavin 1/9; Joey Fitzgerald 2/18; Nate Biega 1/7. G/N — Alex Smith 1/3; Cam Mulligan 1/30; Chase Sanden 1/20.
Records: Canton 0-4; Gilbert/Northwestern 2-2.