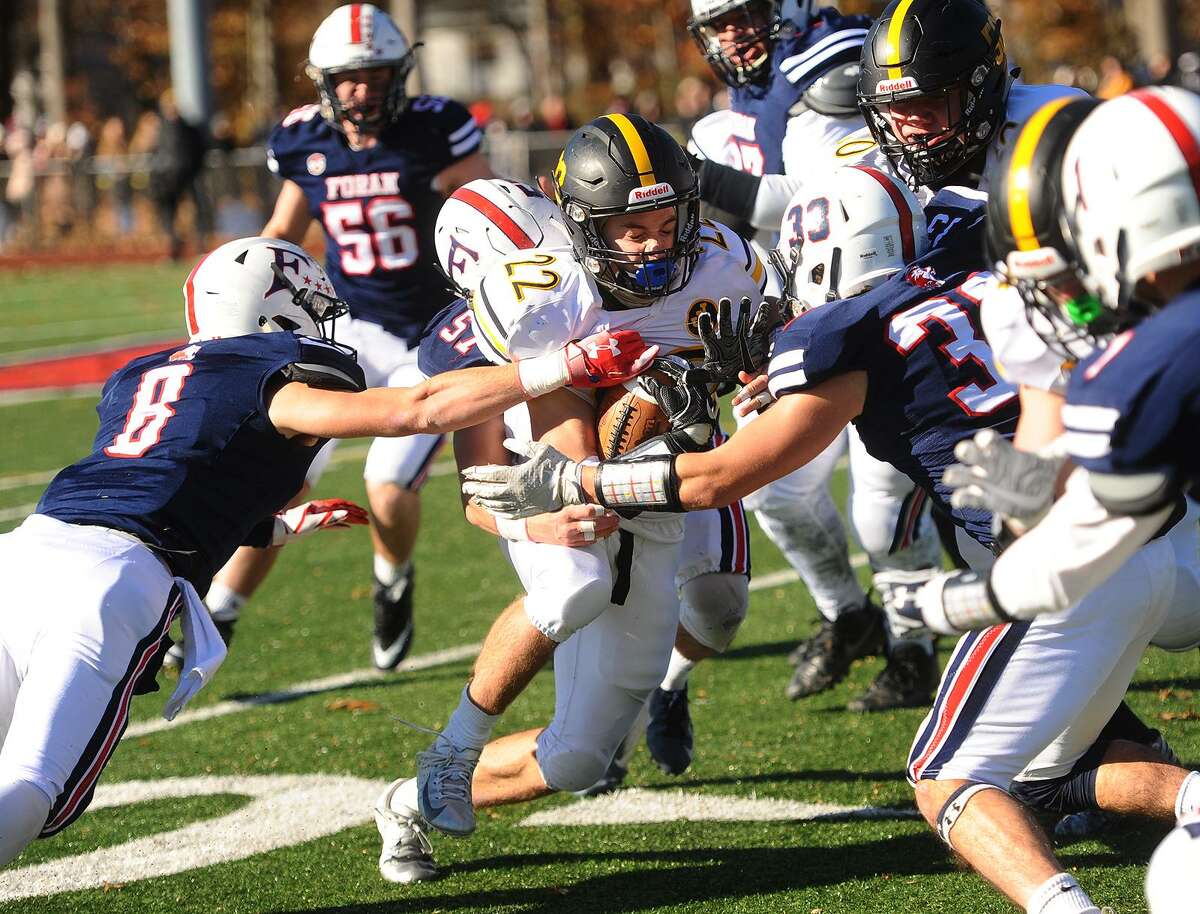 Jonathan Law's Spencer Hannon is a 5-foot-10, 150-pound freshman who was elevated to big man on campus status after his 23-yard field goal split the uprights with 43 seconds remaining to lift the Lawmen to a 23-20 victory over Foran High at the Vito Devito Sports Complex in Milford on Thanksgiving.
The game lived up to it being a match between rivals. The team records proved secondary.
Coach Erik Larka's Lawmen finished the season to 7-3, just points from returning to the state playoffs. Coach Tom Drew's Lions finished at 1-9.
"I was encouraged to try out for football by my basketball coach," Hannon said. "I had played soccer and I like football so…
"It is unbelievable for a freshman in that situation to put it through like that," Larka said. "I'm looking to three more seasons with Spencer…Nothing will ever be as difficult."
Behind a 30-yard field goal from Koray Demirhan at 3:12 of the opening period, and Tom Dempsey's 1-yard touchdown plunge with 36 seconds left in the quarter, Foran took a 10-0 lead.
@JLHSAthletics with a big win in the battle of Milford, 23-20 over Foran! @JLHSBoosterClub @SCCcommissioner #cthsfb

Be sure to check out our whole show at 10:30 pm on @FrontierVSN and 11:30 pm on @TheCW channel 20! pic.twitter.com/xi9DUvW4V1

— CT Sports Now (@CT_Sports_Now) November 22, 2018
Law made it 13-10, as All-State candidates Mike Plaskon (70-yard run) and Ethan Saley (54-yard TD reception) showed off their game-breaking abilities.
Demirhan's 29-yard field goal tied the game at 13-all going into halftime.
Law scored on its second possession of the third quarter on quarterback Zach Smith's second TD pass to Saley, this time from 23 yards out.
Foran gained field advantage after an exchange of possessions, and drove 31 yards in seven plays to deadlock the game at 8:37 of the final quarter.
Dempsey completed the short march with another 1-yard run.
With 2:03 remaining, Law got the ball back one last time at its 32-yard line.
Smith threw swing passes to Plaskon on three consecutive plays to get to the Lion 49.
Naheim Washington then snuck free up the sideline to latch onto a 26-yard pass from Smith.
"We had the play set up we wanted," Larka said. "Ethan Saley ran inside and was covered under and on top. Mike Plaskon swung out and that drew another defender. Naheim was right there and Zach put the ball where he needed it to be to catch it."
Three plays and two Law timeouts later, Hannon got the call.
Ryan Mola's snap, Zack Smith's hold, and Hannon's kick were all on the mark.
"After Zach threw that great ball to Naheim, I thought it would come down to a field goal," Hannon said. "I tell myself every time I go out there to just clear my mind for five seconds and do what I practice to do. There was a lot of noise and I knew what I needed to do."
That being: Clear his mind for five seconds and wait to get swarmed by his teammates.
JONATHAN LAW 23, FORAN 20
LAW 6 7 7 3 — 23
FORAN 10 3 0 7 — 20
F: Koray Demirhan 30 field goal
F: Tom Dempsey 1 run (Demirhan kick)
L: Mike Plaskon 70 run (kick failed)
L: Ethan Saley 54 pass from Zach Smith (Spencer Hannon kick)
F: Demirhan 29 field goal
L: Saley 23 pass from Smith (Hannon kick)
F: Dempsey 1 run (Demirhan kick)
L: Hannon 23 field goal
Records: L 7-3; F 1-9