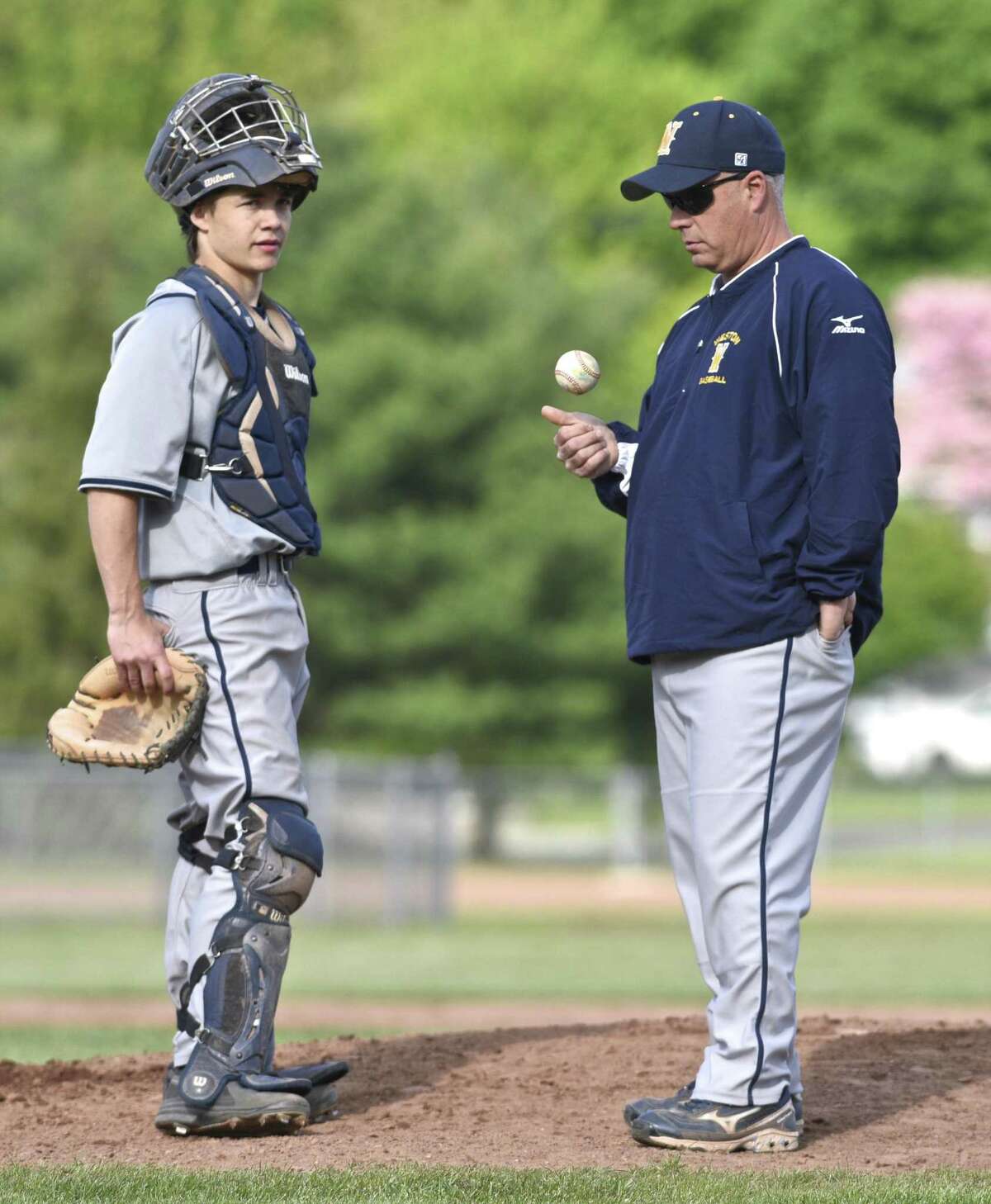 WESTON — The only time Weston baseball coach Frank Fedeli got to see his son play baseball this past spring was on April 23 when the Trojans hosted SWC rival Masuk.
Come next spring, though, Fedeli is going to see all of his son's games.
Fedeli, who took over the Weston program in 2007, stepped down recently, citing his wish to see his sons — one, a rising junior at Masuk; the other an 8th grader — play more in the future.
"Yeah, I wouldn't be a good father if I wasn't at their games," Fedeli said. "I knew if I was still coaching, I'd be wondering how he was doing. It's just one of those things as a parent you need to do it. I knew it was coming to this point. It's the right thing to do. I wouldn't have been able to give 100 percent to the kids in Weston."
Weston athletic director Mark Berkowitz said Fedeli is leaving the program in a far better place than he found it.
"I didn't hire Frank, but from what I understand the program was a bit unsettled," Berkowitz said. "He's leaving it in a great place. Frank has done a great job with our baseball program and our baseball athletes."
Fedeli said he was proud of how his staff helped turn around the fortunes of the Weston program.
"Me and my staff, we took a program that was pretty much, when people saw us coming it was a win, and we got it to a point where we knew they'd be playing a team that could handle itself," he said. "The kids bought into what we did and they started to believe."
In his 13 years at the helm, Fedeli posted an unofficial 160-122 record. He made the state tournament in 11 seasons, just missing it in 2009 and 2015.
The Trojans went to the Class M semifinals in 2012 and followed that up with two seasons where they went 37-9 and won the SWC championship in 2013.
"That was fun," Fedeli said. "And we got a banner up on the wall."
"It's the only time in school history we've won an SWC baseball title," Berkowitz added.
Fedeli, a teacher at the Nathan Hale Middle School in Norwalk, grew up in Stamford and attended Stamford Catholic, where his baseball team won a state title in 1982.
He was an assistant coach at Staples High when the Wreckers won a state title, as well.
Berkowitz said rebuilding the program into a team that would compete game-in and game-out would be Fedeli's legacy.
"The thing with our baseball program is it always competes," the AD said. "Regardless of our record, they're competitive. It didn't matter if it was against the best team in the league, they knew they'd be in for a game that day."
Berkowitz said the job has been posted and he's received interest both in-house and from outside the school.
He hopes to start the interview process for the next coach in early July.
Fedeli, however, doesn't think he's totally done coaching somewhere down the road.
"I don't think I'm done," he said.
In other Weston athletic news, Doug Pregman, an assistant track coach, has been named the new girls cross country coach while Brandon Barone has been named the head coach for the Trojans boys and girls swim program.
Barone was the interim boys coach this past winter, taking over after 10-year coach Tom Grace stepped down to finish getting certified for an administrative job.