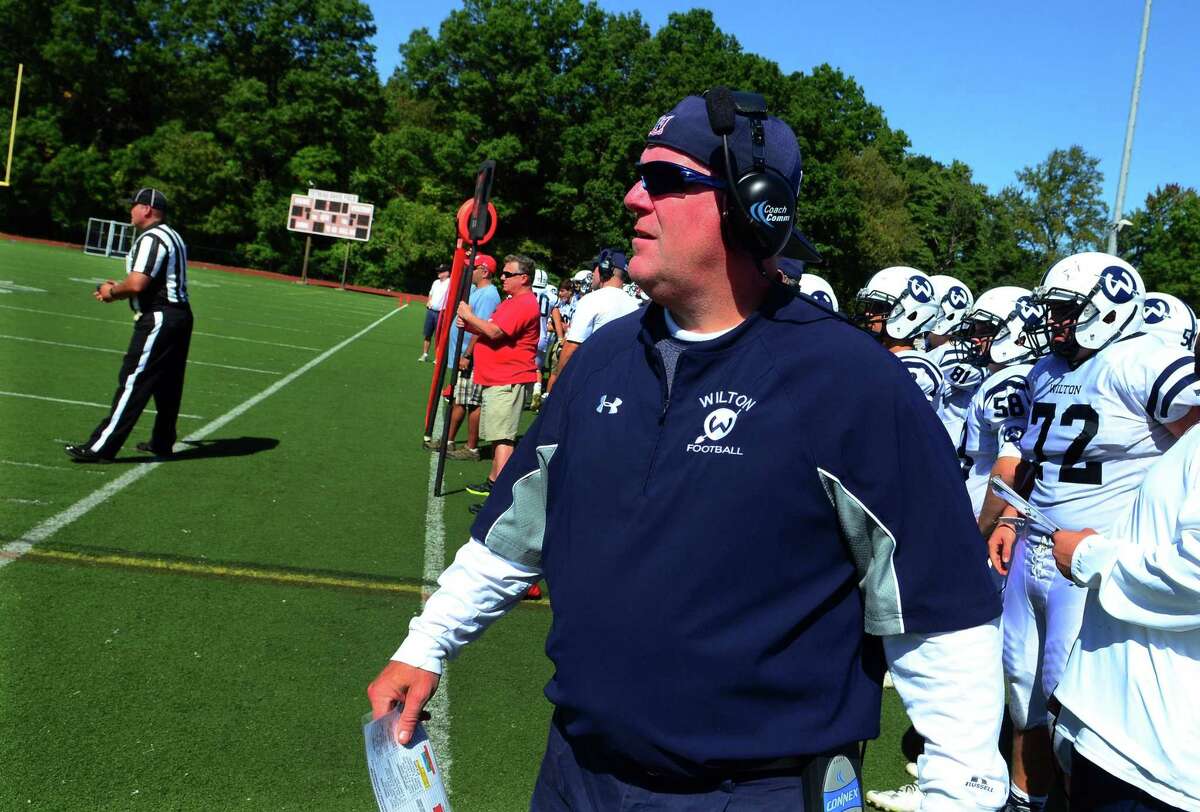 WILTON — For his entire coaching career, Bruce Cunningham's top goal has always been to do what's best for his players.
He is keeping to that credo even as he steps away from the Wilton High School football program he led for nine seasons.
Cunningham refused to say anything negative about his decision to leave the program after 20 total years, but confirmed he has given his verbal resignation to athletic director Chris McDougal, and told the Warriors he will not be back in 2018.
"I just think I've been head coach for nine years at Wilton, and while it's hard for me to answer that question, it's a personal decision," Cunningham said, when asked why he was stepping down. "It's just time for me to leave."
Cunningham informed McDougal and his players Wednesday, and the news shocked those closest to the program.
"I'm not happy about it. We're all a little sad today at Wilton High," McDougal said. "I wanted him to coach for as long as he wanted to. This is his choice."
McDougal would not address the published rumors online that any sort of parental revolt — the latest in a long line to occur in Wilton — led to the decision.
"I'm just speaking about the positives," he said. "I'd let him coach anything he wanted to coach. That's how much I think of him."
McDougal did confirm that Cunningham recently had a meeting with the school's booster club, but didn't discuss the details.
"I'm not going to talk about it, but I know he did have a meeting with his Booster Club," McDougal said. "I think the Booster Club liked him and wanted to work with him."
Multiple sources close to the Wilton athletic program said the Booster Club was behind an anonymous survey of parents and players — done without Cunningham's knowledge or participation.
Brian Colburn, president of the Wilton High football boosters, reportedly sent an email to families defending his organization.
"While I understand the 'angry parent' narrative makes for a juicy headline, our Football Families simply could not have been much more supportive of this program," Colburn reportedly wrote. "No athletic program can say everyone is 100% pleased 100% of the time. There are always areas to improve. However, our players, parents and alumni have been fully behind our program, and we are truly grateful for that support."
Cunningham admitted that it was difficult telling his team that his run was over.
"There's a lot of good players in that room," Cunningham said. "I told them I was stepping down and it was hard, but I reminded them it shouldn't change their goals. They need to keep working hard and doing what they need to do to achieve their goals."
The team's recent success didn't make stepping away any harder, though, he added.
"No, anytime you make a decision like this, it's not easy," Cunningham said. "It's about the relationships. The end results of the last couple of years don't matter because it's all about the relationships and that's what makes it hard."
One thing Cunningham does plan on doing is being back on a football sideline come fall.
"I still have the desire to coach football," Cunningham said. "It's been a big part of my life for so long. I don't know the who, what, where, when or why yet, but I hope to be coaching football this fall."
He also plans on remaining at Wilton High as a team and assistant softball coach.
With Wilton coming off the heels of back-to-back winning seasons, and growing numbers in the program, the news came as a shock to many inside and outside the Wilton program.
Former players immediately came to Cunningham's defense through social media.
"There are very few coaches who care as much about their players as Coach Cunningham does," wrote Steffan Nobles, a two-way lineman. "Really disappointing."
"Best coach I've ever had," added Colin Carroll, a former captain. "Wilton doesn't know what it is losing."
McDougal said the job will be posted soon and once the applications start arriving, a search committee will be formed to find the Warriors' next coach.
"The committee will do the hiring," McDougal said. "The sooner the better for hiring. There's a lot of offseason things that still need to be addressed."