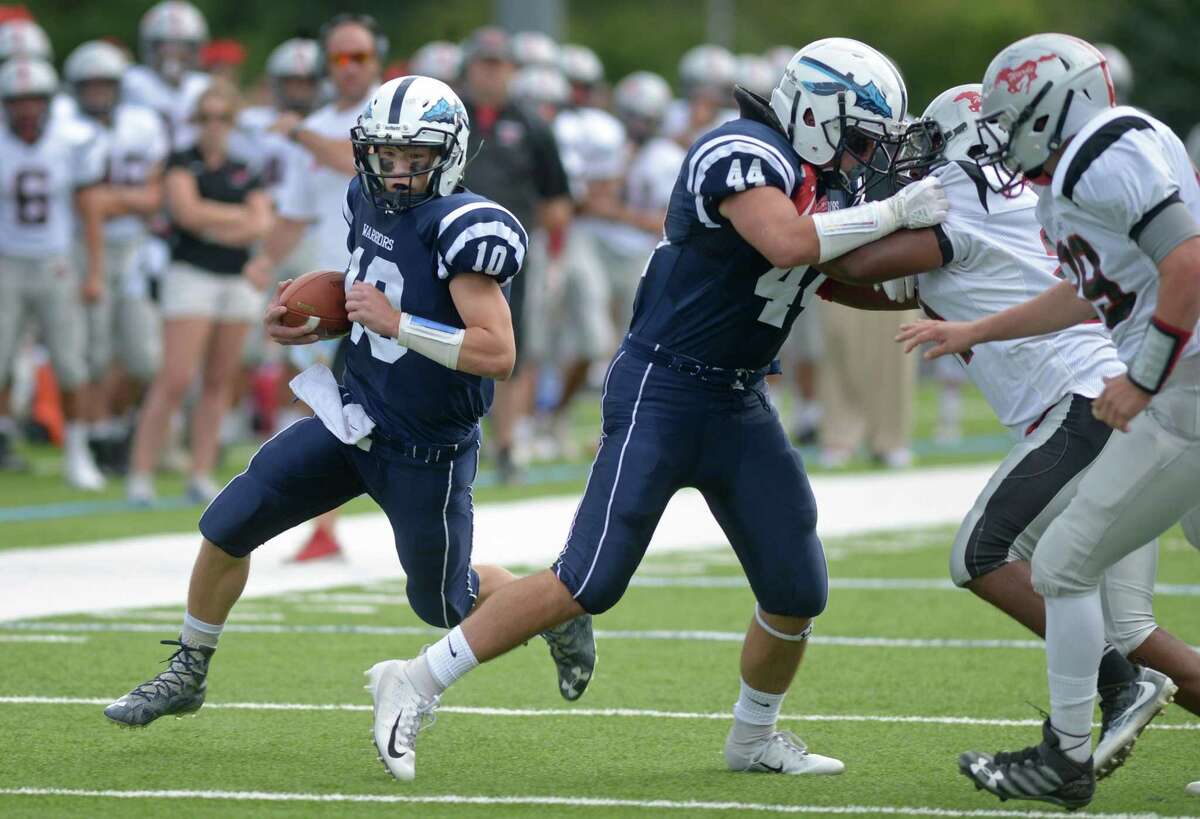 WILTON — Wilton's strong start carried the Warriors to a homecoming victory.
The rushing combo of Drew Phillips and Tyler Previte was too much for Fairfield Warde to overcome despite a second-half surge as Wilton prevailed 47-28 in FCIAC game Saturday afternoon at Fujitani Field.
"It was a defining game for us," Wilton head coach EJ DiNunzio said. "We came off a tough loss with Staples and we were banged up. We came out here and we wanted to run the ball the best we could and we did. It was a hard-fought game."
The Warriors (2-1) scored on four of their first five possessions.
Previte, Phillips and starting quarterback Kyle Phillips each had rushing touchdowns for a quick 21-0 lead after the first quarter. The Mustangs couldn't get anything going offensively with two punts and three turnovers (2 interceptions by Thomas Costello, 1 fumble recovery by Kyle Jordan) in the first 24 minutes.
With less than 10 minutes remaining until halftime, Kyle Phillips suffered what appeared to be a shoulder injury while on defense and had to leave the game. DiNunzio wasn't sure of his quarterback's status going forward.
"He's a competitor and a really tough kid," DiNunzio said. "If he can get back I'm sure he will."
James O'Brien took over for Kyle Phillips under center and was effective directing the offense. He threw a 22-yard touchdown pass to Michael Coffey in the right corner of the end zone to put Wilton ahead 27-0 with 3:40 on the clock in the second quarter.
The Mustangs finally got on track in the second half, led by standout running back/defensive end Joe Gjinaj (20 rushes, 122 yards, 2 TDs).
VIDEO Warde with a crazy td cuts it to 35-20 Wilton #cthsfb pic.twitter.com/xNozj0XgHT

— Ben -BirdsEyeSports (@BirdsEyeSports) September 22, 2018
"The third quarter I thought we played very well and that's how I expect us to play," Fairfield Warde head coach Duncan DellaVolpe said. "Getting off the bus today I didn't have them ready to go and we walked into a tough start today. We clean up our mistakes we're a good football team. They (Wilton) answered all day."
DiNunzio said his team made it a point to run away from Gjinaj in the first half with much success.
The momentum Warde gained after its first score quickly evaporated when Previte rumbled 75 yards for a touchdown to give the Warriors a 33-6 lead with 6:22 left in the third quarter.
Previte finished with 6 carries for 100 yards and 2 TDs and gave credit to his offensive line, especially on his long run, for the success he achieved on the day.
"Our offensive line opened up a huge hole, I saw it and just took off," said Previte, who also had two interceptions on defense with one returned for a touchdown to close out the scoring. "This is a huge win to bounce back from after last week's tough loss."
The Mustangs cut the lead to 33-20 going into the fourth quarter before the Warriors went on a 13-play, 80-yard scoring push. On fourth down, Drew Phillips hit pay dirt from 2 yards out with 5:25 remaining in the game.
"We knew to end the game we had to punch it in," Phillips said. "Our o-line had its best week of practice and did a hell of a job. We knew we had to come out on offense firing on all cylinders and I think we did a great job of that."
PLAYER OF THE GAME
Tyler Previte, Wilton: The senior had 100 yards rushing with two TDs and added two interceptions on defense, one returned for a touchdown.
UNSUNG HERO
Drew Phillips, Wilton: The junior was a workhorse with 20 rushes for 122 yards and two TDs.
QUOTABLE
"That was a huge turning point in the game," DiNunzio said of Previte's long TD run. "They (Warde) are too good of a team not to come out and give us a hard time in the second half so we had to weather the storm. He (Previte) had a whale of a game as many of my guys did."
"Nothing fazes Jimmy O'Brien," DiNunzio said of his backup QB. "He's the calmest, coolest kid. The whole team trusts him."
"It's tough to come back from three touchdowns at all and I thought we did a good job hanging in there," DellaVolpe said. "We were going to make it a game one way or another."
WILTON 47, FAIRFIELD WARDE 28
WARDE0 0 20 8 —28
WILTON21 6 6 14 —47
W—Drew Phillips 1 run (Chris Tienken kick)
W—Kyle Phillips 5 run (Tienken kick)
W—Tyler Previte 4 run (Tienken kick)
W—Michael Coffey 22 pass from James O'Brien (kick failed)
FW—Jack McKenna 2 pass from Joey Gublin (kick failed)
W—Previte 75 run (kick failed)
FW—Joe Gjinaj 10 run (pass failed)
FW—Will Stearns 60 return (Gjinaj run)
W—Drew Phillips 2 run (kick failed)
FW—Gjinaj 1 run (Gjinaj run)
W—Previte 59 interception return (Zach Pozzi run)
Records: Wilton 2-1, Fairfield Warde 1-2.