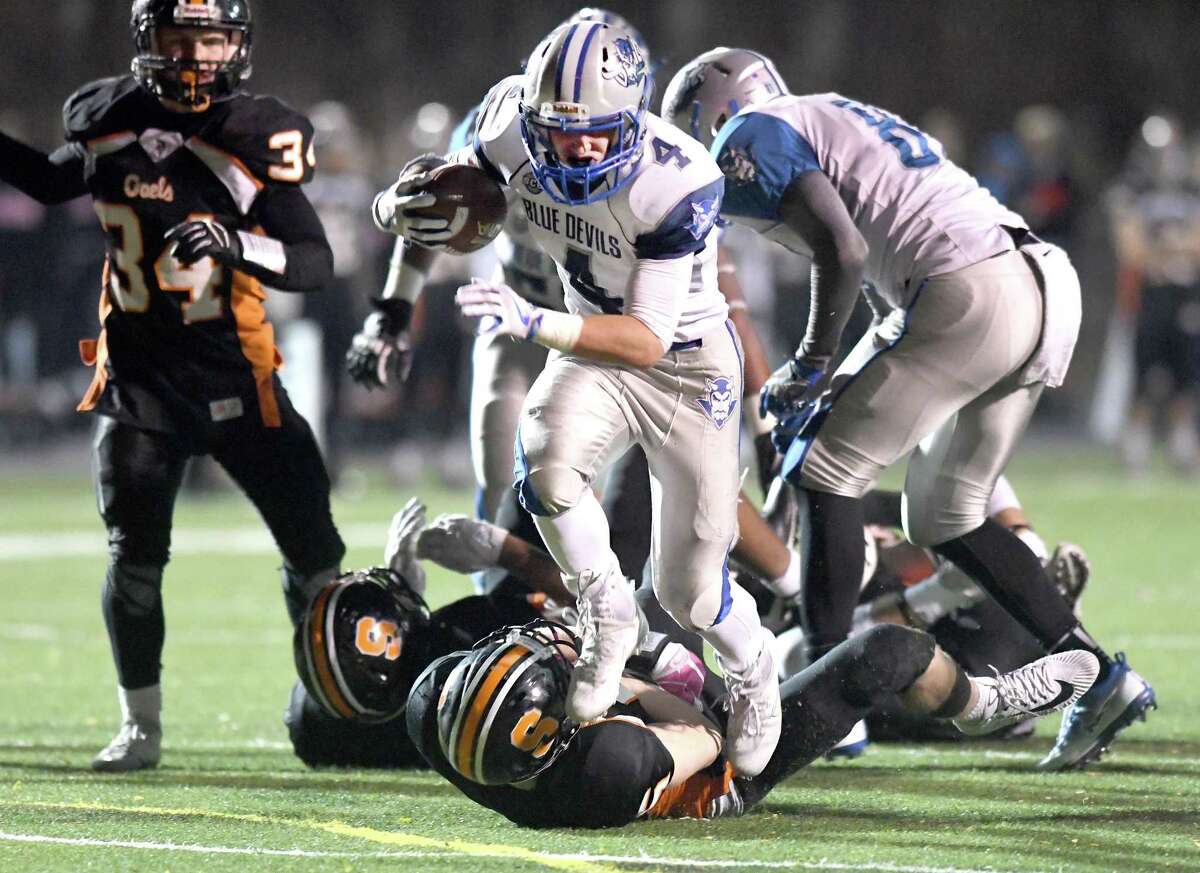 SHELTON — The rematch of Southern Connecticut Conference Tier 1 foes with a Class LL state semifinal berth on the line Tuesday night turned into a one-sided affair very few people, if any, would have predicted.
No. 7 seed West Haven scored 46 unanswered points, hammering No. 2 Shelton 46-7 at Finn Stadium in the Class LL quarterfinals.
"I didn't expect the differential to be anything like that," West Haven coach Rich Boshea said. "Our kids played really, really well and played really hard. … They are a great program and a great team. We both respect each other very much."
Even more surprising was the Westies (9-2) didn't take their first lead until 2 minutes, 11 seconds were left before halftime.
"We made way too many mistakes, turnovers," Shelton coach Jeff Roy said.
Now West Haven gets the defending champion, No. 3 seed Darien, on the road in the semifinals at 12:30 p.m. Sunday.
"We've been kncoked out in that first round so many times, getting a little tired of it," Boshea said. "Darien is a great team. I'm glad we are getting a chance to play them. I know our guys will play their hardest and try to play their best."
West Haven's biggest playmaker, naturally, made the game-changing play. With Shelton (9-2) up 7-6, the Gaels pulled out the flea-flicker and quarterback Jake Roberts threw into the end zone. Kyle Godfrey made up quite the distance to intercept the pass in the back of the end zone.
"I saw the safety was beat. We always work on in practice, if one guy gets beat, the other guy makes up for it," Godfrey said. "I saw the ball go in the air and I sprinted my hardest to get over there, make the pick and save the day."
Instead of taking a knee, Godfrey bolted out of the end zone and made his way down the sideline. He was finally tackled at the Shelton 20-yard line.
Roberts scrambles out of bounds but time runs out on Shelton in 1st half. Trails West Haven 20-7 at halftime. #cthsfb pic.twitter.com/3B9THkUi5N

— Joe Morelli (@nhrJoeMorelli) November 29, 2017
"I saw a lot of open field. I should have punched that one in (for a touchdown)," Godfrey said. "Once I got the pick and the momentum started going our way we just applied the pressure and kept doing what we were supposed to do. This is very surprising."
Said Boshea: "He is a game-changing player. It's not an overstatement."
Godfrey, who had a game-high 164 rushing yards, said the players were motivated off the 38-28 loss to Shelton during the regular season. "We didn't fight as hard as we did tonight," Godfrey said.
Said Roy: "Give Godfrey credit, he came off on the back side, I thought we had the play. He made a heckuva play, he came out of nowhere."
Then West Haven quarterback Jake Conlan found Chris Chance in the end zone on 4th down for the 14-yard touchdown. He then hit Godfrey for the two-point conversion to make it 14-7 Westies with 2:11 left before halftime.
Jack Carr fumbled the ensuing kickoff , Latrell Best recovered for West Haven. The visitors went into their bag of tricks and came up ewith the halfback option pass.
Chance lofted a pass for Jordan Wettmore that went for 30 yards. Godfrey scored on the next play.
Shelton moved the ball down inside the West Haven 10, but Roberts' scramble attempt came up 4 yards short of the end zone as the first half clock expired.
Then West Haven outscored Shelton 19-0 in the third quarter to put the game away. That was highlighted by Godfrey's 98-yard touchdown run.
West Haven held Shelton to nine plays, no first downs, and made two interceptions in the third quarter, one by Zach Conlan and the other by Joe Steinman, who returned it 52 yards on the final play of the quarter.
"(Assistant coaches) Tom Unger and Mark Ecke came up with a plan (on defense) Thats what I told the kids after, 'Yoiu guys are lucky, you're all very good players, but you have really, really good assistant coaches. Tjose guys are experts on defense."
Then came the unthinkable: running clock in the fourth due to such a large lead for the Westies.
"We continued to make the mistakes we made in the first half," Roy said. "Give them credit. they came in here ready to play and did a great job."