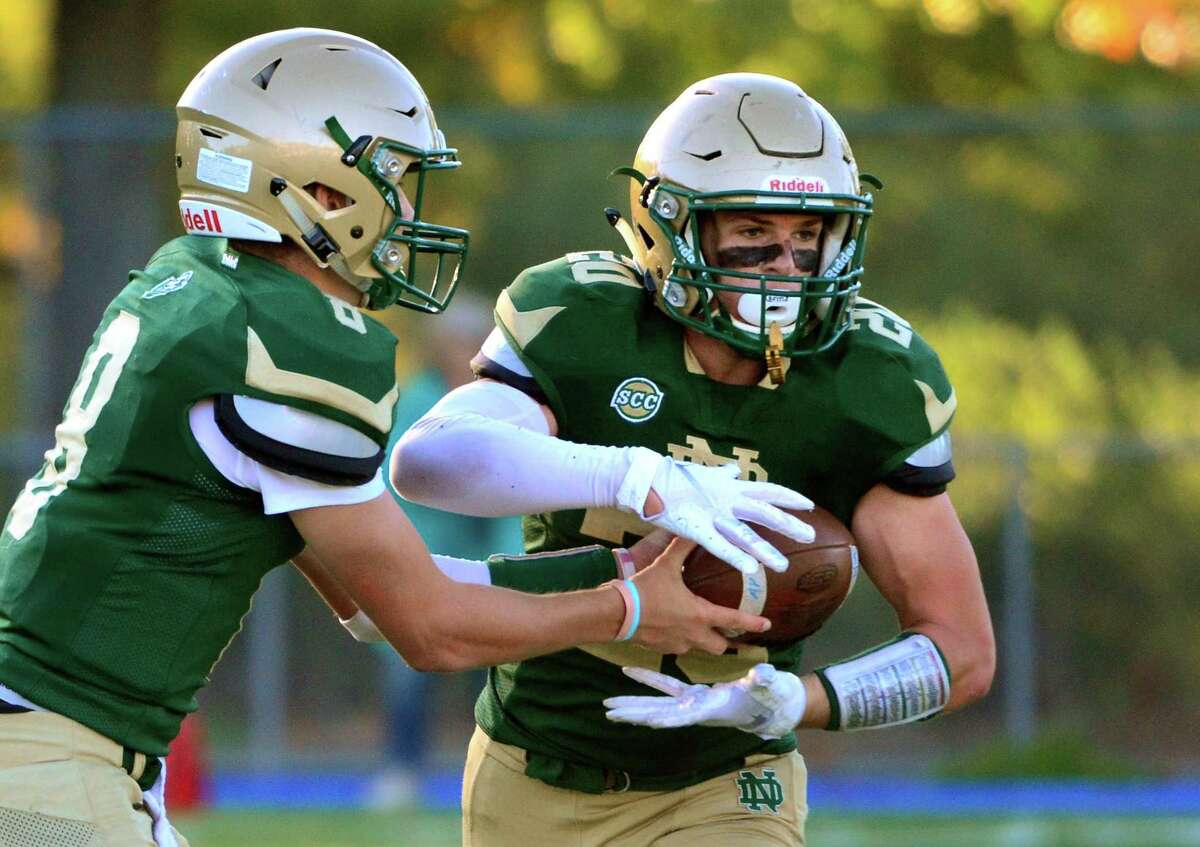 We round up top performers from the weekend's football games and look ahead to next week.
Fine performances
Mark Altieri, Notre Dame-West Haven: Ran for three touchdowns in a 49-20 win over Bunnell.
Jamesyn Brothers, O'Brien Tech: Ran for three touchdowns and threw for another in a 44-0 win over MCW United.
Dorrian Chaney, CREC co-op: Threw for six touchdowns in a 50-14 win at Bassick.
Christian Collin, Plainville: Threw for a touchdown and ran for the winning score in a 22-16 win over Tolland.
Matt Constantinides, New Fairfield: Threw for 161 yards and four touchdowns in a 26-0 win at East Haven.
Peter Graham, Darien: Went 18-for-20 for 265 yards and three touchdowns in a 51-20 win over Trinity Catholic/Wright Tech.
Jaden Grant, West Haven: Ran 25 times for 97 yards and three touchdowns as the Westies beat NFA 27-13.
Malachi Hopkins, Danbury: Had 24 carries for 133 yards and a touchdown in a 34-13 win over Trumbull.
Andrew Janik, Foran: Threw for three touchdowns in the Lions' 21-14 win over Brookfield.
Sean Kelly, Branford: Ran for two touchdowns, threw for another and threw a two-point conversion pass in a 27-0 win over Bethel.
Ronnie Longo, North Branford: Had an interception and a fumble recovery in a 48-14 win over Old Saybrook/Westbrook.
Jesse Lutz, Hand: Scored two touchdowns in the Tigers' 41-6 win at Norwalk.
Felix Martinez, Windham: Ran 20 times for 205 yards and a touchdown in a 13-8 win over Stonington.
Johnny McGeever, Berlin: Ran for 102 yards and two touchdowns in a 23-6 win over Lewis Mills.
Alain Paul, Stamford: Returned both a kickoff and an interception for touchdowns, caught three passes for 78 yards and kicked three extra points in a 49-14 win over Capital Prep/Achievement First.
Noah Perry, East Lyme: Went 7-for-12 for 189 yards and two touchdown passes in a 44-20 win over Montville.
Connor Rich, Northwest Catholic: Ran for two touchdowns and threw for another in a 22-14 win over Notre Dame-Fairfield.
Jordan Rivera, SMSA co-op: Ran for three touchdowns in a 42-21 win over Ellington.
Shakespeare Rodriguez, Lyman Hall: Scored two touchdowns, including the game-winner, and had a game-ending interception in a 20-14 win at Guilford.
Brendan Sawyer, Weston: Threw for a touchdown and ran for three, including two in a fourth-quarter comeback, as the Trojans beat Law 37-34.
Jack Sharpe, Killingly: Ran 22 times for 222 yards and three touchdowns in a 55-22 win over Ledyard.
Kyle Simmons, Sheehan: Threw four touchdown passes in a 47-14 win over Barlow.
Anthony Simpson, Bloomfield: Had six touchdowns, three different ways, in a 68-0 win over Rocky Hill.
Reese Vanek, New Milford: Ran for two touchdowns and threw for another in a 20-0 win over Wilbur Cross.
Jack Wallace, St. Joseph: Threw for four touchdowns and ran for one in a 42-13 win over Fairfield Prep.
Jaden Watson, North Haven: Ran for 105 yards and five touchdowns in a 53-20 win over Staples.
John Wise, New Canaan: Ran 19 times for 121 yards and four touchdowns in a 28-7 win over Fairfield Warde.
Games to watch
Friday
CREC co-op at Plainfield, 6 p.m.: Before we get to the "3-2 teams meeting" mini-theme, let's start with a "4-1 teams meeting" mini-theme. These two are both 4-1, both have shaken off opening-night losses to get there, and both have a win over Windham to take the very-early lead in ECC Division 3.
Berlin at Plainville, 6:30 p.m.: Another 4-1 battle, this one a CCC Division III crossover between teams with losses to some pretty good teams, banged-up Berlin's to unbeaten Killingly (close), Plainville's to No. 6 Bloomfield (not so close).
Windsor Locks/Suffield./East Granby at Granby/Canton, 6:30 p.m.: Only Rockville is unbeaten within the Pequot League. These two 4-1 teams are half of the other four (SMSA co-op at 4-1, Stafford co-op at 3-1) with one loss.
Wilby at Torrington, 7 p.m.: A pair of 3-2 NVL teams meet coming off the league's bye week. Wilby comes in on its first single-season three-game winning streak in a decade; Torrington lost its last time out to WCA (which has a nice one of its own Saturday afternoon at Holy Cross).
Shelton at Xavier, 7 p.m.: Another pair of 3-2 teams moving in opposite directions after their own week off. The Gaels have lost two in a row, to Cheshire and No. 5 Newtown, to fall out of the GameTimeCT Top 10. Xavier has won three in a row, including a big win at Fairfield Prep in its last game, and has four of the last five at home.
Danbury at Newtown, 7 p.m.: Danbury's opener was a disjointed 49-3 loss at Greenwich, but since then the Hatters are winners of four in a row. The No. 5 Nighthawks are perfect against a tough schedule.
Guilford at Masuk, 7 p.m.: Another pair of 3-2 teams meet up, these two both on the periphery of the tough Class L playoff race. Masuk comes in 14th, with Guilford three spots behind.
Saturday
Fairfield Prep at Norwich Free Academy, 1 p.m.: This one looked a bit shinier a couple of weeks ago, but the Jesuits have fallen to 2-3, and NFA is 3-2. The Wildcats, though, are the top 3-2 team in the Class LL playoff standings at midseason, sitting 10th.
Notre Dame-West Haven at Fitch, 1:30 p.m.: Two teams neck-and-neck in the Class L playoff race, Notre Dame 11th and Fitch 12th; both 3-2 with losses to good teams (Notre Dame, somewhat famously, to the top two teams in the state in the first two weeks).
Ridgefield at St. Joseph, 1:30 p.m.: Speaking of whom, No. 2 St. Joseph, which bombarded then-No. 9 New Canaan for its fourth win of the season, carries a 5-0 mark into another top-10 matchup, this one with No. 7 Ridgefield. The Ridgefield defense has been sharp, and its offense has gotten the job done when needed.
Quinebaug Valley at Bullard-Havens, 2:30 p.m.: Bullard-Havens is 5-0 and three other CTC teams have one loss. The Tigers beat Thames River early in the season and ATI on Saturday. The other is Quinebaug, which comes in 4-1 with a loss only to ATI.
Darien at Greenwich, 4 p.m.: The No. 4 Blue Wave visits No. 3 Greenwich in the game of the week, last year's Class LL champion and GameTimeCT poll No. 1 team hosting the program that won LL and topped the poll the previous three years (and that beat Greenwich head-to-head for the 2017 championship). They've both been in the poll's top five since the preseason, next to each other the whole way, with the Cardinals always a neck in front.