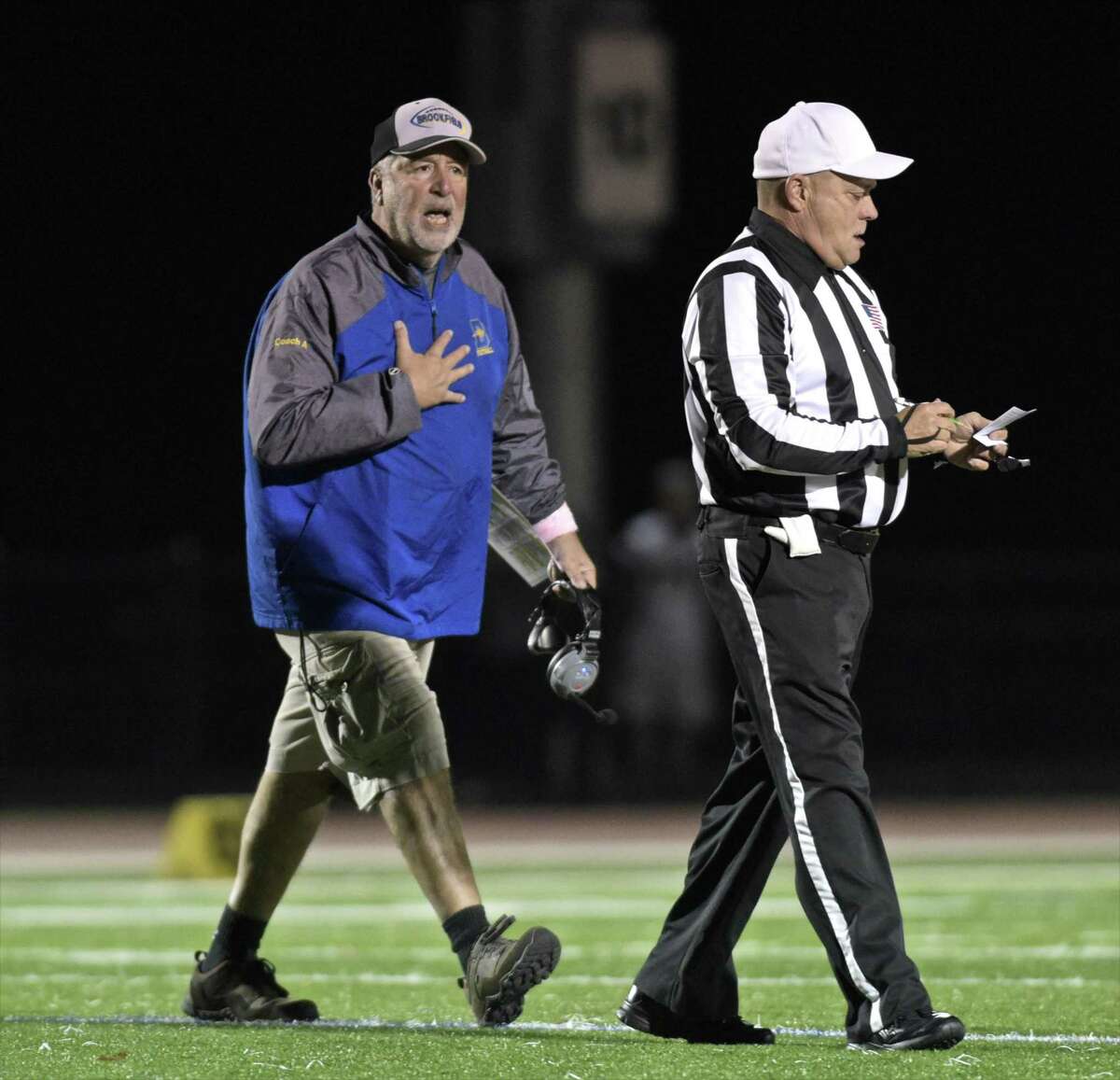 Intriguing matchups featuring teams from different leagues is usually something reserved for the postseason. Recent agreements between conferences have given us a sneak peek, though.
The SWC, SCC and ECC — dubbed the Connecticut High School Football Alliance — arranged a two-week crossover series that began last season, and league play will stall this weekend as teams of comparable recent success square off across the state.
The SWC went exactly .500 (12-12) against out-of-conference opponents in 2017 while the SCC went 18-16.
SWC Division I favorite Newtown dropped games to Xavier and Shelton last season, defeats that kept it out of the Class LL playoffs for the first time since 2010. The Nighthawks host Cheshire on Friday night with a chance to go to 2-0.
"Our kids are excited," Newtown coach Robert Pattison said. "Every game is important but in the offseason this is one that we had circled; they're a quality football program that plays in a great league."
Fairfield Prep — which beat ND-West Haven 41-20 in Week 1 — will host NFA on Friday in arguably the most interesting of the 17 crossover games. The Jesuits reached the Class LL playoffs a year ago while the Falcons are coming off an impressive win over Xavier. Prep begins a brutal part of its schedule that includes games against Sheehan, Shelton, Cheshire and Xavier.
It's a life most of the SCC Tier 1 schools are accustomed to.
"We're used to it," said Prep coach Keith Hellstern. "We accept it and I think it comes with the territory. We'll play whoever is on the schedule like anyone else. We want to hold ourselves to a high standard and you can't change who's on the schedule. If we take care of us, that's the start of being successful."
The Jesuits had a balanced attack in their season-opening win, rushing for 208 and throwing for 199 yards. Junior quarterback John Paul Iaropoli tossed a pair of touchdown passes while senior running back Doug Harrison ran for a pair of scores after missing most of last season with a knee injury.
"I think we feel pretty good," Hellstern said. "Based on what we saw on film from NFA, they have talented kids up front. They have a very good defensive line and have good athletes on the perimeter. I think they're going to prove to be tough."
Brookfield scored perhaps the biggest win of Week 1 in the SWC, rallying from an early deficit to run past Masuk 42-21. The Bobcats will visit Hillhouse on Friday before hosting North Haven in Week 5.
"They're a good football team and a perennial powerhouse," said Bobcats coach Rich Angarano. "Let me just say that even though we're two years removed we consider ourselves a team that's always in states and we want to get back, and we know what we have to do."
The most curious case after Week 1 in the SWC is Pomperaug, which blitzed Bethel 46-0 in Tony Pereira's coaching debut. The Panthers will be tested Friday at home against East Lyme and will visit Branford later this season. East Lyme made a similar long trip a year ago and came away with a win over Barlow in a 28-20 thriller.
"It does allow for a team that's comparable to you to play outside your conference and that's a good thing," Pereira said. "We have a tremendous amount of respect for East Lyme; it's a great opportunity to come out in Week 2 and show what we're made of in our first home game."
Defending Class L champion Daniel Hand will take on New Fairfield, which has lost 10 of its last 11 games going back to the start of last season. Class L finalist Masuk will visit North Haven while Bunnell will host Ledyard. East Haven will meet ND-Fairfield and New Milford takes on Wilbur Cross.
Weston — fresh off a 35-0 win over New Milford last week — gets a chance to move to 2-0 when Law makes the visit Friday night. Sheehan will face Stratford, New London makes the journey to face ND-West Haven, Fitch faces Harding and Montville squares off against Lyman Hall.
Guilford, which wasn't in action last week, kicks off its season at Waterford. Two teams that received heavy defeats in Week 1 — Bassick and Bethel — will search for their first win.
A pair of SCC Tier 1 teams — Xavier and Shelton — squared off Thursday and join the series when it continues next month.