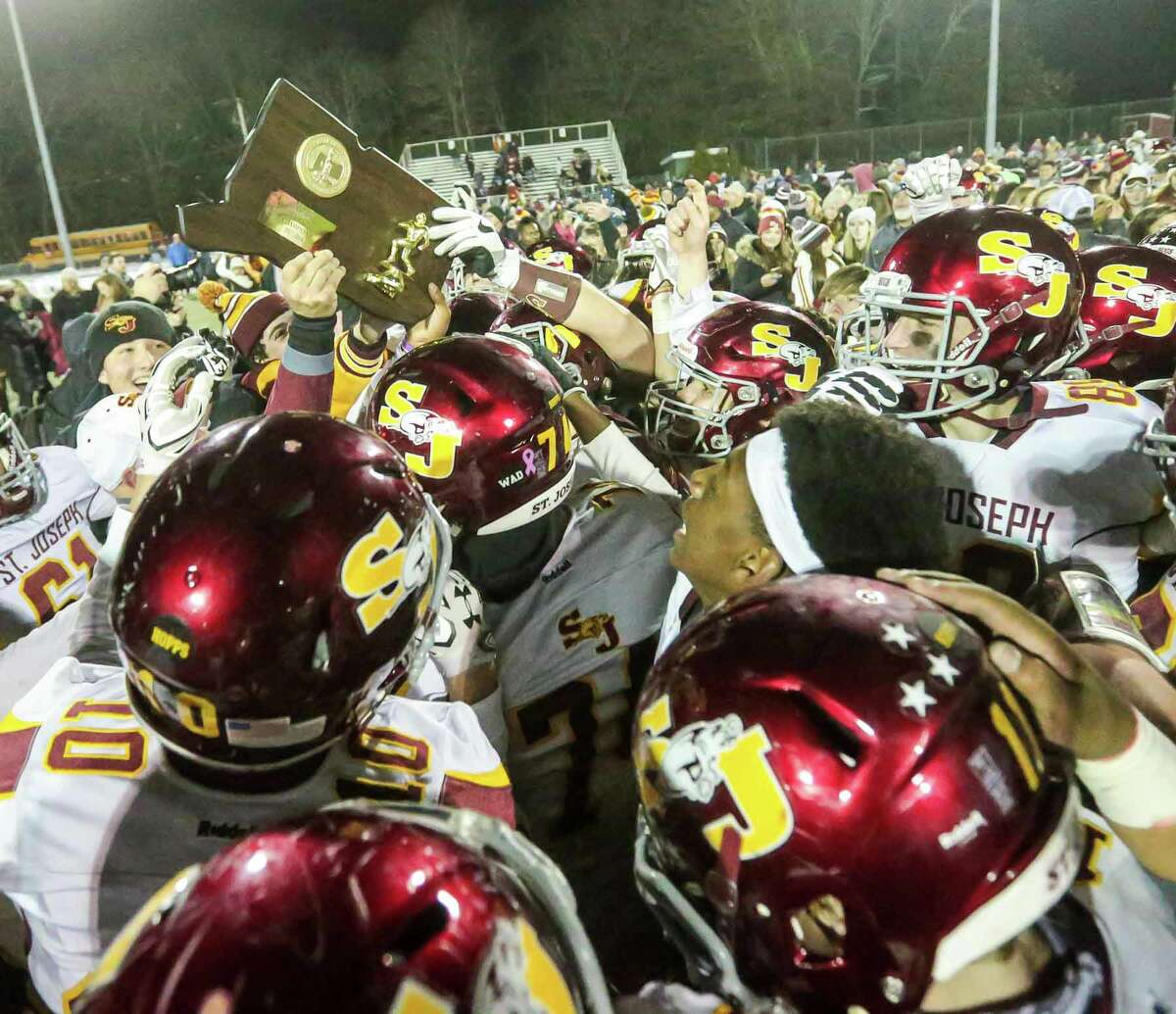 CHESHIRE — Seven years to the day his brother carved up the St. Joseph defense in the Class S final — albeit in a losing effort — Markell Dobbs drew Hogs coach Joe Della Vecchia crazy by ripping off one highlight-reel run after another.
Unfortunately for the Chargers, both games must feel all too similar.
Second-seeded St. Joseph overcame a 21-point deficit in the third quarter to stun top-seeded Ansonia 42-36 in the Class S final Monday evening.
"We all just knew we really needed to turn it on," said St. Joseph wide receiver Phil Pasmeg, who helped spur the comeback with a 71-yard touchdown run late in the third quarter, pulling the Cadets within 28-21. "We had to do just everything we could to get back in that game."
This is what St. Joseph's 42-36 Class S championship victory over Ansonia looked like #cthsfb pic.twitter.com/TBzrDM0E2l

— GameTimeCT (@GameTimeCT) December 12, 2017
When the comeback was complete, St. Joseph (12-1) had won its first state title since 2014 and 13th overall. Only Ansonia (12-1) has more CIAC titles, with 20.
"They all feel great," Della Vecchia said. "Nineteen years in between them [1990 to 2009], and then it's only [three] years since the last one. It feels like 19 years again.
"To beat a team that good with that stature they have in the state … this will be something we'll remember for a long, long time."
Dobbs did everything he could to prevent that from happening, rushing 38 times for 243 yards and three touchdowns.
St. Joseph took the lead. Next Ansonia play, Markell Dobbs does THIS!
And then scores 2pt for Ansonia 36-35 lead. My goodness. What. A Run #cthsfb pic.twitter.com/aMVqsHNLmB

— Sean Patrick Bowley (@SPBowley) December 12, 2017
"Markell was tremendous," Ansonia coach Tom Brockett said. "Markell is probably the best football player in the state of Connecticut. He's a warrior, an absolute pleasure to coach. He left everything out on the field — all of the kids did."
It was Dobbs' final touchdown run of a wild fourth quarter — a 75-yard run on which he zig-zagged from nearly one sideline to another — that gave Ansonia a 36-35 lead with 6:16 to play.
"I've seen a Dobbs before," said Della Vecchia, alluding to the 52-carry, 303-yard performance from Markell's older brother, Montrell, in the 2010 S final, won by St. Joseph 49-28. "I saw [Markell] live [earlier this season]. The two games I saw him play in, I didn't see anybody tackle him. That kind of scared me a little bit.
"We don't have anybody at practice to kind of emulate his speed."
David Summers answers! Hits Jared Mallozzi wiiide open for a 42-36 lead, 5:55 left. What is going on? #cthsfb pic.twitter.com/48ME5sTx9x

— Sean Patrick Bowley (@SPBowley) December 12, 2017
Only 21 seconds after Dobbs put Ansonia in front, St. Joseph grabbed the lead right back — this time, for good.
Summers hit Jared Mallozzi over the top for a 56-yard score. The touchdown capped a 21-point fourth quarter for the Hogs.
On Ansonia's next series, cornerback Ace Luzietti picked off a desperation heave by Ansonia's Justin Lopez for his second interception of the fourth quarter.
"They just come at you in waves," Brockett said. "I thought in the end, they were playing with a little bit more speed in the fourth quarter on both sides of the ball."
Phil Pasemeg takes a cross pass, goes 70 yards. SJ within 28-21 late 3 #cthsfb pic.twitter.com/TpnmUZr8ks

— Sean Patrick Bowley (@SPBowley) December 12, 2017
Touchdown runs of 7 and 3 yards by the CCSU-bound Dobbs gave Ansonia a 22-7 at halftime. The Chargers extended their lead to 28-7 on a 13-yard run by Lopez early in the third quarter, however, St. Joseph answered its next offensive series with a 10-yard pass from Summers to William Diamantis.
Summers would later connect with Jesse Bike one play after a turnover for an 11-yard touchdown, knotting it 28-28. St. Joseph's second lead of the night, 35-28, came with 6:47 to go on a 58-yard run by Jaden Shirden.
"I just wanted to make sure we had the ball last because I thought we were going to keep scoring," Della Vecchia said.
Jaden Shirden — mustering up the magic of his old man — goes yard, out races Dobbs for a 35-28 St. Joesph lead. Hogs have come all the way back again. Take lead #cthsfb pic.twitter.com/prARMyKqpB

— Sean Patrick Bowley (@SPBowley) December 12, 2017
PLAYER OF THE GAME
David Summers, St. Joseph, QB: Summers threw five touchdown passes, including four in the second half.
DO YOU REMEMBER?
The 21-point deficit was only the second-largest comeback of the season for St. Joseph. The Cadets rallied from 25 points down in the fourth quarter earlier this season to beat Ridgefield 38-35. Many of the players used that game as motivation at halftime following a sluggish start against Ansonia.
"We knew if we had the energy coming out in the second half, there was no way they could stop us," Summers said.
QUOTABLE
"We shot ourselves an awful lot. We had 12 penalties at half, a lot of big ones. We had some drives going. I think we were a little bit high strung." — St. Joseph coach Joe Della Vecchia.
TAKEAWAYS
Just realizing I never posted St. Joseph's tying TD catch by Jesse Bike #cthsfb pic.twitter.com/g6GAmNsuVl

— Sean Patrick Bowley (@SPBowley) December 12, 2017
1. AVOIDING DOBBS: St. Joseph made a concerted effort to avoid Ansonia running back Markell Dobbs, including on kickoffs. Instead of kicking the ball to Dobbs, the Cadets sent nearly every kick Justin Lopez's way. That decision helped the Cadets limit Ansonia's field position.
"We didn't even want him to have the ball," St. Joseph coach Joe Della Vecchia said of Dobbs. "No. 8 (Lopez) scares you too because he can fly, but I'd rather have him beat you than Dobbs. Him in an open field, he's just too good."
2. SO, SO CLOSE: St. Joseph trailed 22-7 at halftime, but it could've been worse. A fumble recovery on a kickoff set Ansonia up at the Cadets' 43 yard line with only seconds remaining in the first half. Lopez ran all the way down to the 3, where he was brought down on a touchdown-saving tackle.
"We went to a little prevent and everything," Della Vecchia said, "and I think the scrambling ability of the kid caught our kids by surprise. We had talked all week about him. When he gets in an open field, he's really dangerous.
"I didn't really see what happened because I was kind of taking my headset off."
3. ACE IN THE HOLE: Junior cornerback Ace Luzietti came up big on defense for St. Joseph, recording a pair of interceptions in the second half. Luzietti picked off Dobbs on a halfback pass when the score was 28-28, and he intercepted a desperation heave by Lopez later on to help preserve the victory.
4. COSTLY MISTAKE: St. Joseph began its first touchdown drive of the night at Ansonia's 21 after a snap sailed over Lopez's head on a punt attempt. The next play, David Summers connected with Phil Pasmeg for a touchdown and a 7-0 lead.
5. FLAG HAPPY: St. Joseph sure didn't make life easy on itself. In the first half alone, the Cadets were called for 12 penalties.
"The beginning of the game we had a lot of penalties," Summers said. "It was basically us hurting ourselves."