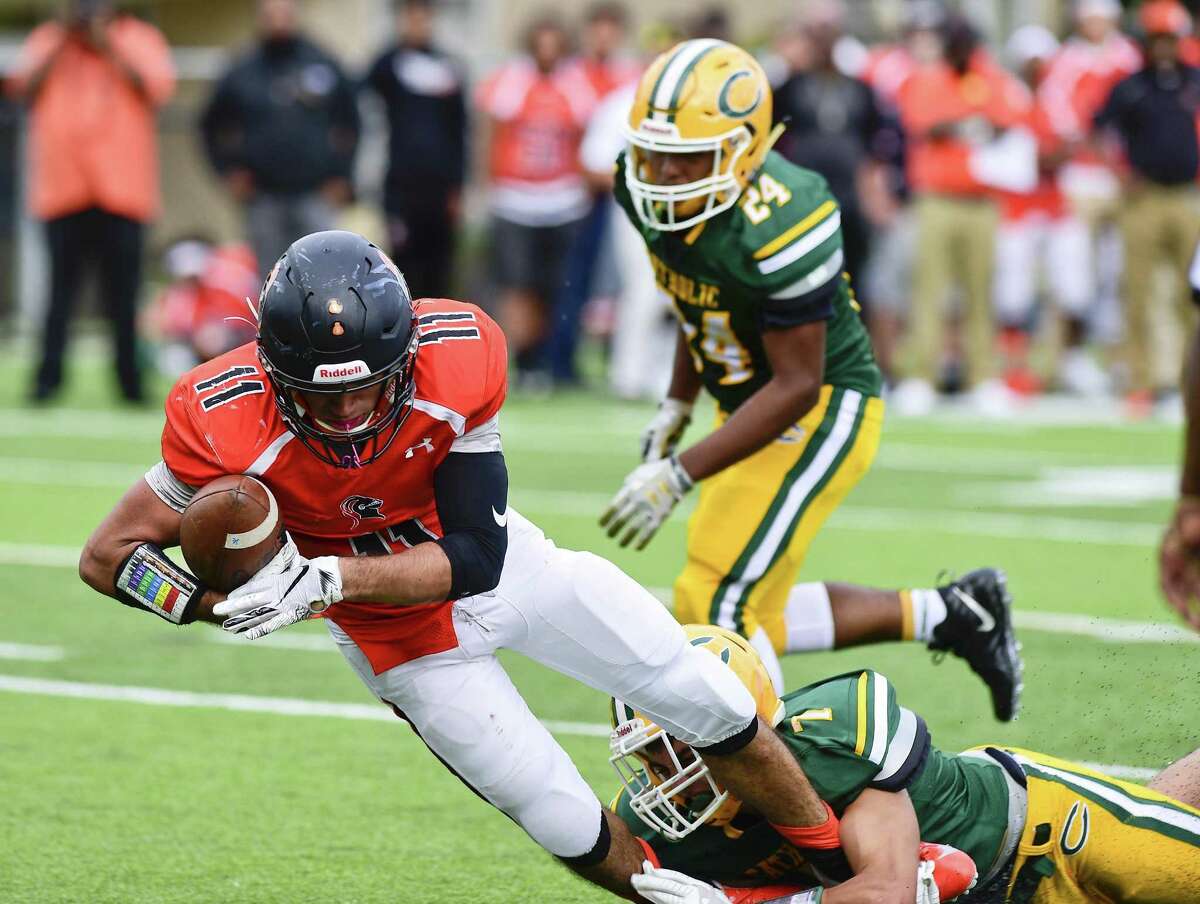 STAMFORD — The game plan for the Stamford High football team was simple.
Ground and pound.
Sticking largely to the running game, Stamford ran to a 19-7 win over rival Trinity Catholic Saturday afternoon.
All the points in the game came in the second half.
"The game plan was run first. Our receivers are a little mad about it, but we felt like we were a little bigger than them and we felt we would be run first and ground and pound today," Stamford coach Jamar Greene said. "We knew we had the counter in our back pocket. We tried to run it late in the third quarter but messed up the snap, but we saw it was still going to be there. We knew it would hit. We didn't know it would be for a touchdown, but we knew it would be for big yardage."
The counter run did in fact hit for a touchdown with Lenny Garcia busting out for 60-yard scoring run with 6:28 to play, putting Stamford up 12-7.
Garcia scored again on a 4-yard run with 17 seconds remaining, putting an exclamation point on the Black Knights' first victory of the season. Trinity turned the ball over three times, twice on special teams.
The second special-teams turnover proved especially costly as Stamford scored its first touchdown six plays after recovering a fumbled punt. Quarterback Isaiah Johnson score on a 1-yard dive.
"Too many mistakes to beat a team with the athletes they have," Trinity coach Donny Panapada said. "Our kids played hard but too many mistakes. I sound like a broken record. The penalties we had are just foolish and we can't give any yards away, especially 15 yards or motion penalties third-and-short. We are not good enough to do that."
Trinity took a 7-6 lead in the third quarter on a 15-yard touchdown pass from Sam Pensiero to Tahj Morgan.
PLAYER OF THE GAME
Lenny Garcia, Stamford. Garcia ran hard all afternoon, scoring two touchdowns.
QUOTABLE
"This is a big one coming off the two losses. We made a couple mistakes, but we got the win," Garcia said. "This was more of a run game than passing. We barely passed the ball this game and they couldn't stop the run."
STAMFORD 19 TRINITY CATHOLIC 7
STAMFORD 0 0 6 13—19
TRINITY 0 0 7 0—7
S—Isaiah Johnson 1 run (kick failed)
T—Tahj Morgan 15 pass Sam Pensiero (Mark Lombardo kick)
S—Lenny Garcia 60 run (run failed)
S—Lenny Garcia 4 run (William Martinez kick)
Records: S 1-2; TC 0-3