Week 3: Stamford (0-2) at

Trinity Catholic (0-2),

Saturday, 1 p.m.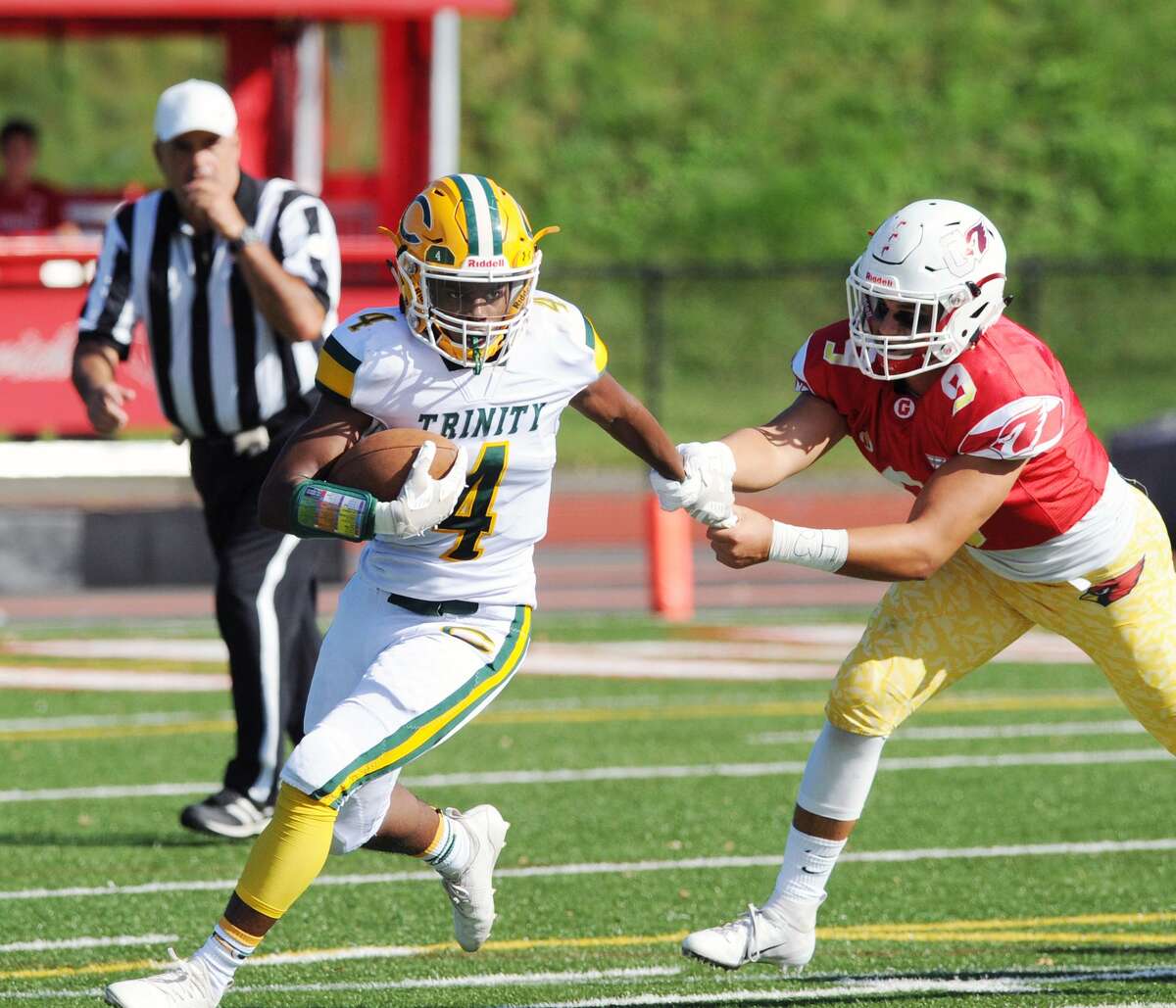 The city football game between Trinity Catholic and Stamford High could not be coming at a better time for the two schools.
Both teams come in at 0-2 having lost week one games they both felt were winnable and both getting blown out in their week two contests.
Now they get to face each other in the first leg of the Stamford city championship with a chance to erase the bad taste left by the first two weeks.
Of course, while one team will pick up its first victory, the other will walk off Gaglio Field Saturday afternoon at 0-3.
The two will meet at Trinity Catholic at 1 p.m. Saturday afternoon in Trinity's homecoming game.
"Someone will get their first win. It doesn't matter when we play them, the kids will be fired up but having both of us having a chance to get our first win will make it more intense," Stamford coach Jamar Greene said. "It is a dangerous spot because it is their homecoming and their first home game of the season and we know they will be extra fired up because of that."
Trinity coach Donny Panapada said his team is amped up to be playing its home opener but also knows Stamford is entering the game just has hungry as his squad.
"There's no time like the present. We have had a very good days at practice Monday and Tuesday, it's homecoming and the kids are excited and looking forward to the challenge of a city game," Panapada said. "This game could do a lot to boost the morale for both of us. Hopefully we can do enough things well Saturday and get a win."
Both sides are sporting rosters that skew young with plenty of juniors, sophomores and even freshmen who will see playing time Saturday.
"We have a lot of kids doing a lot of good things for us but nobody standing out as a superstar," Panapada said. "We have sophomores and freshmen playing right now and they are doing a good job and playing hard."
He said while the first two weeks traveling to Danbury and Greenwich were rough matchups, his team is taking lessons every step of the way.
"Danbury was a tough loss and Greenwich is one of the best teams in the state. Hopefully we learn something from those games which we can use to make us more successful," he said. "While I have not been pleased with our execution, I have been pleased with our effort. Hopefully that effort shows Saturday and we limit the mistakes and turn these lessons into a win."
Stamford has also been plagued by sloppy play but Greene has also seen flashes from his team he thinks could be the start of moving in the right direction.
"We let one get away against Warde because we didn't know how to finish," Greene said. "We have to execute. We are a young team but we have too many unforced errors. We can't have mistakes we are making on our own, we are not good enough to overcome that. These two teams are very evenly matched and it's going to come down to which team does not make those unforced mistakes."