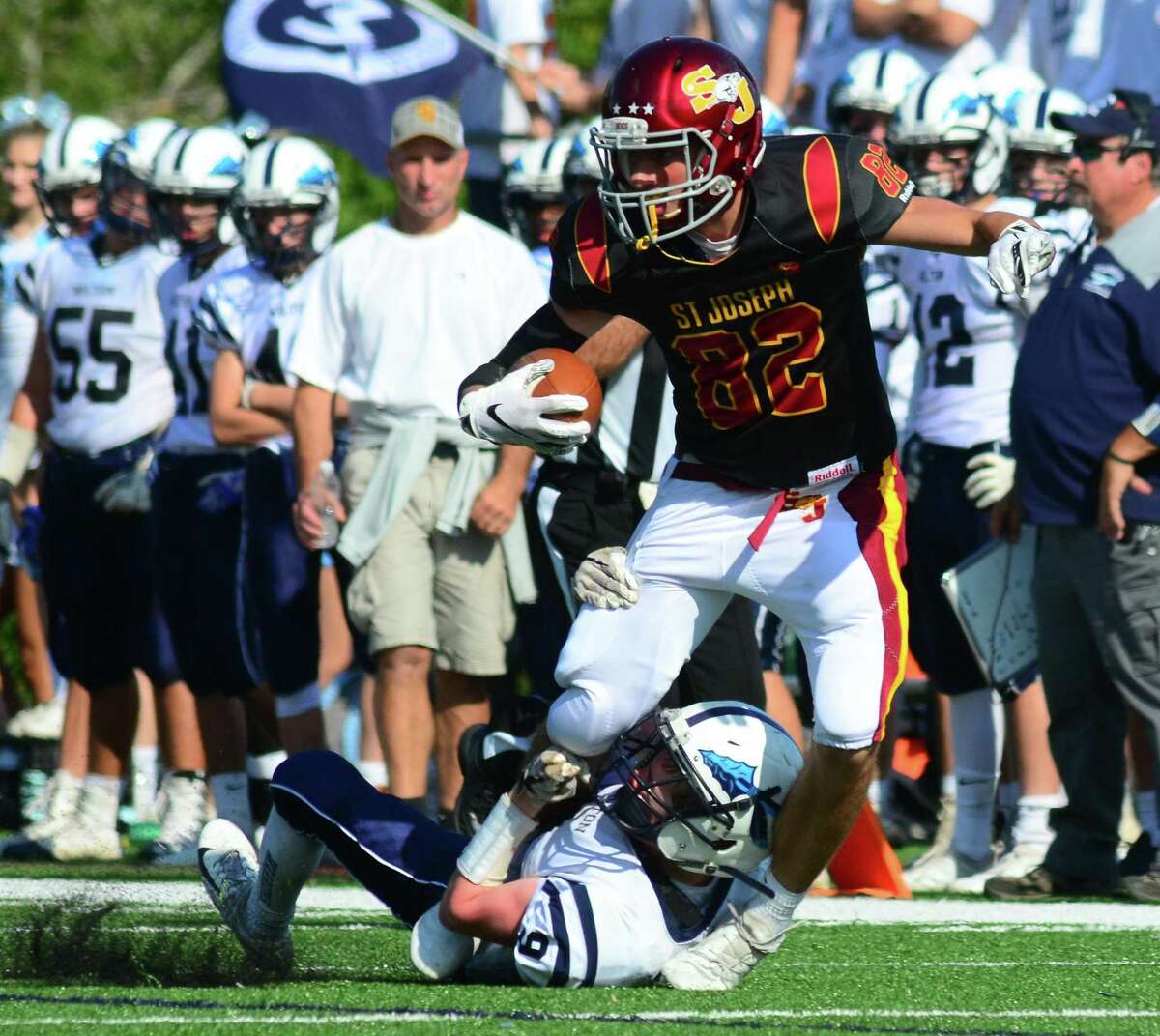 TRUMBULL — The time St. Joseph spent ranked as the top football team in the state was brief and relatively unsatisfying. The Hogs rose to the No. 1 spot in the GameTimeCT poll following their triumphant 28-0 victory over preseason favorite New Canaan in Week One, then dropped to No. 4 two weeks later after a 22-7 setback against Darien.
On Saturday afternoon, St. Joseph got back to business.
The Hogs were finally able to turn the page on their lackluster showing against Darien, and they did so in a big way. They took out all their frustration on Wilton, dismantling the Warriors 47-0 at Dalling Field.
"Long week, long week," St. Joseph coach Joe Della Vecchia said. "We certainly needed to get out here and just play some football. We tried to put last week in the past and move forward to try to keep our goal in sight."
The Hogs' goal, of course, is a state championship in Class M. And they looked every bit a contender against Wilton (2-2), even without All-State tight end Phil Pasmeg (broken clavicle) and a few other key pieces. They scored on five of their first seven drives, building a commanding 40-0 lead at halftime.
"We just wanted to put it away early," running back Jaden Shirden said.
And with Shirden's help, that's exactly what St. Joseph (3-1) did. Shirden ran 12 times for 108 yards and four touchdowns, three of which came in the first half.
"Our line did a great job," Shirden said. "We've got to keep working hard, keep doing what we need to do."
Having to play six sophomores on offense and five on defense because of injuries, the Warriors were no match for St. Joseph. They fell behind 7-0 after just four plays when Shirden ripped off a 35-yard run. Shirden's second touchdown run of the afternoon — this one a 4-yarder — doubled the Hogs' lead late in the first quarter.
"St. Joe's is St. Joe's. It was going to be a tough challenge," said Wilton coach EJ DiNunzio, whose team fell behind 30-0 after just 14 minutes. "Coming in as handicapped as we were, we knew it was going to be an uphill battle. We did the best we could. We could've played a lot better. I wanted my second-string guys to get in there and do a better job, which they didn't.
"Listen, we'll turn the page and move on to next week because we have (Bridgeport) Central. If we play this way, we're not going to beat them."
The Warriors struggled mightily on both sides of the ball. Their offense committed three turnovers — including an interception that Darren Warren returned 13 yards for a touchdown and a 37-0 lead — and allowed three sacks and a safety. Their defense surrendered four first-half touchdowns.
"Penalties is another thing," DiNunzio said. "When you have starters working with second- or third-string guys, cadence changes, counts change. It was a mess today. We knew it was going to be tough, but we really have to get back to work. Injuries are injuries; it just seems that we've been beset by so many of them this year."
With the lead well in hand, St. Joseph's first-team offense played only one drive in the second half. It marked the end of a short day for Maryland-bound quarterback David Summers (7 of 12 for 98 yards), who threw for one touchdown and one interception.
PLAYER OF THE GAME
Jaden Shirden, St. Joseph, RB: St. Joseph owned a considerable advantage up front in terms of size and experience. That turned out to be good news for Shirden, who gashed the Warriors' defense for 108 yards and four touchdowns — runs of 35, 4, 10 and 2 yards — on the ground.
QUOTABLE
"We're still missing kids; we don't know when we're getting them back. The other guys that are stepping in are doing a pretty good job, but they're still learning on the fly. We're two-platooning. Those guys are now shifting over from the defensive side of the ball, having to fill in. That's certainly not easy." — St. Joseph coach Joe Della Vecchia
MAKING A PLAY
One of the few stops that Wilton's starting defense made came courtesy of Drew Phillips. The junior defensive back intercepted a pass by David Summers early in the second quarter. At the time, the Warriors trailed 21-0.
ST. JOSEPH 47, WILTON 0
WILTON 0 0 0 0 — 0
ST. JOSEPH 21 19 7 0 — 47
SJ — Jaden Shirden 35 run (Luke Kirby kick)
SJ — Shirden 4 run (Kirby kick)
SJ — Jesse Bike 45 pass David Summers (Kirby kick)
SJ — Safety
SJ — Shirden 10 run (Kirby kick)
SJ — Darren Warren 13 interception return (Kirby kick)
SJ — Kirby 34 field goal
SJ — Shirden 2 run (Kirby kick)
Records: Wilton 2-2; St. Joseph 3-1.