Week 3: Barlow (1-0) at Brookfield (2-0), 7 p.m.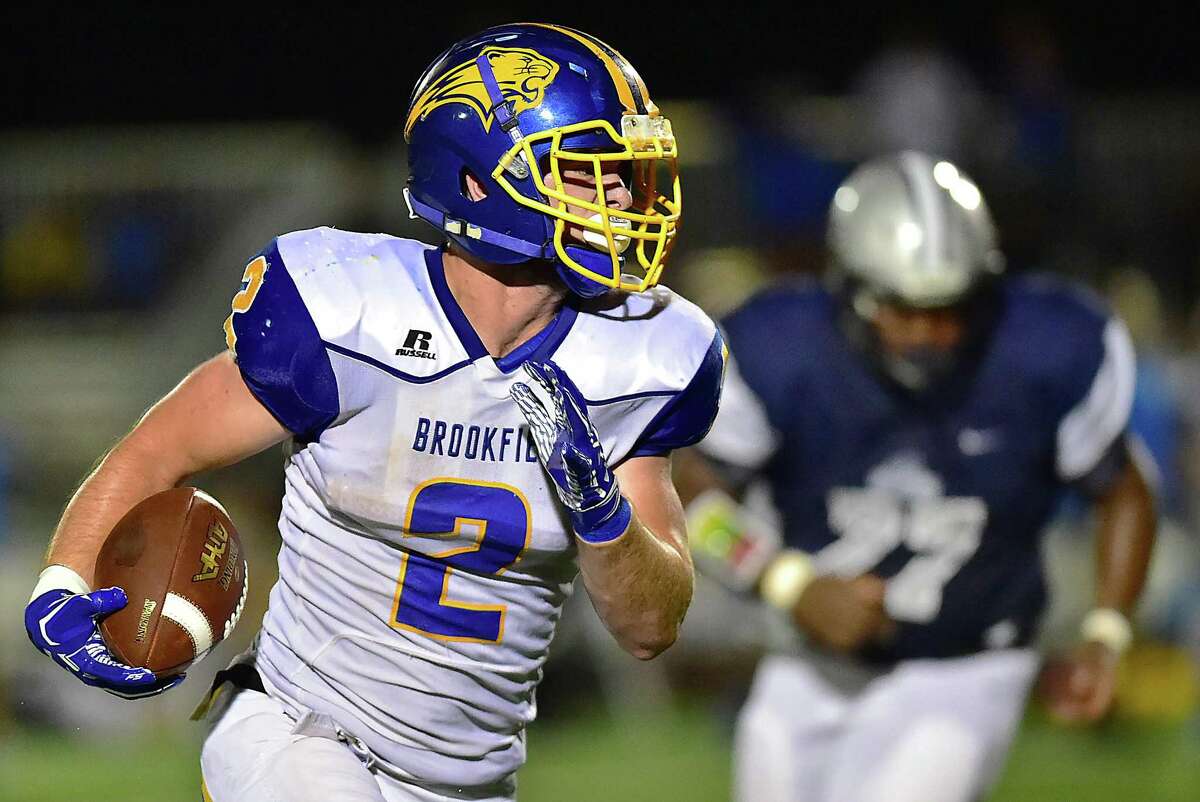 BROOKFIELD — It's quickly becoming a case of pick your poison when it comes defending the rushing attack of the Brookfield Bobcats.
With the help of a promising offensive line paving the way, a stable of explosive running backs have combined to put up video game numbers. The Bobcats sit at 2-0 after scoring 93 points in wins over Masuk and Hillhouse to start the season.
Seniors Conor McVey and Jack Mix and junior Nick Henderson have tormented defenses early in the season. Brookfield is already closing in on 1,000 yards on the ground as Henderson (383 yards) and McVey (261) are each averaging 10.4 yards per carry.
"We expected to run the football well," Bobcats coach Rich Angarano said. "When I met with (new offensive coordinator Lou Darcangelo) in the offseason we knew we were going to run more this year than we had in the past. We're not running the Wing-T and the Wishbone as we did in 2015 with Bobby Drysdale, but we're running it well. We have a stable of a lot of running backs."
After experimenting with the spread formation for two seasons, the Bobcats returned to their true identity this fall. It began clicking in the second half against Masuk as Brookfield rolled in a rout to avenge last year's defeat. The game was a coming out party for Henderson — who had 250 yards and four touchdowns — after missing half of last season through injury.
"It's not really different because my eighth grade team ran I-formation and my freshman year ran Wishbone," McVey said. "It wasn't until sophomore and junior year that we ran spread and it didn't really work. But then we go back to the basics of Pop Warner; we've been playing this stuff since we were 10-years old. I feel like that's part of our success; we've been doing this since such a young age. We all trust each other because we've been running it for so long."
Ryan Melby, Eric Reich, Danny Drysdale, Adam Frame and Richard Mitchell — along with tight end Gavin Borges — have created the holes along the offensive line. Four of those six are seniors while another running threat himself, Trevor Sterry has guided the ship at quarterback.
"That unit is making this all happen," Angarano said of his front six. "(Offensive line coach Bob) Drysdale is doing an excellent job of teaching them what we want to execute and they're doing it well."
It's a ground attack that was mostly the philosophy at the youth level for the Bobcats. Heading back to basics came just in time for a senior-laden group eager to make noise in the SWC and Class M.
"I was excited coming into the year as a running back knowing we were going to pound teams," Mix said. "It's just wearing down teams; even if its three, four yards at a clip eventually there will be a big play."
Henderson and McVey have each had touchdown runs of more than 85 yards to add a home-run presence in the ball-control offense. The pair have combined for nine scores on the ground.
"If one of us has a bad play the other person bounces back," McVey said. "Even if someone has a great play, the other one will too; it can frustrate other teams because there's two backs you have to worry about, and then if you bring in a QB that can run (Sterry), it's three backs you have to key on."
All of this has taken place without co-captain Chris Comizio, who figures to be a crucial component of the attack. Comizio was injured early in the game against the Panthers and Angarano said he hopes his senior will be back at some point this season.
The Bobcats hope this trend continues heading into a big matchup Friday night. Class M finalist Barlow (1-0) comes to town in the home opener for Brookfield, which will get to turn on its new lights that were installed in the offseason. A win for either will provide a big leg up in the chase for the playoffs.
"We're so excited, this year is different," McVey said. "We're going to treat it like it's another game going into it, but there's that little extra bit of passion and burn in there that's going to drive us to go out and win, hit and battle through the tough moments."