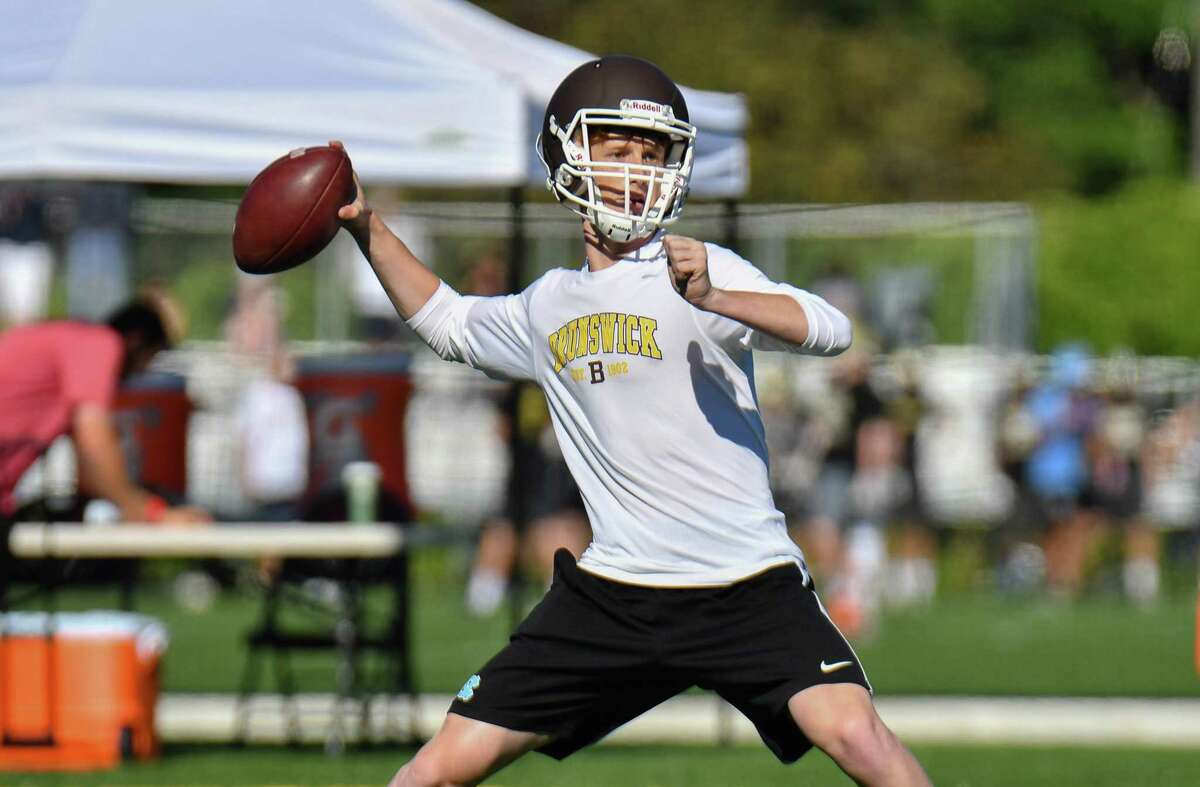 NEW CANAAN — The Grip it and Rip it passing tournament annually draws the best teams in the area to New Canaan High School for a weekend designed for those who love the spread offense.
This year, the level of quarterback play on several teams was as good as it has ever been, with several talented signal callers returning as starters.
On the top of that heap is Notre Dame-bound junior Drew Pyne of New Canaan, who was playing in his third Grip it and Rip it.
Pyne said being able to read and understand the defenses is just as valuable to him as getting timing down with receivers.
"As a quarterback, we are just seeing the skeleton of the defense, obviously the nuts and bolts are the linemen. But in that skeleton, you can read cover-1, cover-2 and what routes are open during that time," Pyne said. "Three years ago, this was my first 7-on-7 tournament, ever. I didn't know what to expect, but since then my understanding of it has grown. It's really fun and really good for team bonding and makes your team better going into padded practice later in the summer."
RELATED: DARIEN SEARCHES FOR NEW QB
RELATED: NORWALK SET AT QB, McMAHON LOOKING
RELATED: PREP, ST. JOE'S, TRUMBULL
RELATED: QB OPEN POSITION AT BRUNSWICK
RELATED: RECEIVERS CATCHING ON FOR GREENWICH
Other established quarterbacks backed up Pyne, noting the defenses sans linemen is not what they will see in the fall, but it gives QBs a solid idea of what the linebackers and safeties are up to.
"When you are throwing and there are no defenders playing the ball, there are no the tight windows you need to fit it in," Trumbull quarterback Colton Nicholas said. "They are still playing the shell of their cover-2 or whatever defense they play. There are no linemen and it's nice to be able to see the linebackers and safeties move."
For many teams, the 7-on-7 tournaments of the summer and Grip it and Rip it, are the first time quarterbacks get to work with up and coming receivers who did not play varsity the year before.
"We have couple new kids coming in at receiver and this is all about getting them in and getting them practice, getting them reps and getting them to learn the plays" Maryland-bound St. Joseph quarterback David Summers said. "On top of that, this is the first time we are able to get out as a team and play other great competition. It is all beneficial. It's all different once you put the pads on, but you can learn a lot from watching all the good quarterbacks here."
In addition to Pyne, Summers and Nicholas, Greenwich quarterback Gavin Muir also showcased his elite-skill set.
Norwalk quarterback Kyle Gordon started as a sophomore and said the 7-on-7 tournament gives everyone a unique practice opportunity.
"I like the practice this gives me. Getting live reps with the other skill positions, you can't do that just throwing," Norwalk quarterback Kyle Gordon said. "We also have a young team and it is all about getting reps in preparation for the season. We are just getting started and we are not 100-percent yet, but we are going to keep working and keep getting those reps in and get ready for the season."
PROVING GROUND
While the focus for many at New Canaan HS this weekend was on the plethora of talented returning passers , in other games quarterbacks are just trying to earn a starting spot.
Quarterbacks in competition for the starting spot on their teams like Brunswick senior Fin Signer and junior Nicky Winegardner view the tournament as a chance to move a step closer to a starting position come the fall.
"Since we lost a lot of seniors, we are getting ready to reboot the offense and this is a great learning opportunity for everybody," Winegardner said. "We get a chance to learn the plays and system but also to prove ourselves. That's the biggest takeaway for me. We have been throwing all off season, but it is good to try and get some real competition out here. There are a couple guys trying to earn a starting spot and this tournament is important as far as offseason work goes."
If teams do not play spring games, the 7-on-7 summer circuit can be the first time coaches see up and coming players against varsity-level competition.
Brunswick and others, including Darien, used the tournament as a kind of pre-tryout, playing two quarterbacks and seeing how players fare against live defenders.
COACHING LESSONS
While Grip it and Rip it serves as a proving ground for some young players, first-year coaches also view it as an opportunity to observe their team in game-like situations even though they are not actually coaching them.
New Brien McMahon coach Jeff Queiroga, who was an assistant for the Senators for 13 seasons, said being at the helm is something that takes getting used to.
"For me, I have never done this before. Even though I have been an assistant for 13 years, my role is clearly different. There was always someone there to guide me through the process but now I'm No. 1 in command," Queiroga said. "Being here at 7-on-7 is good for me, too. This is an exhibition for me just like it is for the kids out there."
The spread offense of Grip it and Rip it is not exactly in line with what McMahon is going to do this coming season, they plan on running the ball more, but watching how his offensive coaches game plan was a valuable learning tool for the new head coach.
"We are installing a new offense and that is a learning experience for me right now," Queiroga said. "I am watching our offensive coordinator and seeing the plays he likes to run in order to gain an understanding of what's going on. I had a role with the offense but as a defensive coordinator I was never involved in the planning of it. I am learning on the fly, here. It's like spring training but I need it, it is very humbling."
HOME TURF ADVANTAGE
New Canaan has hosted the tournament for 11 years, but Saturday was just its second appearance in the championship game.
New Canaan played in the final the first year in a tournament consisting of four schools.
This year, New Canaan was the last Connecticut team standing, taking on Cardinal Hayes of the Bronx in the semifinals with Archbishop Stepinac and Iona Prep playing the other semi.
In the championship game, New Canaan defeated Stepinac 23-15 to win the title.
EXPANDED FIELD
Last summer Grip it and Rip it contracted down to 16 teams due to renovations at New Canaan, but this year they were back at 28 teams competing.
Nine teams from the FCIAC (New Canaan, Darien, Greenwich, St. Joseph, Norwalk, McMahon, Stamford, Trumbull and Ludlowe), two from the SCC (Fairfield Prep and Hand) and one from the SWC (New Fairfield) competed this time around.
Other Connecticut teams were Brunswick, St. Luke's, Harding, Oxford, Choate.
sericson@stamfordadvocate.com; @EricsonSports