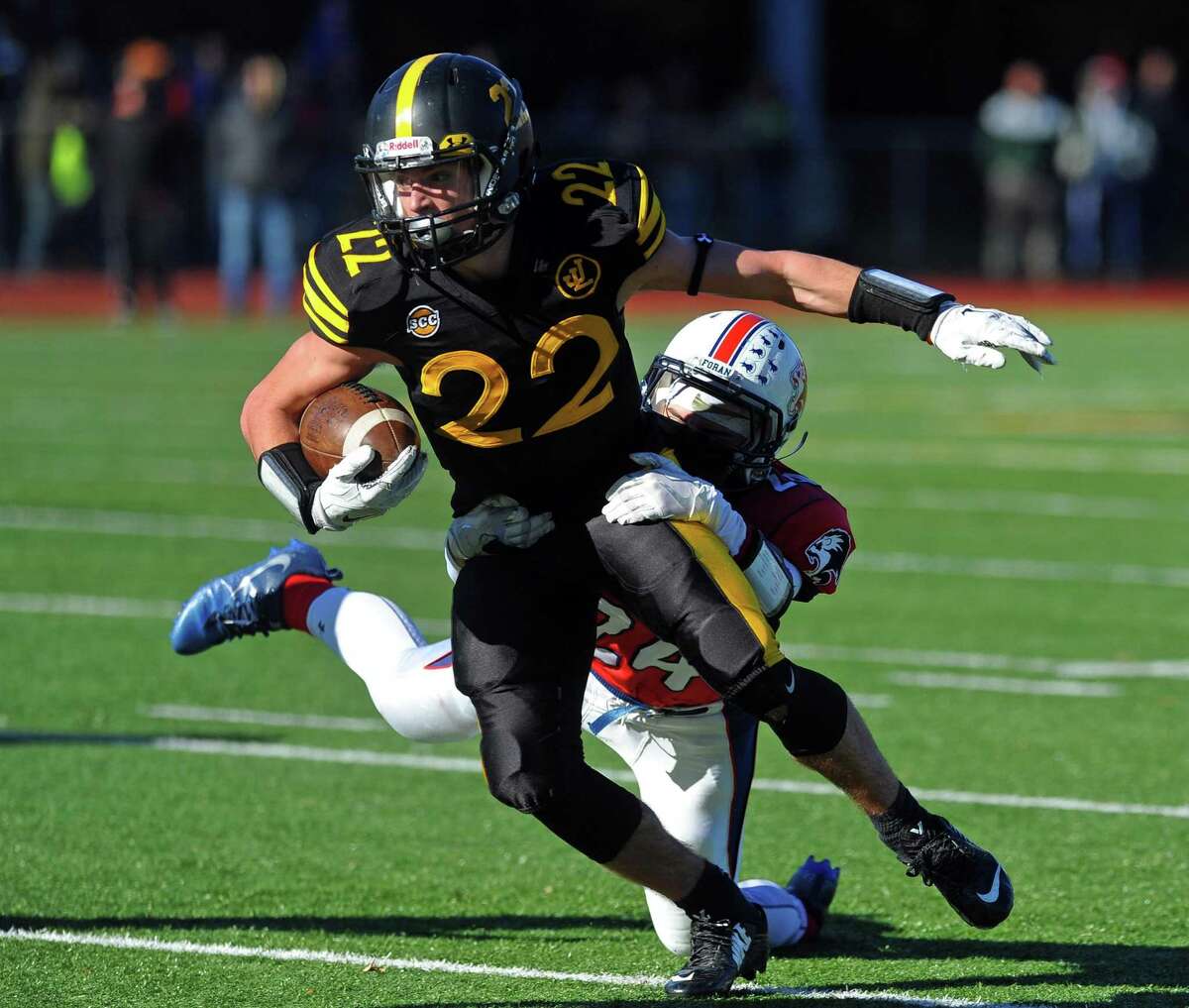 MILFORD — To make history, sometimes it takes a little magic.
You need all the scores to break your way. You need the unexpected to go just right. You need your big players to be your big players.
Everything aligned the way Law needed on Thursday morning, and the Lawmen are off to the CIAC playoffs for the first time after a 34-28 home win over Foran.
"It means everything," said Law coach Erik Larka, an alumnus. "This is why I took the job. When I was playing, I wanted to go to the playoffs. As an assistant coach, I wanted to go to the playoffs."
They'll go visit Killingly (10-0), the top seed in Class M, on Tuesday.
The Lawmen (6-4) trailed 28-20, but after getting the ball back at midfield with 6:23 to play, they drove to the 13. Hayden Hulme dropped the snap, picked it up and threw a 13-yard touchdown pass to Cole Egersheim. Player of the game Mike Plaskon (27 carries for 152 yards and two TDs plus a punt-return touchdown) added the two-point run to tie it.
"I did see him drop the ball," Egersheim said. "That's why I came back to him. It was magic."
Plaskon's 14-yard run with 57 seconds left, set up by a 46-yard Hulme pass to Ethan Saley, put the Lawmen ahead. Banged-up Foran quarterback Jared Hubler ran the kickoff back to the Lions 40, but a short run, a short pass and two incompletions ended it.
The Lawmen had their first win over Foran (4-6) in a decade, and they had already heard that other games around the state had gone their way. They were going to the playoffs.
"It's a huge achievement. It was one of our goals at the beginning of the year," said Plaskon, a junior who Larka said may eventually be a better cornerback than running back.
Several Foran players missed at least a play, including Hubler, who missed one play on offense (Matt Cruz took it 21 yards for a touchdown), receiver Max Tavitian and fullback Matt Kennedy.
"No excuses," said Foran's Jeff Bevino, coaching his last game. "It's life. I'm sure they lost some people too during the game."
There were moments that could've broken the other way. After Law converted on third-and-43, the Lions thought they'd forced a fumble on the play before the Lawmen took a 20-14 lead; the whistle had blown. They thought Law had linemen downfield at least once, including the miracle toss to Egersheim.
"They're better," Bevino said. "Their coaches have done a great job over there."
PLAYER OF THE GAME
Mike Plaskon started the day with a 69-yard punt return, then ran for 152 yards and two scores.
WHAT FOR HOW MANY?
Hubler (177 yards and three rushing touchdowns) went 64 yards for a touchdown on the first play of the second half, and Law went backward on the next drive, faced with third-and-43 from its own 3.
But Hulme found Saley down the right sideline for 65 yards. A personal foul tacked on 15 more. Hulme and Saley connected again two plays later.
DECISION ON POINTS
Law needed Wolcott to lose for the Lawmen to have a chance at making the CIAC tournament. Not only did Wolcott fall to Holy Cross 42-28, but it turned out everyone else in the hunt lost as well.
Thursday's Weston-Barlow winner was guaranteed a spot, and Barlow took that 50-14. The Lawmen finished 10 points, as close as it gets without a tie, ahead of Weston for eighth.
EARLY TRIBUTE
A group of players from Bevino's 1985 Roger Ludlowe team greeted the coach when Foran arrived at Law on Thursday morning.
QUOTABLE
"Down eight, we knew our offense could get moving. Everyone was confident in the game, confident in the win." — Plaskon
LAW 34, FORAN 28
FORAN8 0 13 7—28
LAW13 0 7 14—34
L—Mike Plaskon 69 punt return (Cole Egersheim kick)
F—Jared Hubler 2 run (Hubler run)
L—Plaskon 13 run (kick failed)
F—Hubler 64 run (pass failed)
L—Ethan Saley 14 pass Hayden Hulme (Egersheim kick)
F—Matt Cruz 21 run (Zac Cleary kick)
F—Hubler 1 run (Cleary kick)
L—Egersheim 13 pass Hulme (Plaskon run)
L—Plaskon 14 run (kick failed)
Records: Foran 4-6; Law 6-4