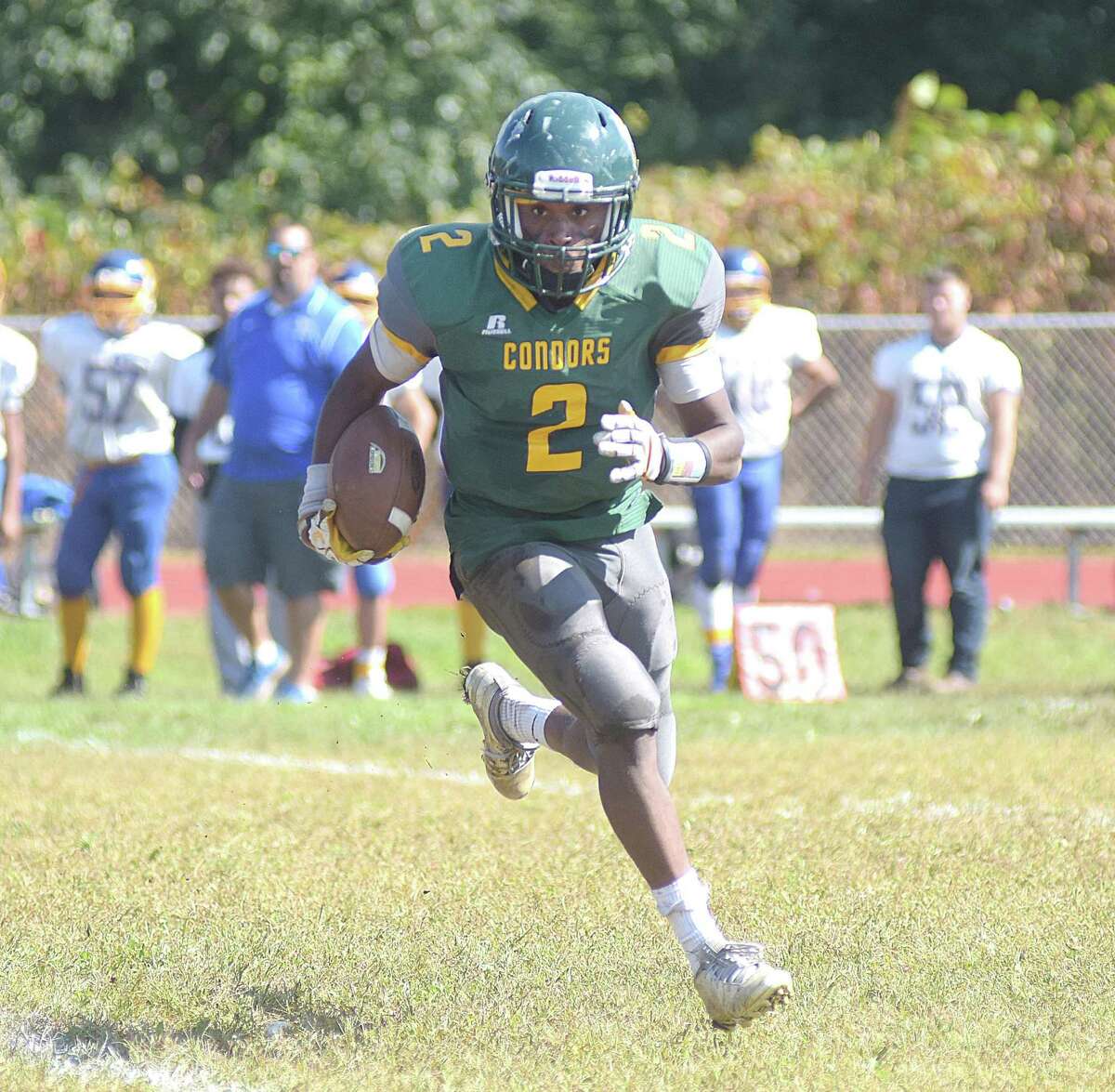 ANSONIA — Simply put, the Emmett O'Brien Tech football team Roc'd the house on Saturday.
And, because of that, the Condors rolled to their third win of the season.
The one-two punch of twin brother tandem Jommar and Jonte Roc combined for 402 yards of rushing and eight touchdowns to lift the host Condors to a 56-27 win over Henry Wilcox Tech at the O'Brien Athletic Complex.
The 56 points was a school record, according to coach Nick Aprea.
"I don't want to say it's a big deal but when you put up 56 points, you've played really well," Aprea said.
O'Brien Tech scored early and often to put the game away against a pesky group of Indians.
Jommar Roc scored all five of his touchdowns in the first quarter as O'Brien Tech took a 35-6 lead.
"It's just like something clicked today," Jommar Roc said. "The o-line was making the blocks we needed and I owe it all to them. Without them, I don't score any of those touchdowns."
It took the Condors two plays to score their first touchdown and then just two plays to score their next two to make it a 21-0 game.
Jommar Roc went for 55, 51 and 34 yards on those scoring runs.
"We came out and those first four plays were boom, boom, boom and their body language changed," Aprea said.
Wilcox Tech did get one score back when Devario Reid returned a kickoff 80 yards for a score.
But the Condors responded with back-to-back scoring drives as Jommar Roc scored on a 9-yard run and a 37-yard run.
By the time the first quarter ended, it was 35-6, O'Brien Tech, and Jommar Roc had 244 yards rushing.
"I wishi I could take the credit, but it goes to my offensive coordinator," Aprea said. "We didn't even practice most of those plays all week. It was all about how they lined up when we had the ball. Our offensive line just played well."
As the Indians offense started focusing on Jommar Roc, that opened the game for Jonte Roc, who finished the day with 141 yards and three touchdowns on 17 carries. He was also 5-for-8 throwing the ball for 87 yards.
"They were about as good as I've seen them," Aprea said of the Rocs.
Wilcox Tech coach Trevor Jones said the Condors were bigger, stronger and simply better than he expected.
"Nick's done a great job here with this program," Jones said. "They're just huge up front. They're bigger and stronger up front than I thought and they're got the best skill players they've had since, well, I've been here forever."
All told, O'Brien piled up 494 total yards on the day.
THE X-FACTOR
After last year's 8-3 season, which included a trip to the Class S state playoffs, the Condors are playing this season as a marked team.
"Before I came here, we were the underdog," Jommar Roc said. "But coach has said it: Now we're the top dogs and they're going to keep coming after us. We have to go out there like it's our league and we have to go out there and play good football."
NOT GIVING UP
Despite trailing 49-6 late in the second half, Wilcox Tech refused to just wilt away in the surprising late September heat.
The team answered Jonte Roc's second touchdown of the game with another score as Reid raced 45 yards on a shovel pass from quarterback Derek Gendreau to make it a 49-12 game at the half.
While the Condors scored to open the third quarter, Wilcox Tech again answered as Gendreau hit Troy Mitchell for a 10-yard scoring pass.
The Indians then tried an onside kick, which they recovered when Jeremy Perez pounced on the ball.
Wilcox Tech followed that up with a 10-play drive, scoring when Gendreau rushed in from three yards out on a fourth-and-goal to make it 56-27.
"We're not going to sit around," Jones said. "That's what we believe in, but they just outplayed us all over."
O'BRIEN TECH 56, WILCOX TECH 27
WILCOX TECH 6 7 7 7—27
O'BRIEN TECH 35 14 7 0—56
OBT—Jommar Roc 55 run (Eric Edwards kick)
OBT—Jommar Roc 51 run (kick failed)
OBT—Jommar Roc 34 run (Jonte Roc rush)
WT—Devario Reid 80 kickoff return (kick failed)
OBT—Jommar Roc 9 run (kick failed)
OBT—Jommar Roc 37 run (Jonte Roc rush)
OBT—Jonte Roc 3 run (Edwards kick)
OBT—Jonte Roc 5 run (Edwards kick)
WT—Reid 45 pass from Derek Gendreau (Albert Sarris kick)
OBT—Jonte Roc 15 run (Edwards kick)
WT—-Troy Mitchell 10 pass from Gendreau (Sarris kick)
WT—Gendreau 3 run (Sarris kick)
Records: Wilcox Tech 2-2, O'Brien Tech 3-0.