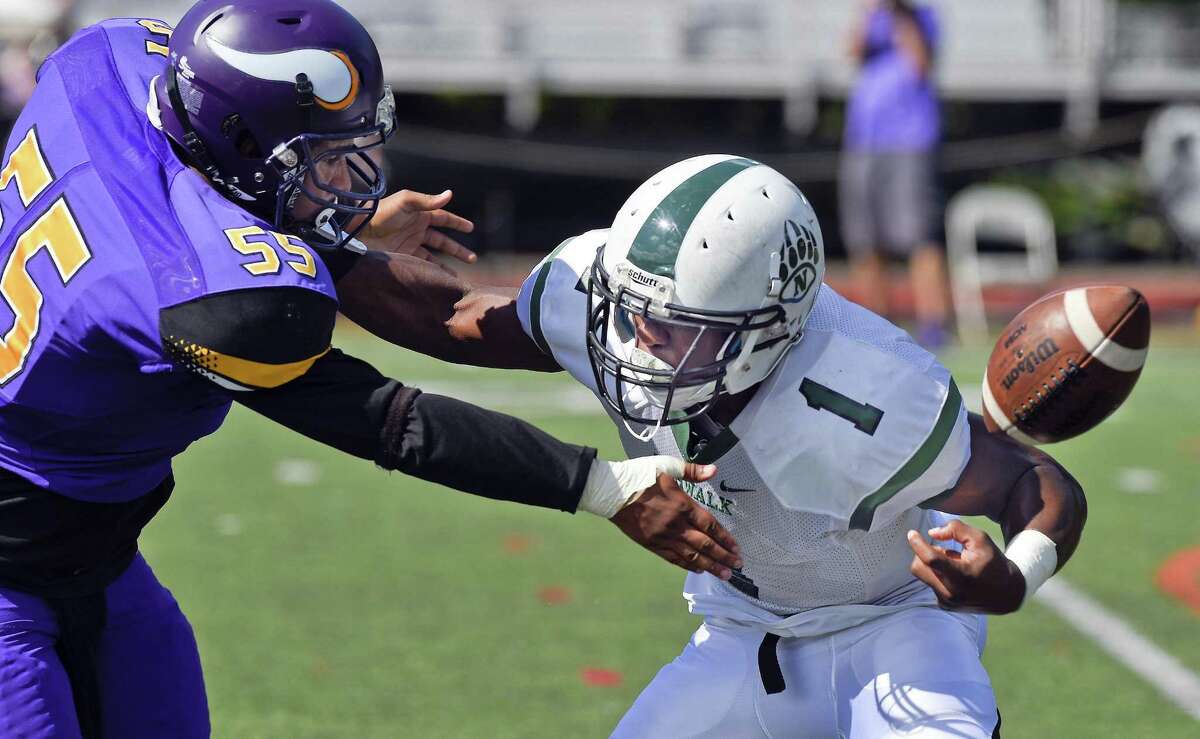 STAMFORD—Coming into the game, the Westhill football team knew the Norwalk offense could beat them in a variety of ways.
Turns out, the scouting reports were spot on as Norwalk scored on the ground, through the air and on special teams, dismantling Westhill 48-21 at J. Walter Kennedy Stadium Saturday afternoon.
"We thought we could exploit some things with (Westhill) and we did," Norwalk coach Sean Ireland said. "I was happy because, teams in the past, if we fumble on the second play and they go in and score a lot of times we duck our heads but there was nobody pointing fingers and everybody stayed positive. Great team effort."
Norwalk scores again this time it's Gordon to Eason for a 27 yarder. XP good

Norwalk 34 Westhill 21 #cthsfb pic.twitter.com/qpm51LKYYv

— Pete Paguaga (@PetePaguaga) September 15, 2018
That Norwalk fumble two plays into the game turned into a Westhill touchdown three plays later when Richard Felius ran in from 2-yards out for a touchdown.
Norwalk would fire right back, scoring on its next drive on a 4-yard run by Jakari Walker.
From there, Norwalk's offense rolled behind the arm and legs of quarterback Kyle Gordon and a talented group of receivers and running backs with five different players finding eh end zone.
AJ Robinson scored next on a 5-yard run, followed by a 56-yard pass from Gordon to Robinson.
AJ Laccona ran the ball in from 9 yards out for Westhill but on the ensuing kickoff, Walker returned the ball 86 yards for a score.
Less than a minute later, Westhill would score its final touchdown on a 9-yard pass from Laccona to Angelo Nicholas, getting within 27-21 midway through the second quarter.
Norwalk would not allow another Westhill touchdown while its offense kept on rolling.
Khalil Eason scored on a 27-yard pass from Gordon, Jamal Boyd hauled in a 41-yard touchdown pass and Jerome Moorer capped the scoring with a 12-yard touchdown in the fourth.
"(Norwalk) is very athletic everywhere," Westhill coach Joey DeVellis said. "The quarterback is very good, their running back is a stud. We are trying to put people in the right spots but they have to get to those spots. They were firing on all cylinders and you have to be in the right spot or you're going to get gashed and that's what happened. We got gashed by big play after big play."
Gordon and Robinson link up for a 56-yard TD. XP good.

Norwalk 21 Westhill 7 #cthsfb with 8:40 left in half pic.twitter.com/PZjkZPLRLc

— Pete Paguaga (@PetePaguaga) September 15, 2018
PLAYER OF THE GAME
Kyle Gordon, Norwalk. The junior threw three touchdown passes and made play after play with his legs both on designed runs and scrambles.
QUOTBALE
"We just were able to play our game today," Gordon said. "We knew we were playing a tough, physical team and we came out strong and stuck to our game plan. I feel like if we go fast, we can score quicker and get all the momentum to our side. Everybody on the offense is great, fast and physical and ready to play."
Here's the play that got Norwalk into the red zone. A huge pitch and catch by Khalil Eason from Kyle Gordon #cthsfb pic.twitter.com/ueTo4qSDRj

— Pete Paguaga (@PetePaguaga) September 15, 2018
NORWALK 48, WESTHILL 21
NORWALK 14 20 7 7—48
WESTHILL 7 14 0 0—21
W—Richard Felius 2 run (Anthony Bivona kick)
N—Jakari Walker 4 run (Vasilios Kiriazidis kick)
N—AJ Robinson 5 run (Kiriazidis kick)
N—Robinson 56 pass Kyle Gordon (Kiriazidis kick)
W—AJ Laccona 9 run (Bivona kick)
N—Walker 86 kickoff return (kick failed)
W—Angelo Nicholas 9 pass Laccona (Bivona kick)
N—Khalil Eason 27 pass Gordon (Kiriazidis kick)
N—Jamal Boyd 41 pass Gordon (Kiriazidis kick)
N—Jerome Moorer 12 run (Kiriazidis kick)
Records: N—2-0; W—0-2