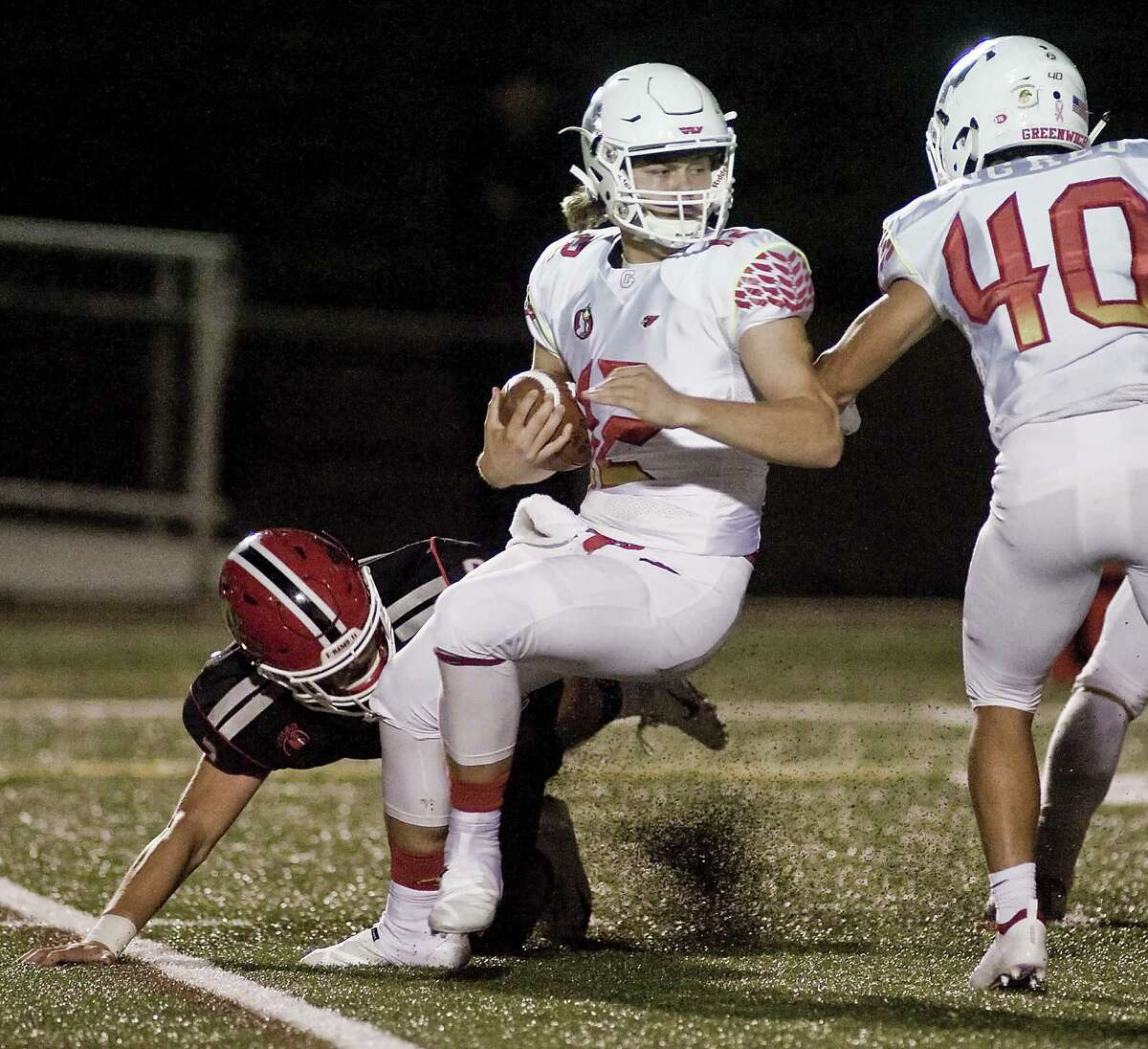 NEW CANAAN — Greenwich's start to Saturday night's showdown against FCIAC football rival was like a dream, as it scored 21 points during the first 5 minutes, 16 seconds of play.
For the Rams, it was a nightmare.
A lightning fast beginning, in which it scored 21 unanswered points, ignited Greenwich to a 42-14 victory, before a near packed house at Dunning Field.
Ranked third in Class LL entering the much-anticipated matchup, Greenwich ran its record to 4-0 with the victory. New Canaan, which had won three straight, dropped to 3-2 and made it that much tougher on itself to qualify for the postseason. The game marked the fourth time GHS coach John Marinelli and his father, New Canaan coach Lou Marinelli went up against each other. John Marinelli's Cardinals have won the last two meetings and Saturday night, they showed how powerful a team that are.
"I am proud of the kids and not because of 42-14," John Marinelli said. "I am proud of the way we practiced and prepared leading up to this game. We played a great overall game."
Hurt by three turnovers, New Canaan had trouble with Greenwich's passing attack, which gained big yardage throughout.
"They were ready to play and they came out and they put it to us," Lou Marinelli said. "That's a very good football team. They play well together, they play well on both sides of the ball and they just took it to us."
Senior quarterback Gavin Muir had a sensational game for the Cardinals. Muir threw touchdown passes to senior wide receivers Lance Large and Stephen Bennett in the first half and ran for a score himself.
"He (Muir) is under the radar," John Marinelli said. "Wherever he goes to school next year, they are getting a competitor. He doesn't want to be outworked."
Rams junior signal caller Drew Pyne tossed a pair of scoring strikes to senior wideout Quintin O'Connell in the opening half.
FIRST-QUARTER FLURRY
Greenwich drove 69 yards in eight plays to take a 7-0 lead on New Canaan on its first possession. Large's 23-yard touchdown reception capped the impressive drive. On the play, Muir dropped back to pass and found a wide open Large in the left corner of the end zone for the score, with 9:51 left in the opening quarter.
"The whole game is a blur, it was a lot of fun," Large said. "It was amazing how we played. They were the best opponent we played, so it was good to get a challenge."
After New Canaan's opening possession ended with Pyne getting sacked by Greenwich senior defensive end Mozi Bici, the Cardinals' quickly added to their advantage. Muir connected with Bennett for a 38-yard pass play, setting the Cards up on the New Canaan 5-yard line. Two plays later, Muir ran it in from three yards out, giving Greenwich a 14-0 edge at the 7:02 mark of the second quarter.
The situation grew worse for the Rams, who fumbled the ensuing kickoff, with GHS senior Ryan Raybuck recovering at the New Canaan 33-yard line. On the next play, Muir rolled right and lofted a pass into the end zone, where Bennett was all alone for a touchdown. Ben Howarth added the extra point and just like that, the Cardinals held a 21-0 lead with 6:44 still to go in the first quarter.
RAMS' RESPONSE
New Canaan's next drive stalled at the Greenwich 7-yard line, but the Rams reached the end zone for the first time early in the second quarter. Pyne threw an 18-yard scoring strike to O'Connell, who made the reception in the back of the end zone and managed to get his toes down for a touchdown 47 seconds into the second quarter.
The Rams' offense found some rhythm late in the first half, behind the Pyne-O'Connell combination. Running a fade pattern down the left sideline, O'Connell hauled in a 19-yard touchdown pass, cutting Greenwich's advantage to 21-14 with 2:54 left in the second quarter.
Greenwich went three-and-out the next time they got the ball, but recovered a New Canaan fumbled punt and took over at the Rams' 48-yard line. An 18-yard reception by Large for a first down set the Cards up on the Rams' 5. Calling his own number, Muir ran up the middle for a score, making it 28-14 with 10 seconds to go in the opening half.
"We had three fumbles and some critical mistakes," Lou Marinelli said. "You can't allow a good team an inch and we gave them their share."
CARDINALS CRUISE IN SECOND HALF
Off a well-executed play-action, Muir threw a 29-yard scoring strike to senior Tysen Comizio, who ran free up the seam, making it 35-14 at the 8:37 mark of the third quarter.
Pyne got the ball to sophomore Christian Sweeney and senior Wyatt Wilson several times during the third quarter, but a pair of sacks by Edward Iuteri halted the Rams' drives.
"We played as a team and rallied off each other, that's always our goal on defense," said Iuteri, who along with senior linebacker Jack Feda, Bici, senior Charlie Ducret and Raybuck helped anchor the squad's strong defensive play. "Getting momentum with one big play after another is what we try to do. Our goal was to come out hard and we achieved it."
Muir's 63-yard completion to Comizio put the ball on the New Canaan 7-yard line and two plays later, Comizio scored on a 4-yard run, making it 42-14 with 10:06 remaining. Comizio also helped power the Cards' running game throughout.
"It's a credit to our offense that we have a lot of players who can do great things," Comizio said. "I work all offseason on catching passes and all the other stuff too."
TIME TO REGROUP
New Canaan has a bye next week, then it will visit Trinity Catholic, before traveling to Pascack Valley, N.J., on Oct. 27.
"When you lose, it's not as bad as you think and when you win, it's not as good as you think," Lou Marinelli said. "I am not sure if there are playoff hopes left, but if we don't get better we don't deserve to be in the playoffs anyway."
QUOTABLE
"We knew how good a team New Canaan was, so this outcome is a confidence-booster," Comizio said. "Sometimes, you can get ahead of yourselves and in the first quarter, when ahead by three touchdowns, it's easy to say this game is over. But we knew it was important not to think that way. We emphasized on the sideline that it was 0-0."
GREENWICH 42, NEW CANAAN 14
GREENWICH 21 7 7 7 — 42
NEW CANAAN 0 14 0 0 — 14
G–Lance Large 23 pass from Gavin Muir (Ben Howarth kick)
G–Gavin Muir 2 run (Howarth kick)
G–Stephen Bennett 33 pass from Muir (Howarth kick)
NC–Quintin O'Connell 17 pass from Drew Pyne (Nicholas Radman kick)
NC–Quintin O'Connell 19 pass from Drew Pyne (Radman kick)
G–Muir 4 run (Howarth kick)
G–Tysen Comizio 29 pass from Gavin Muir (Howarth kick)
G–Comizio 4 run (Howarth kick)
Records: Greenwich 4-0, New Canaan 3-2