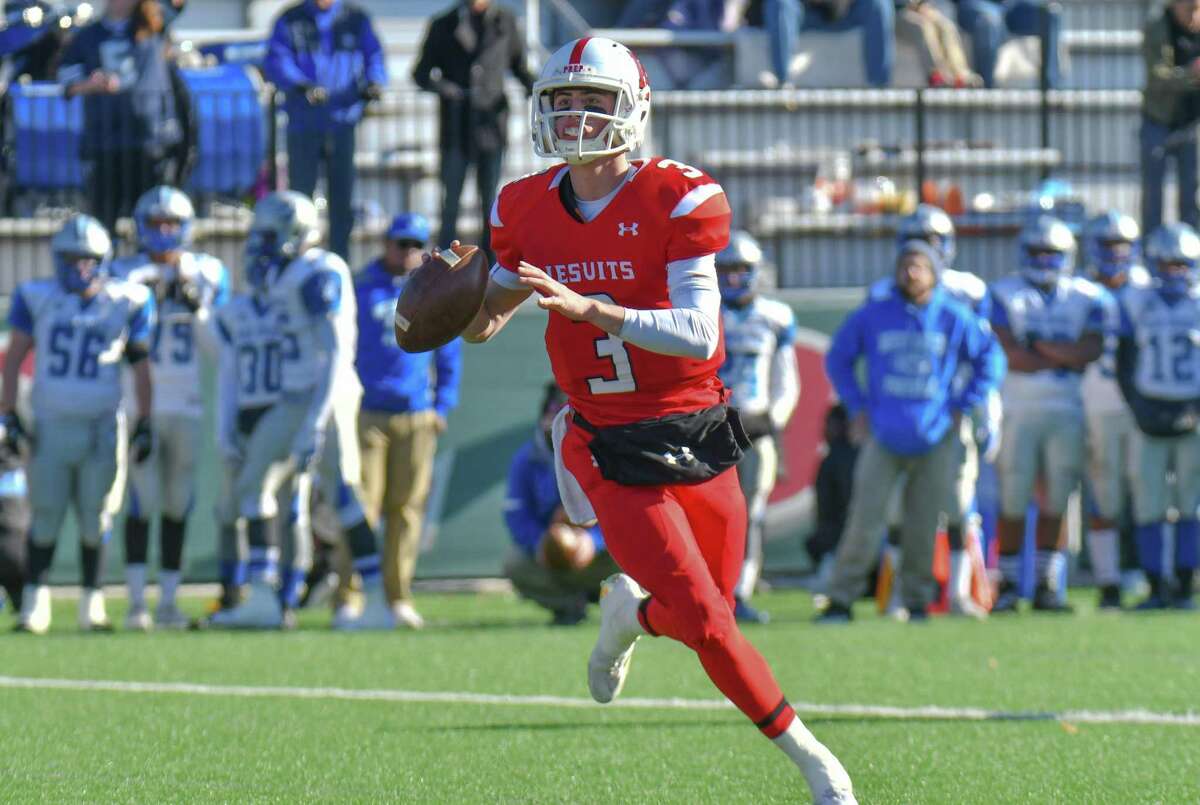 FAIRFIELD — No one needed to tell Fairfield Prep senior quarterback Will Lucas what was at stake when the Jesuits hosted SCC rival West Haven Thanksgiving morning.
But just to refresh memories, rewind to 2013. That was the last time Fairfield Prep defeated the Westies and earned a trip to the postseason in the process.
That changed Thursday, and Lucas was the driving force behind both achievements.
Lucas orchestrated the eventual game-winning drive that covered parts of two quarters, capped by his 11-yard touchdown run with 5:07 left in the fourth quarter, lifting the Jesuits to a thrilling 21-14 victory at Rafferty Stadium.
Fairfield Prep (8-2) is expected to be the No. 8 seed in Class LL and will travel to No. 1 Greenwich in Tuesday's quarterfinals. Official pairings will be released by the CIAC on Friday.
"We were definitely motivated, they've had our number," Lucas said. "I think they won 14 of the last 17 years. We knew that. In the back of our head, we wanted this bad. We had a good week of practice and I think we came out and executed and gave it our all."
West Haven had already qualified in Class LL enterting the contest, but the loss denied the Westies a home game for the quarterfinals. West Haven will be the No. 7 seed and visit No. 2 Shelton. The Westies' only other loss this season was to the Gaels.
After forcing a West Haven punt, the Jesuits took over at their own 30 with 1:04 left in the third quarter. Fairfield Prep mainly pounded it out on the ground on the drive, but Lucas connected with senior Phillip DeJesus on passes of 21 and 10 yards to set up Lucas' winning touchdown.
"It was great," Fairfield Prep coach Keith Hellstern said of the winning drive. "There were a couple of clutch catches. It was a team effort. That's the easiest and best way to describe it."
West Haven (8-2) scored on its opening drive — a 1-yard run by senior Kyle Godfrey — before Fairfield Prep's defense made adjustments.
"That's what good defenses do, it makes you look like you're a little flat," West Haven coach Rich Boshea said. "It seemed to me like that we were a hand away a few times but that never materialized. We never got into a good offensive rhythm after, that opening drive. But you have to tip your hat to Prep, that's a good defense."
Junior quarterback Jake Conlan connected with senior Mike Charlton on a 25-yard touchdown pass to give the Westies a 14-7 lead with 4:54 left in the third quarter.
ALL PREP AFTER THAT
The Jesuits responded after West Haven took the lead when Lucas found senior Chris Duffy for a 43-yard touchdown pass that tied the game at 14.
On the series following Fairfield Prep's go-ahead score in the fourth quarter, senior Austin Valus forced a fumble, which was recovered by junior Peter Kavanaugh.
"I just thought we did a good job all game," Lucas said. "We just wanted to take one play at a time."
CONTAINMENT
Godfrey finished with 40 yards on 10 carries for West Haven, while fellow senior Chris Chance rushed 12 times for 89 yards.
"We made one or two adjustments," Hellstern said. "But, you know, our kids kind of settled into the game on top of that. It's easy to say we (the coaches) did something, the kids have to play the game. Our kids played hard, they played for four quarters and they played to win. We are very happy we got the win."
FAIRFIELD PREP 21, WEST HAVEN 14
WEST HAVEN7 0 7 0 — 14
FAIRFIELD PREP7 0 7 7 — 21
WH— Kyle Godfrey 1 run (Chris Chance kick)
FP— Finn Duran 16 pass Will Lucas (Hendrik Boot kick)
WH— Mike Charlton 25 pass Jake Conlan (Chance kick)
FP— Chris Duffy 43 pass Lucas (Boot kick)
FP—Lucas 11 run (Boot kick)
Team records: West Haven 8-2; Fairfield Prep 8-2