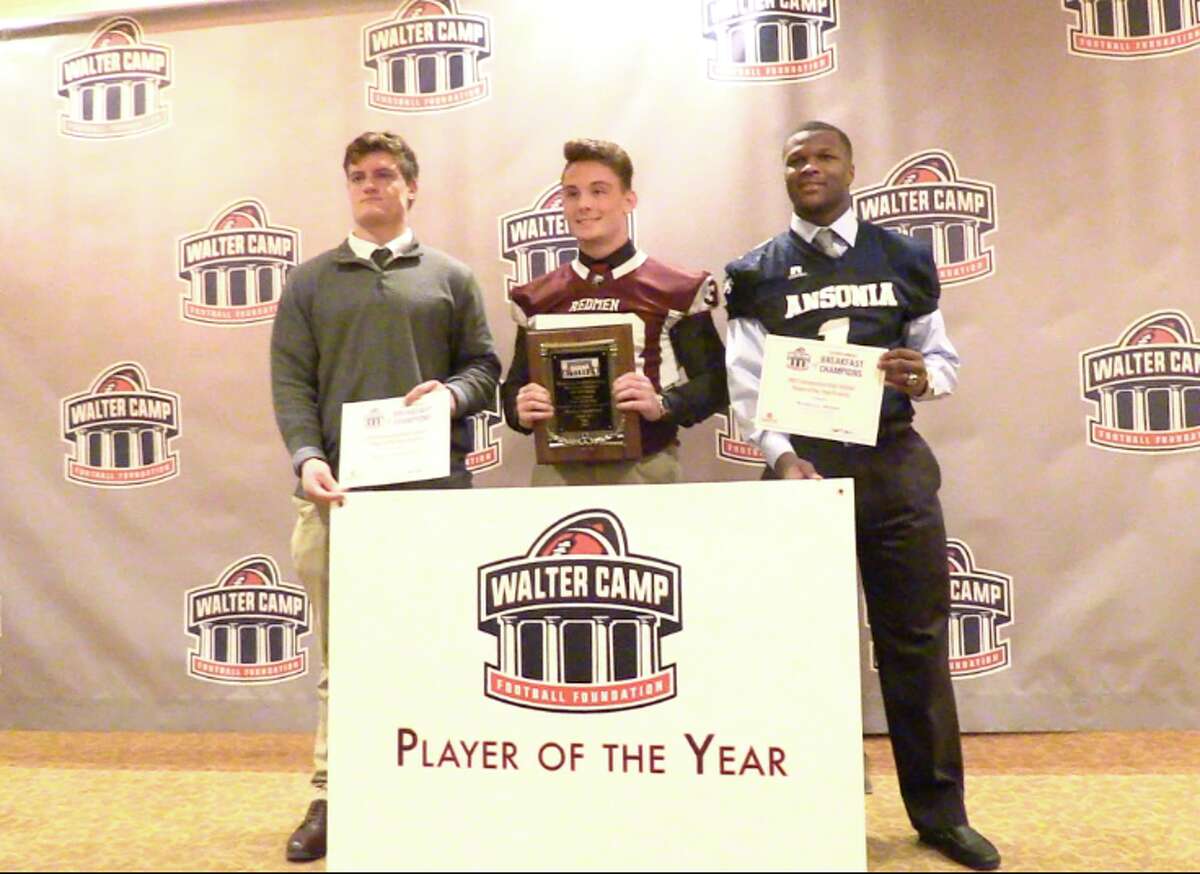 It wasn't named the Kelly Award winner as the No. 1 high school football team in Connecticut, yet Killingly's football program was the toast of the Walter Camp Football Foundation's Breakfast of Champions Saturday morning at the Omni Hotel in New Haven.
The Class M champions earned just about every other honor. Running back Spencer Lockwood, the Gatorade State Player of the Year, was named the 2017 Walter Camp Connecticut Player of the Year. Coach Chad Neal was named the Connecticut Coach of the Year.
And Vasileios Politis, who beat back cancer, received a waiver to repeat and play his senior year, culminating with a touchdown catch in the state championship, was honored with the 2017 Generation UCAN Inspire Award.
2017 Walter Camp All-Connecticut Team
Killingly collected these honors in front of a star-studded crowd that included former Shelton and UConn star quarterback Dan Orlovsky, Walter Camp's 2017 Connecticut Player of the Year Ervin Philips of West Haven and Syracuse University, former Detroit Lions star Calvin Johnson and 2017 Heisman Trophy winner Baker Mayfield of Oklahoma.
"I'm so proud of coach for getting Coach of the Year and it's definitely a great honor being here with guys like Baker Mayfield and Calvin Johnson," said Lockwood, who was honored among 52 players named to Walter Camp's All-Connecticut team. "Being a part of that group of guys and being around all this great talent, it's awesome. It's definitely amazing and I'm so proud of everyone."
Lockwood, a 5-foot-11 senior, led Connecticut with 3,137 yards rushing and 44 touchdowns as Killingly won its first title since 1996. He won player of the year over Ansonia back Markell Dobbs and Hand linebacker Brian Casagrande. Lockwood admitted to the crowd he constantly checked how his stats stacked up with Dobbs.
"I knew my chances were pretty good, just being here," he said. "But it was still going to be tough because Markell's such a great running back and Brian is a beast at linebacker. I was a little bit surprised because those two guys deserved it as much as I did."
Neal, who was also the New Haven Register's Coach of the Year, won his award over Hand's Dave Mastroianni and Greenwich's John Marinelli.
"I feel like one day I'm going to pinch myself and wake up," said Neal, Killingly's coach for 13 seasons. "It's been special, not just for me and our guys, but for our entire community in the Quiet Corner. To have the season we had is special because of the kids we had in the program and what they did. It's about the kids. It's the kids' game. It's the kids that did it. I'm just lucky to be their head coach and guide them along the way."
Three-time Class LL champion Darien (12-1) took home the gaudy Kelly Award trophy for the third-consecutive year. Though Killingly was the state's only unbeaten team at 13-0, Neal said they will not be making claims on No. 1, like Central Florida did for the NCAA National Championship.
"Nah, all those teams are tremendous teams," he said, referring to Darien, Class L champion Hand and Class S champion St. Joseph. "Our goal was to win the state championship. We won a state championship. We're 13-0. I'm happy. I couldn't be more happy because it was with these guys. Winning the championship was the pinnacle."
Joe Benanto, who had a long and illustrious career as a football, baseball and basketball coach at Shelton High School and as a baseball and football coach at Yale, was honored with the Foundation's lifetime achievement award. He won three state championships as Shelton's football coach, the second of which came with Orlovsky at quarterback in 2000.
"It's a great honor to be honored by such a great organization," Benanto said. "To have guys like Dan Orlovsky and players that I had at Yale and Shelton be here, it's a great honor."