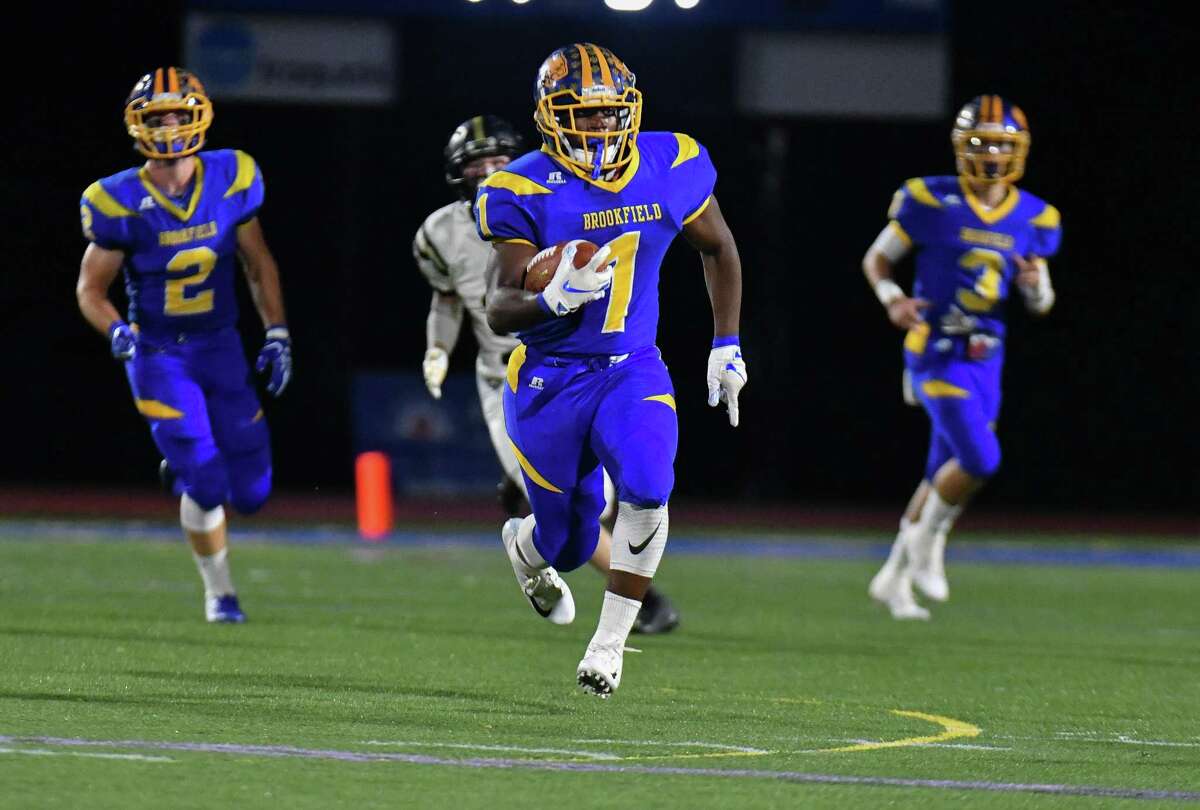 BROOKFIELD — Prior to heading out onto the field Friday night against SWC rival Barlow, Brookfield football coach Rich Angarano called upon his team to take the next step on defense and create scoring plays.
Nick Henderson answered the bell on the first play from scrimmage, picking up a fumble and racing into the end zone to give the Bobcats an early lead and all the momentum.
He did just about everything else, too.
Henderson continued his torrid start to the season with an 18-carry, 258-yard performance as the Bobcats moved to 3-0 with a 27-17 win over Barlow Friday night. Henderson had touchdown runs of 66 and 67 yards as Brookfield rushed for more than 350 yards as a team.
"He's special," Angarano said. "He's got great vision, he's shifty and a fast runner. He's a strong kid, he got bigger and is about 190 pounds now. Last year he was about 170."
That extra muscle turned into seven points on his first long touchdown after being hit behind the line of scrimmage by multiple Barlow defenders on a 3rd-and-11 play. Brookfield turned in its third strong rushing performance in three weeks.
"Our linemen are blocking," Henderson said. "With our running backs, (defenses) can't key on one person because our running backs are interchangeable. We just keep going and pushing each other."
Henderson with the answer, breaking tackles to take it the distance on 3rd and 11. Big play there 13-7 Bobcats #cthsfb pic.twitter.com/gC1QLTnazh

— Ryan Lacey (@RyanLacey11) September 21, 2018
Henderson's fumble return came on a failed pitch attempt from Barlow's option offense, though the Falcons responded well and grabbed a 7-6 lead in the second quarter on a 31-yard touchdown run from Frankie McNeary. The lead lasted three plays.
"You can run all these offenses in the world but it's about if you block better and tackle better," Barlow coach Rob Tynan said. "And we didn't tackle well tonight. Three of (Henderson's) long runs we hit him in the backfield; we didn't do it well enough."
The Bobcats scored on their first two possessions of the second half to pull out to a 27-10 lead before McNeary scored again early in the fourth quarter. Barlow had a pair of chances to pull within one score down the stretch but couldn't find its way through Brookfield's defense.
Big time touchdown run for McNeary on 3rd and 17, Barlow has the lead 7-6 late second #cthsfb pic.twitter.com/kQO0UkcdJU

— Ryan Lacey (@RyanLacey11) September 21, 2018
"We were in a game here 13-10 at the half and I think we played a good second half," Angarano said. "We only worry about one thing and that's improving as a football player and team. We need to improve on a few things."
Brookfield avenged a 24-21 loss to Barlow last season as it chases a Class M playoff spot this term.
PLAYER OF THE GAME
Nick Henderson, Brookfield: Added a sack and tackle for loss to the stat sheet.
QUOTABLE
"You know when you play Brookfield it's a backyard brawl," Tynan said. "They're down running it and we're downhill running it. We knew what we were in for and they're a good football team. We have to heal up and get ready for New Milford next week."
BROOKFIELD 27, BARLOW 17
BARLOW 0 10 0 7 — 17
BROOKFIELD 6 7 14 0 — 27
Br—Nick Henderson 31 fumble return (kick blocked)
Ba—Frankie McNeary 31 run (Michael Puglio kick)
Br—Henderson 66 run (Jackson Breuel kick)
Ba—Puglio 21 field goal
Br—Conor McVey 2 run (Breuel kick)
Br—Henderson 67 run (Breuel kick)
Ba—McNeary 2 run (Puglio kick)
Records: Barlow 1-1, Brookfield 3-0.