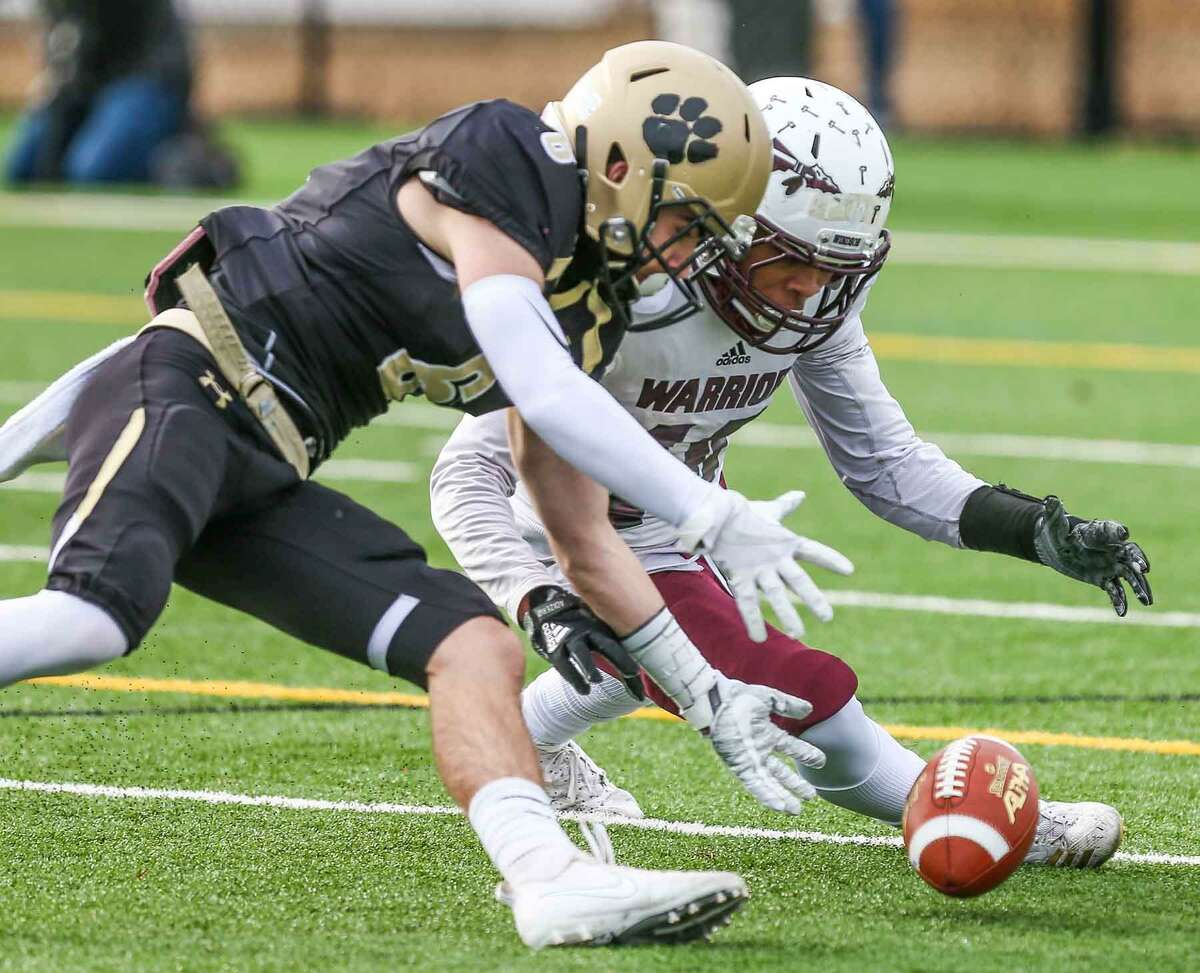 MADISON — For Daniel Hand, five years without winning a state title seems like an eternity. The Tigers will get a chance at another championship on Saturday.
Paced by a dominant first half, the Tigers cruised to a 31-6 Class L semifinal victory over Windsor Sunday afternoon at the Surf Club in Madison.
The second-seeded Tigers will play fifth-seeded Masuk, a 28-14 winner over New Canaan in the other semifinal on Saturday at a site and time to be determined.
The Tigers will be looking for their 12th state title and first since 2012 when Hand topped Windsor to claim the Class L championship in part of consecutive titles for the Tigers.
"It's been a long time," Hand coach David Mastroianni said. "It is a great feeling. These kids wanted to get back and worked hard to get there. We said we would do everything we could to get back there and we did. We earned our way back. Nothing was gifted to us."
While the Hand defense came into the contest as a reason to worry for the Warriors, it was all facets of the Hand game that paved the road to the title game.
The Tigers (11-1) used a combination of stellar special teams play, spectacular defense, and an opportunistic offense to put the game away early and led 24-0 at the half. For the third-seeded Warriors (10-2), the deficit could have been worse if not for a goal line stop as time expired in the opening half.
"They are a good team," Windsor coach Robert Fleeting said of Hand. "They are very aggressive on defense. You can't make mistakes against a team like this. We are very disappointed. We did not execute, and as a staff, we take responsibility for that."
Hand used its special teams to take a 10-0 lead after one quarter. Following a muffed punt by Windsor that Hand recovered at the Windsor 9-yard line, Hand's Brian Casagrande ran three times, the final one from 3 yards out to give the Tigers a 7-0 lead with 6 minutes, 43 seconds remaining in the opening quarter.
After the Hand defense, which held the Warriors to just 14 yards in the first quarter and 48 yards in the opening half, stopped Windsor on three plays on its next possession, Isaiah McNeilly easily connected on a 26-yard field goal with 57 seconds remaining in the opening quarter for a 10-0 advantage.
"Special teams keeps us in games," Mastroianni said. "We made some big plays. We played very well today."
Things did not get much better for the Warriors in the second quarter as Hand put the game away with two big plays.
Sophomore quarterback Phoenix Billings was part of both as he gave the Tigers a 17-0 advantage with a 55-yard run up the middle with 6:02 left in the half. After an interception and return by Nicholas Woods gave the Tigers possession at the Windsor 30, Billings connected with Christopher Bartosic over the middle for an 18-yard scoring reception with 3:30 left in the half for a 24-0 lead.
"We definitely wanted to get out to a quick start and we were able to do that," Billings said. "We prepared very well for this game and we executed. Getting back (state championship) is important to us.
"We realize what it means, and we realize it was our last time together as a group playing here at the Surf Club."
Hand, which outgained Windsor 258-88 through three quarters, took a 31-0 lead when Billings hit Michael Tarantino with a 13-yard score for a 31-0 lead with 5:26 gone by in the third quarter.
Windsor, which was looking to return to the finals for a second straight season, finally got on the scoreboard with 2:52 left in the game when Tomasz Johnson ran 64 yards for a score. The Warriors gained 124 of their 212 yards in the final 12 minutes.
Billings finished with 70 yards and a touchdown on six carries, while passing for 123 yards.
Hand 31, Windsor 6
WINDSOR 0 0 0 6 — 6
HAND 10 14 7 0 — 31
H–Brian Casagrande 3 run (Isaiah McNeilly kick)
H–Isaiah McNeilly 26 field goal
H–Phoenix Billings 55 run (McNeilly kick)
H–Chris Bartosic 18 pass from Billings (McNeilly kick)
H–Michael Tarantino 13 pass from Billings (McNeilly kick)
W–Tomasz Johnson 64 run (kick failed)
Records: Windsor 10-2; Hand 11-1.
Video via WTNH-8, Sportzedge.com