Week 5: No. 2 Greenwich (3-0) at No. 7 New Canaan (3-1), Saturday, 7 p.m.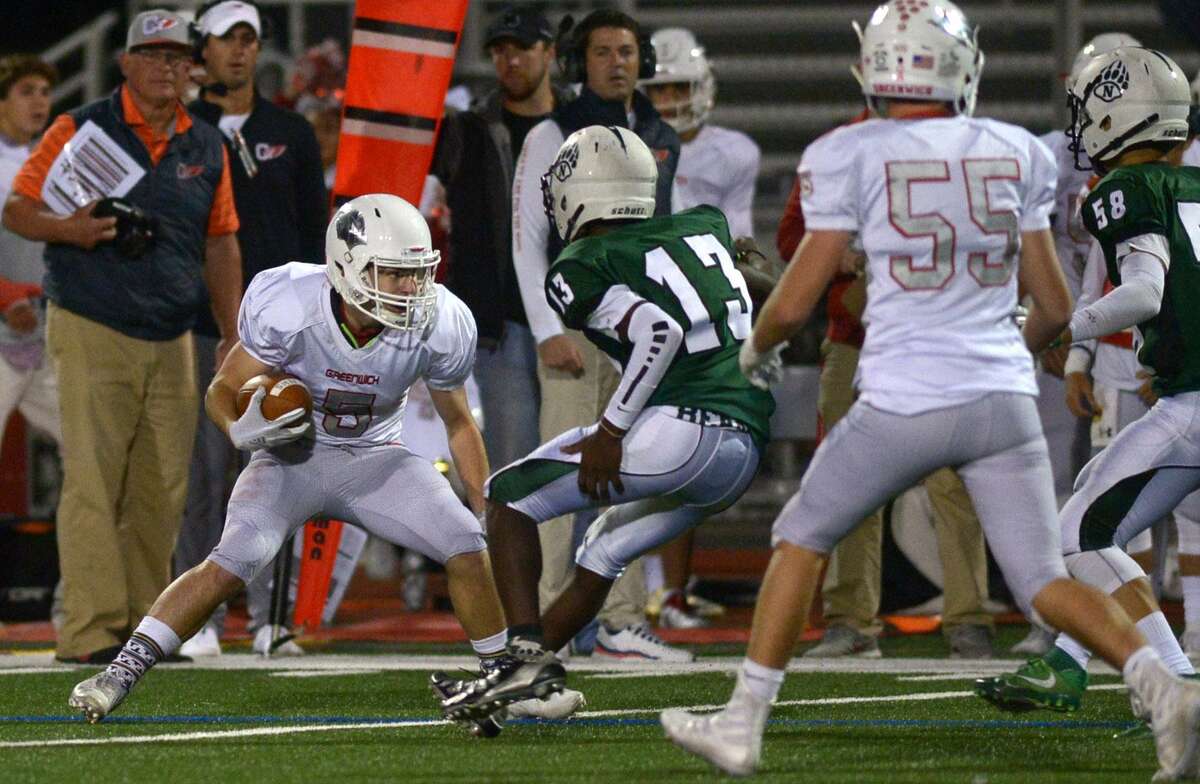 Like New Canaan, Greenwich possesses a potent passing game and stingy defense, so something certainly has to give when these FCIAC football rivals square off in Saturday night's much-anticipated showdown at Dunning Field.
The winner will secure a strong position in the Class LL playoff standings as the 2018 season reaches its midpoint, especially for Greenwich (3-0). New Canaan, already saddled with a loss at 3-1, can't afford another setback or it will be forced to win the remainder of its games to maintain a decent chance at qualifying for the postseason.
The matchup under the lights in New Canaan features plenty of intriguing matchups, one of which is how well the Cardinals' aerial attack will fare against the Rams' vaunted secondary/defense.
Despite graduating standout receivers Jael Negron, Henry Saleeby, Elias Gianopoulos and Jeremiah Harris from last season's successful squad, the receiving corps has continued to thrive for the 3-0 Cardinals, who are averaging an extremely robust 51 points per game.
Seniors Lance Large, Stephen Bennett and Garrett Murphy, along with sophomore A.J. Barber have combined for 462 receiving yards and seven touchdown through three games for Greenwich. Yet the Cardinals realize the going will be much tougher when they face New Canaan's defense on Saturday.
After suffering a 28-0 loss against St. Joseph in its season-opener, New Canaan (3-1) has allowed only 27 points its past three games.
"They are a well-oiled machine defensively," said GHS coach John Marinelli, who will coach against his father Lou Marinelli for the fourth time Saturday evening. "They are very talented with Quintin O'Connell back there in the secondary and two Division I linebackers. I just hope we are not star struck on offense."
The Cards will take the performance they received from quarterback Gavin Muir in last season's game against the Rams. Muir passed for 179 yards and threw three touchdown passes in Greenwich's 36-21 victory over the Rams at Cardinal Stadium in 2017. Adding to Muir's big game was a game-sealing 73-yard touchdown run with 1:47 remaining in the fourth quarter.
"When you look at New Canaan and all the Division I commits they have, it's a tall task for us," said Muir, one of the Cardinals' senior captains. "We know their secondary will be strong and provide different looks and we know they are a well-coached defense.
"New Canaan is a very physical team and they like to create and cause confusion with their three Division I commits up front. How well we handle them will be one of the keys to the game. So far, our offensive line has been basically flawless. I've had no doubt in my mind that when I drop back to pass they will protect me."
Marinelli and the Cardinals know they must be prepared to face a secondary that's known for making it difficult to move the ball through the air and gaining yards overall.
Junior defensive back Drew Guida and senior defensive back Nate Sibbett have two interceptions apiece so far this season for the Rams, have have picked off eight passes in four games.
"Their secondary plays a number of different coverages — hundreds of different coverages and combinations, which makes it very hard to practice for," John Marinelli said. "They have a number of different guys who play and contribute. This will probably be the toughest test we face all year."
Being conservative offensively at times, instead of throwing caution to the wind every play, can also benefit each squad.
"It's okay to punt the ball play and play a field position game," John Marinelli said. "On 3rd-and-8, it's okay to throw a 4-yard pass. In games like this, your guys have to make plays for you and you don't have to be perfect on offense. We've let our kids know, how things went in our first three games is not how it's going to go in game four."
GREENWICH RECEIVERS CATCHING ON
Each Greenwich wide receiver this season has an increased role from last fall and so far, they're taking advantage of their opportunities. Muir has also adjusted well to each receiver's style.
"When you lose Henry Saleeby, Jael Negron, Elias Gianopolous and Jeremiah Harris, all four of whom are playing college football, it's big," John Marinelli said. "Gavin has had to change his approach. We went down field more last year with long passes. This year, he's getting the ball out faster and throwing shorter passes, which is different, because he's using a different release."
Bennett has 12 receptions for 182 yards and a touchdown, while Large (11 catches, 166 yards, one touchdown), Barber (7-73, team-leading four touchdowns) and Murphy (4-41, one TD) have each made their mark.
"The theme of our receivers is IQ, GPA, intelligence, they're a very smart group," John Marinelli said. "Watching Bennett run his routes and return punts — he knows how to find open areas. Lance works hard and is on pace to, again, be one of our leading receivers, while Garrett, a former quarterback, knows the offense as well as Gavin. As for A.J. (Barber), he has another gear. For him to come in and do what he's doing as a sophomore is impressive."
Said Muir: "Last year, we had two senior receivers in Jael and Henry, who were big, so I could just throw it up to them and rely on them to make a reception. This year, I am spreading the ball around more, going through my reads a little bit more and finding the open receiver."
Bennett had breakout game in last week's 55-0 triumph against Norwalk.
"We've kind of been clicking on offense as a whole," Bennett said. "It's not just the run game is going well, or the passing game is strong. We've played well in both areas, so that opens up lanes for both the running and passing game."
Who will win No. 2 Greenwich at No. 7 New Canaan?
No. 2 Greenwich (3-0)

No. 7 New Canaan (3-1)
Total Response: 570 Votes
Loading ...