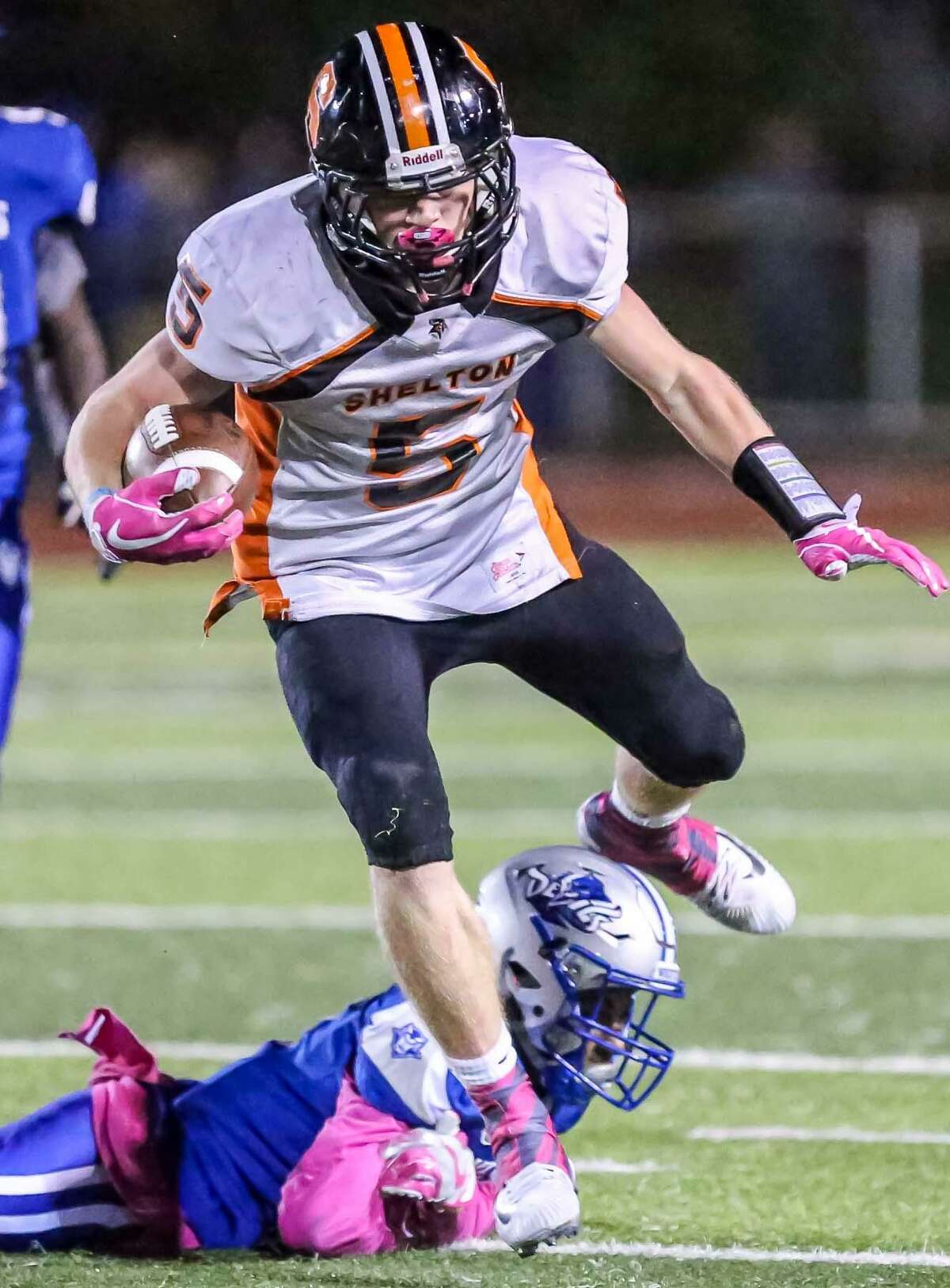 WEST HAVEN — With damaged nerve in his shoulder and a broken hand, Shelton junior Jack Carr spent an agonizing month on the sidelines as his teammates played on without him.
So when he was cleared to return for Friday's massive SCC showdown at No. 3 West Haven, Carr was ready.
Boy, was he ready.
Carr, a tailback and linebacker, helped spark Shelton to an eye-opening 38-28 victory over the Westies at Ken Strong Stadium.
"I've had four weeks of energy built up and I just had to let it loose," said Carr, who hadn't played since a 19-15 victory over Fairfield Prep in Week 3. "I've been preparing four weeks for this game. I had it circled it on my calendar because they beat us last year in a heartbreaking game. I just wanted revenge."
Carr ran for 120 yards on 19 carries, caught a 41-yard touchdown pass and recovered a key fumble in the second half as the Gaels rallied from a 28-21 halftime deficit.
"Obviously he's a difference-maker on our team," said Shelton coach Jeff Roy, whose team improved to 6-1 with its sixth-consecutive victory. "He had a couple of great games against Hand and Prep and he was dying to get back out there. It's good to have him back."
After letting Kyle Godfrey and the Westies run up and down the field at will in the first half, Shelton's defense stiffened. The Gaels surrendered 225 yards of offense in the first half. In the second, the Gaels' defense forced three turnovers and held West Haven to a mere 83 yards.
"Our entire defense has been undersold all year," Roy said. "They've been playing really well for the most part and to shut (West Haven) out in the second half was huge."
Quarterback Jake Roberts, meanwhile, rallied Shelton from a 28-21 halftime deficit with two-second half touchdowns, including diving 1-yard run on fourth-and goal in the third quarter and the eventual winning score from 3 yards out with 3:12 remaining.
"We just kept it up. We just kept on pumping," senior offensive lineman Ed Radzion said. "My motto for the second half was all gas, no brakes. We showed it. We didn't stop pumping until it was our win."
West Haven didn't do itself any favors. On its first possession after halftime, coach Rich Boshea went for it on 4th-and-3 from the West Haven 43. Shelton stopped it cold.
"We just never got our rhythm going," said Boshea, whose team fell to 6-1. "I should have just punted on that fourth down, It was my greediness. The whole thing got messed up and that set the tone from there on."
Shelton's winning touchdown drive began with Carr, who fell on a fumble by Jake Conlan at midfield with 8:44 remaining.
The march stalled, however, and Nick Andrade kicked a 34-yard field goal. But West Haven was charged with roughing the kicker and Roberts bulled in for the go-ahead touchdown three plays later.
On the next West Haven play from scrimmage, Boshea called for a reverse option pass for Latrell Best. But Paul Ferrigno picked him off with 4:35 remaining.
Though the Westies' defense held, they muffed the ensuing punt and Shelton kicked the clinching field goal.
"We were just trying to take a shot," Boshea said of the reverse pass. "We knew we were in trouble, so we needed a quick score. It wasn't open and they did a nice job covering it and made a nice play on it."
Godfrey finished with 200 yards rushing and two touchdowns on 19 carries. He also returned an interception 67 yards — one of three Shelton turnovers in the first half — to put the Westies up 28-21 at halftime. Earlier, Shelton lineman Jaryd Witkowski returned a fumble 60 yards for a touchdown.
"There's no better feeling beating them," Radzion said. "It's always been a rivalry between us. It's just a great feeling."
Shelton 38, West Haven 28
SHELTON 14 7 7 10 —38
WEST HAVEN 7 21 0 0 — 28
WH—Zach Conlan 23 run (Chris Chance kick)
S—Jake Roberts 1 run (Nick Andrade kick)
S—Jaryd Witkowski 60 fumble recovery return (Andrade kick)
WH—Kyle Godfrey 7 run (kick failed)
S—Jack Carr 42 pass from Roberts (Andrade kick)
WH—Godfrey 1 run (Godfrey pass from Jake Conlan)
WH—Godfrey 67 interception return (Chance kick)
S—Roberts 2 run (Andrade kick)
S—Roberts 3 run (Andrade kick)
S—Andrade 21 field goal
Records: Shelton 6-1, West Haven 6-1
An original version of this story misidentified the West Haven player who threw the last option pass. It was Latrell Best, not Kyle Godfrey.