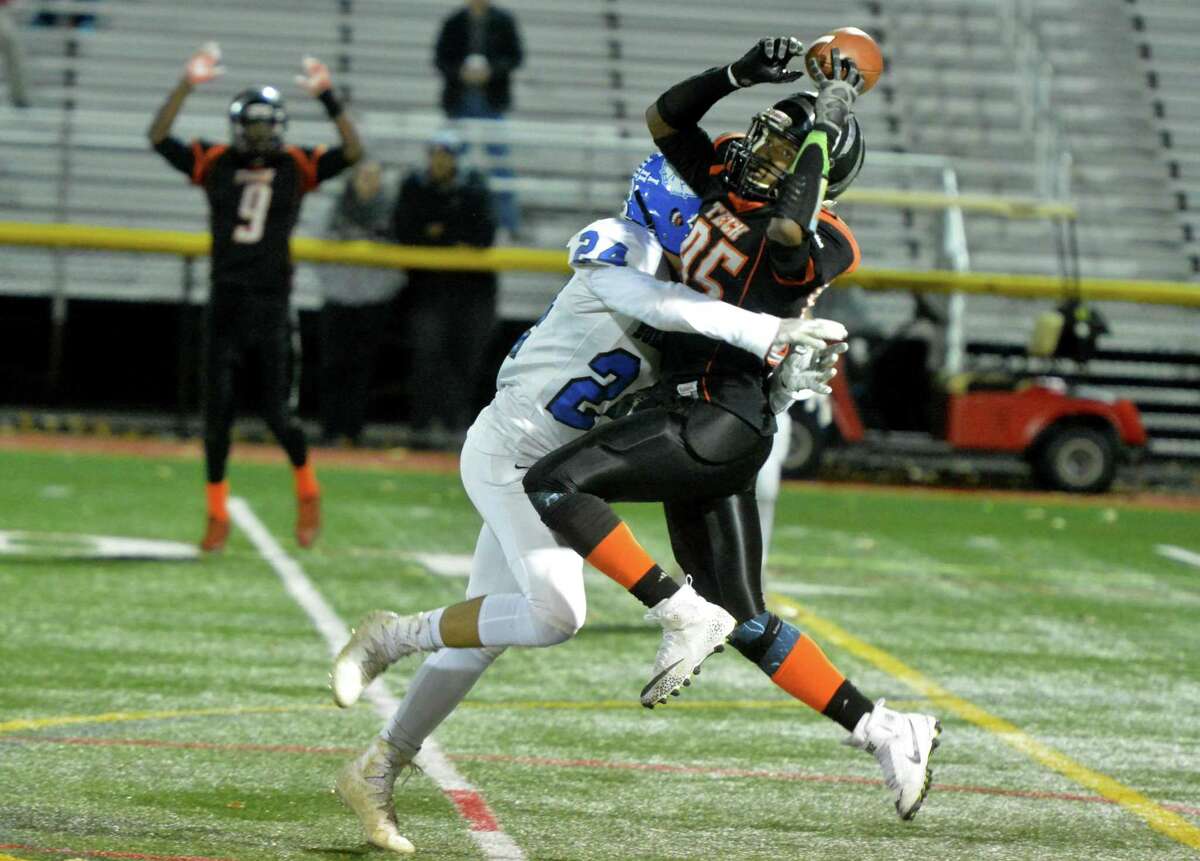 STRATFORD — Special teams success was something that coach Brian Mazzone preached all season to his Stafford Co-Op football team.
His team proved Tuesday night that they heard him loud and clear.
A blocked punt in the fourth quarter by No.5 Stafford/East Windsor/Somers for a touchdown would be the difference in a hard-fought 20-12 victory over No.4 Bullard-Havens at Penders Field. It was the program's first playoff victory in its second appearance.
"I've always harped on it," Mazzone said. "Blocked punts change games. It's huge and it's an attitude changer. Their sideline changes, our sideline changes and that's what happened."
Bullard Havens had struggled offensively throughout most of the second half, but found way to get out unscathed, until the block and ensuing extra point, which gave the visitors a 13-12 lead..
"We just came out a little short," Bullard-Havens coach John Johnson said. "They just had the battle of field position. We were playing on one side of the field pretty much until the end of the game. It just caught up with us in the end, especially with that blocked punt."
The Tigers grabbed momentum midway through the second quarter trailing 7-0.
A pair of touchdown passes from quarterback Tyrese Wright to Malik Lominy gave Bullard-Havens the lead, which they were able to hold until the fourth.
Lominy led the Tigers receivers with four catches for 76 yards and the pair of touchdowns, while Wright finished the game 14-of-21 for 159 yards, two TDs and two interceptions.
The Bulldog defense pressured Wright for much of the night, holding the elusive runner to 13 yards on 12 carries while forcing a fumble and the two interceptions
The Bulldogs offense responded after the blocked punt with an insurance touchdown as junior quarterback Colton Engel ran for a score from 53 yards out..
Engel finished with 124 yards on 19 carries while also throwing for 87 yards on 10-of-11 passing.
"Offensively, we were having a tough time getting things going," Engel said. "But that blocked punt puts us up, so that really changed the game. Offensively, we just had to make a play and we did that."
SEE YOU AT JARVIS
With the win, the Bulldogs get a rematch of last season's playoff meeting at No. 1 Ansonia on Sunday. The Chargers won last season 48-0. "If you want to be the best, you have to beat the best. They've been the perennial power in Class S and they're a great team. It's a great program. We know we just have to work everyday and watch film, just go out there with a better attitude than last year and compete," Engel said.
PLAYER OF THE GAME
Quarterback Colton Engel finished 10-11 for 87 yards and a touchdown through the air while rushing for 124 yards on 19 carries, including a 53-yard touchdown run.
QUOTABLE
"It's a blessing. I'm just happy. Everyone is happy, all the seniors they worked hard. We worked four years for this. It's a tough loss, but we're still going to go out like champions. We're not going to hold our heads down because we worked hard." — Bullard-Havens senior quarterback Tyrese Wright
STAFFORD/EAST WINDSOR/SOMERS 20, BULLARD HAVENS 12
STAFF/EW/SOMERS7 0 0 13 — 20
BULLARD HAVENS0 12 0 0 — 12
S — Colton Engel 3 pass Jeff Kology (Luke Phillips kick)
BH — Tyrese Wright 29 pass Malik Lominy (run failed)
BH — Wright 5 Lominy (run failed)
S — Anthony Pizzimenti punt block endzone (Phillips kick)
S — Engel 53 run (kick failed)
Records: Bullard Havens 9-2, Stafford/E.Windsor/Somers 10-1