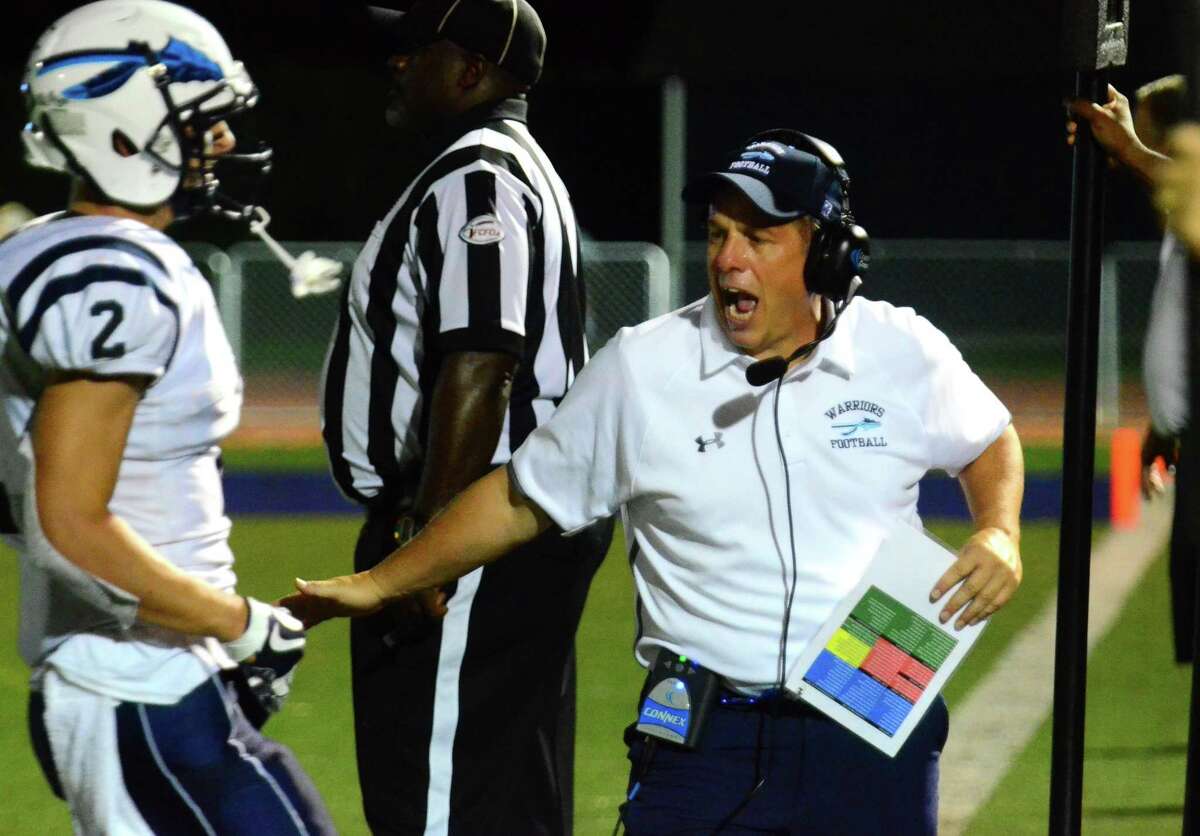 WESTPORT — On the very first play from scrimmage, Staples coach Phil Treglia and junior quarterback Jack Thaw saw the defense they wanted.
One 72-yard pass later the Wreckers were on the board and en route to a 37-12 FCIAC football win over Wilton on Friday night.
The Wreckers used a handful of big plays to move to 2-0 on the season, while the Staples defense stifled Wilton's first unit for the better part of three quarters.
"We just took what they gave us," Treglia said. "They have a good defense so we were prepared for everything. We just took what was open for us tonight."
The Wreckers piled up 436 total yards in the game.
Thaw was 12-for-17 for 239 yards and one touchdown through the air. He also rushed the ball nine times for 73 yards and a score.
Running back Tim Luciano added 98 yards on 19 carries and a touchdown, as well.
It was the Wreckers' first play of the game that set the tone, however.
Thaw hit senior wideout Kevin Rabacs deep for a long scoring strike that got the Staples offense rolling.
"It was definitely electric," Thaw said. "First play, first time in front or our home fans. It was a play we were confident in and we got the look we wanted. Kevin and I have been working on our timing and he made a nice catch and run, and we were able to put points on the board right away."
Thaw was just getting his arm warmed up, too.
On Staples' second play from scrimmage, after holding the Warriors to a three-and-out, Thaw hit Dylan Ward for a 48-yard pass, getting the ball down to the Warriors' 4-yard line.
On third-and-goal, Luciano punched it in from 2 yards out to make it a 14-0 game.
"Listen, we knew they were going to throw the ball," Wilton coach EJ DiNunzio said. "They can run it, they can throw it. I don't want to say we weren't ready. Give them credit. We've got things to work on."
PLAY OF THE GAME
As impressive as Thaw's opening play was, and his second pass, he definitely took the wind out of Wilton's sails with the Wreckers' third score.
Staples had the ball fourth-and-two from the Wilton-25 and the Warriors sent out an all-out blitz into the Wreckers' backfield.
Thaw somehow escaped the log jam, made a cut up field and raced 25 yards for the score that put Staples up by a 21-0 count.
"The line did a good job shifting their protection," Thaw said. "I rolled right and was able to cut back and stay on my feet. We had some great downfield blocking, as well."
Thaw's athleticism was on display the entire game and impressed even his head coach.
"He's athletic. He's smart. He's making some plays," Treglia said. "When the lights shine, he plays and that's what you want in a quarterback."
WRECKERS WHOA WARRIORS
Wilton's first-team offense has now gone seven quarters without scoring a touchdown.
While Wilton's offense did gain 183 total yards in the game, only 52 of those came during the first three quarters of play against Staples' first team defense.
"I think we did a great job playing team defense," Wreckers captain and linebacker Cole Brockwell said. "Everybody swarmed the ball. It was hard-hitting. It was just great defense all over the board."
ONE LAST BIG PLAY
When Wilton finally did get on the board, when the Warriors' second unit opened the fourth quarter with a 70-yard drive to make it a 31-6 game, Staples had one more big play left in it.
On the ensuing kickoff, sophomore Henry Beck caught the ball, found a seam and raced 92 yards up the left sideline for a touchdown to account for Staples' final points of the night.
UP NEXT
Both teams host Homecoming games next week.
Staples hosts Brien McMahon on Friday at 7 p.m., while Wilton will entertain Fairfield Warde at 2 p.m. on Saturday, Sept. 22.
jnash@hearstmediact.com
STAPLES 37, WILTON 12
STAPLES 14 7 10 6—37
WILTON 0 0 0 12—12
S—Kevan Rabacs 72 pass from Jake Thaw (Brad Cox kick)
S—Tim Luciano 2 run (Cox kick)
S—Thaw 25 run (Cox kick)
S—Cameron Lynch 3 run (Cox kick)
S—Cox 23 field goal
W—Thomas Costello 2 run (kick failed)
S—Henry Beck 92 kickoff return (kick failed)
W—Kiel Polito 1 run (pass failed)