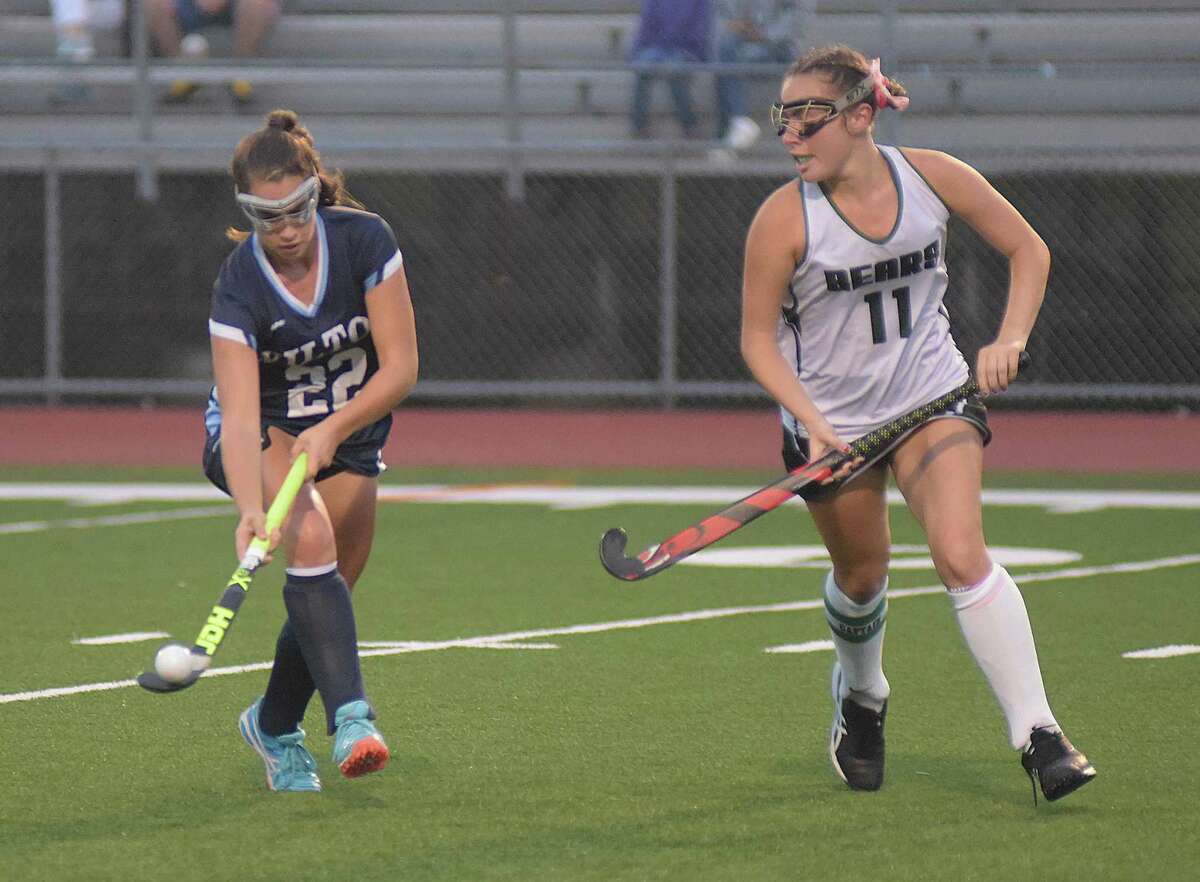 NORWALK — Standing in a field hockey cage that measures 7 feet high by 12 feet wide, Wilton junior Megan Kaeyer, all 5-foot-2 of her, doesn't appear all that intimidating.
Stick some pads on her and give her a stick, however, and the Warriors goaltender comes to life, igniting a very aggressive streak in the process.
On Tuesday night at Norwalk High's Testa Field, Kaeyer made 16 saves — and got help from her defense, which saved three others — as the Warriors knocked off the host Bears by a 6-5 tally in a big early-season FCIAC showdown.
Wilton is now 2-0 on the season while Norwalk slipped to 0-1 after its first outing of the fall.
"I've always been small so I've learned I can't just stand there and take the whole goal up," Kaeyer said. "I have to run out and be aggressive. The intensity was up and it was so exciting out there. Without my defense, we would have been gone. They played really well out there today."
Senior forward Emma Rothkopf scored three goals in the game — giving her seven in Wilton's first two outings — while Katie Oliveri added two goals for the Warriors.
But it was the efforts of Kaeyer — along with defenders like Cassidy Costello, Remi Taubin, Caitlin Nichols and Kimberly Castano — who turned away a lot of Norwalk's offensive onslaught.
"My defense is strong," Wilton coach Liz Pisko said. "It' a new defense, but they're adjusting. (Kaeyer) is just fearless back there. She's not scared to come out of the cage."
LATE-GAME SURGES
Tied 3-3 midway through the second half, Wilton scored three straight goals to create some breathing room.
Olivia Hahn scored off an assist from Castano with 15:37 to play to put the Warriors ahead.
After Norwalk's best player, sophomore Tessa Albrecht, was sent off with a card for the minor infraction of touching the ball after a whistle, the Bears drew a penalty stroke and had a chance to tie the game.
Lauren Deering's shot hit the left post, however, and on Wilton's ensuing possession the Warriors marched down the field and scored on Rothkopf's second goal of the game.
Three minutes later she added another tally to make it 6-3.
Norwalk did storm back behind two goals from Adriana Alfisi to cut the gap to 6-5 with 1:19 to play.
The Bears got the ball in the circle for a last-gasp effort before time ran out.
"We talked about creating opportunities before the game and at half time, about staying in it and creating chances," Norwalk coach Kyle Seaburg said. "If we keep doing that, good things are going to happen."
BACK AND FORTH EARLY
Oliveri staked Wilton to a 1-0 lead before Albrecht scored twice — one on a stroke — to give the Bears a 2-1 edge.
Oliveri scored again to tie it and Rothkopf's first goal of the game gave the Warriors a 3-2 lead at halftime.
After Kaeyer made a diving stick save on Albrecht to keep the game tied, the Bears' Mia Lanzarotto finally evened things up by scoring off an Albrecht assist to make it 3-3.
Wilton's three-goal surge soon followed.
"It was really good competition," Pisko said. "I was proud of them. With every direction and redirection I gave them, they implemented it, which is great."
As far as the high-scoring 6-5 final, Seaburg could only shrug his shoulders.
"Welcome to the FCIAC," he said.
QUOTABLE
"We're still a new team getting to know one another," said Pisko, whose squad lost 11 seniors and nine starters from last year's FCIAC runners-up. "With that being said, we're holding our own. Each one of these players trust each other and it's only going to get bigger and better."
jnash@hearstmediact.com
WILTON 6, NORWALK 5
WILTON 3 3—6
NORWALK 2 3—5
Records: Wilton 2-0, Norwalk 0-1; Goals: W—Emma Rothkopf 3, Katie Oliveri 2, Olivia Hahn; N—Tessa Albrecht 2, Adriana Alfisi 2, Mia Lanzarotto; Assists: W—Robin Clasby, Kimberly Castano; N—Albrecht 2; Goalies: W—Megan Kaeyer (16 saves), N—Jessica Monteiro 3 saves.