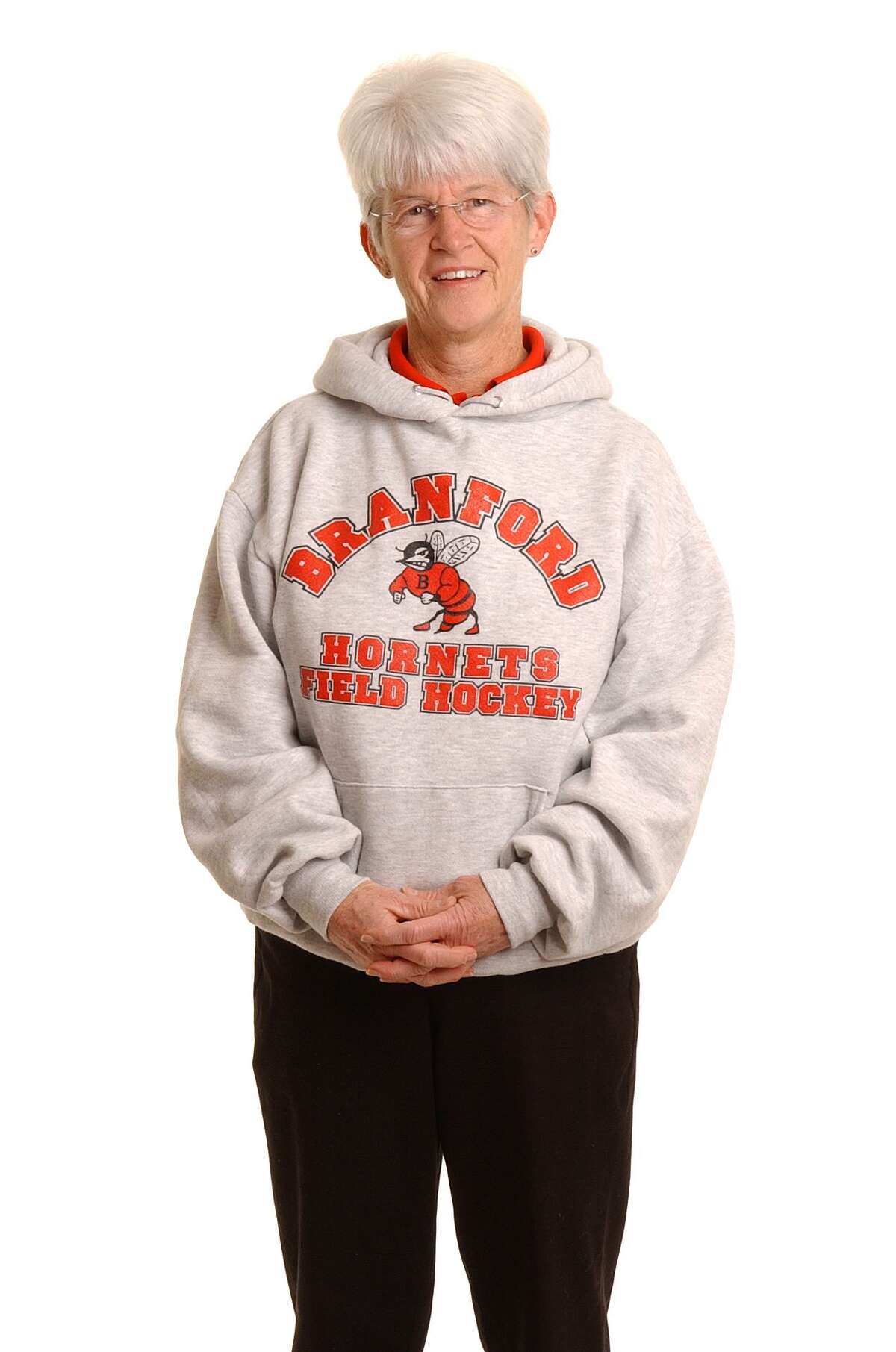 Cathy McGuirk, who stepped down after last season as Branford field hockey coach, received many coaching honors and awards during the 41 seasons she coached the Hornets.
Now, for the second time, she is being recognized nationally. McGuirk has been named to the National Field Hockey Coaches Association Hall of Fame. She will be inducted at the NFHCA awards dinner on Jan. 17, 2019 in Lake Mary, Fla. McGuirk was named National Field Hockey Coach of the Year in 1994.
"When I got the call I was humbled and surprised," McGuirk said. "I was honored nationally with the National Coach of the Year award in 1994, but this one is something special. To get an award like this and be recognized from this group (NFHCA) is quite an honor."
McGuirk ended her career with an overall record of 558-129-66-12. She leads all CIAC field hockey coaches with the most career wins. McGuirk's teams won 17 regular-season league titles and won a SCC tournament title in 2016. Her teams qualified for the Class M tournament for the 40th straight season in 2017 and made 14 Class M championship appearances (won 10 titles).
The Hornets advanced as far as the Class M semifinals 29 times in the last 38 years. The 38 years is how long her husband John McGuirk served as her assistant coach. They celebrated their 50th anniversary in August.
"You receive an honor like this for what your teams did and what your players did over the years," Cathy McGuirk said. "And it's due to John, too. It's not just me, it's us because John has been right there with me."
McGuirk has a long list of awards. She was selected a Register All-Area Coach of the Year twice. In addition to the NFHCA Hall of Fame, she has been inducted in six other hall of fames — Branford Education Hall of Fame, Branford Sports Hall of Fame, CHSCA Hall of Fame, New Agenda Northeast Sports Hall of Fame, Southern Connecticut Sports Hall of Fame and Connecticut Field Hockey Hall of Fame. She also received a Gold Key from the Connecticut Sports Writers Alliance in 2014.
Wilton winning
Entering Tuesday's games, Wilton, ranked No.4 in the state coaches poll, was one of five teams in the state to start the season 4-0. Second-year coach Elizabeth Pisko credits a combination of items for the success and in particular hard work.
"This year, my girls have been working hard not only on their actually skill sets but in building their relationships on and off the field," Pisko said. "From the start, I wanted my girls to have a better understanding of who each other are as individual athletes. Just as students have preferred stronger learning styles in the classroom, which is important for others to know, athletes also have individualized playing styles that are crucial for both coaches and teammates to understand in order to better their level of play."
Pisko said working hard to improve the basics has enhanced her team's level of play every day. Among some of the top offensive players on the team are forward Emma Rothkopf and midfielders Olivia Hahn and Robin Clasby. Among the leaders on defense are defenders Cassidy Costello and Kimberly Castano and goalie Megan Kaeyer.
"Our solid start gives us some momentum moving forward," Pisko said. "We have a strong group of girls who are very coachable. They are in it for the love of the game and of course they want to win."
Experience key for Cheshire
Entering Tuesday's game against visiting Mercy, Cheshire coach Eileen Wildermann wasn't surprised by the Rams' 3-0 start. She did praise her team for overcoming some tough weather conditions to start the season.
"I'm pleased with our team's ability to work through the very inconsistent start to this season that all teams have faced due to canceled practices from heat and a lot of rain," Wildermann said. "Our team also worked well through the three very different playing styles we faced. New Canaan was our biggest challenge (2-0 win). They are incredibly talented and balanced. That was a big boost for us going forward in knowing where we stand.
"Our strength this season lies in our experience. We have a core group who have started for two or three years. Their knowledge and communication skills help the new starters and players adapt quickly to the game. The captains demand the absolute best from the team in a manner that showcases excellent leadership."
While the Rams' top offensive players Mikayla Crowley and Annie Eddy have impressed opponents, Wildermann is quick to point out the Rams' experience and depth that complements those solid players. The depth on both ends of the field has led to the Rams outscoring their first three opponents 15-0.
"After each game, coaches have asked who are No. 3 (Crowley) and No. 24 (Eddy)," Wildermann said. "Their field play is dominant. In addition to those two, we have great experienced players like Jade Barnes (defender). She refuses to allow an opposing attacker to beat her.
"Our goalkeeper, Lexie Hemstock, has returned this season incredibly focused and aggressive and started with three shutouts. I actually would love to praise my entire lineup, but there isn't enough room in your newspaper space to do that. Having a good start is always a positive, but once we play teams like Hand (Oct. 1, away), Guilford (Oct. 19, home) and Branford (Oct. 22, away), we will know where we stand better in the SCC and in the state."
Westbrook field hockey coach Janet Dickey, who compiles and organizes the annual Coaches Top 10 Field Hockey Poll, has released the first one of the season. And surprise, surprise the FCIAC dominates the poll with four teams in the Top 10 — No. 1 Staples, No. 4 Wilton, No. 9 Darien and No. 10 Ridgefield. The SCC rounds out the top three teams with Hand at No. 2 and Cheshire at No. 3.