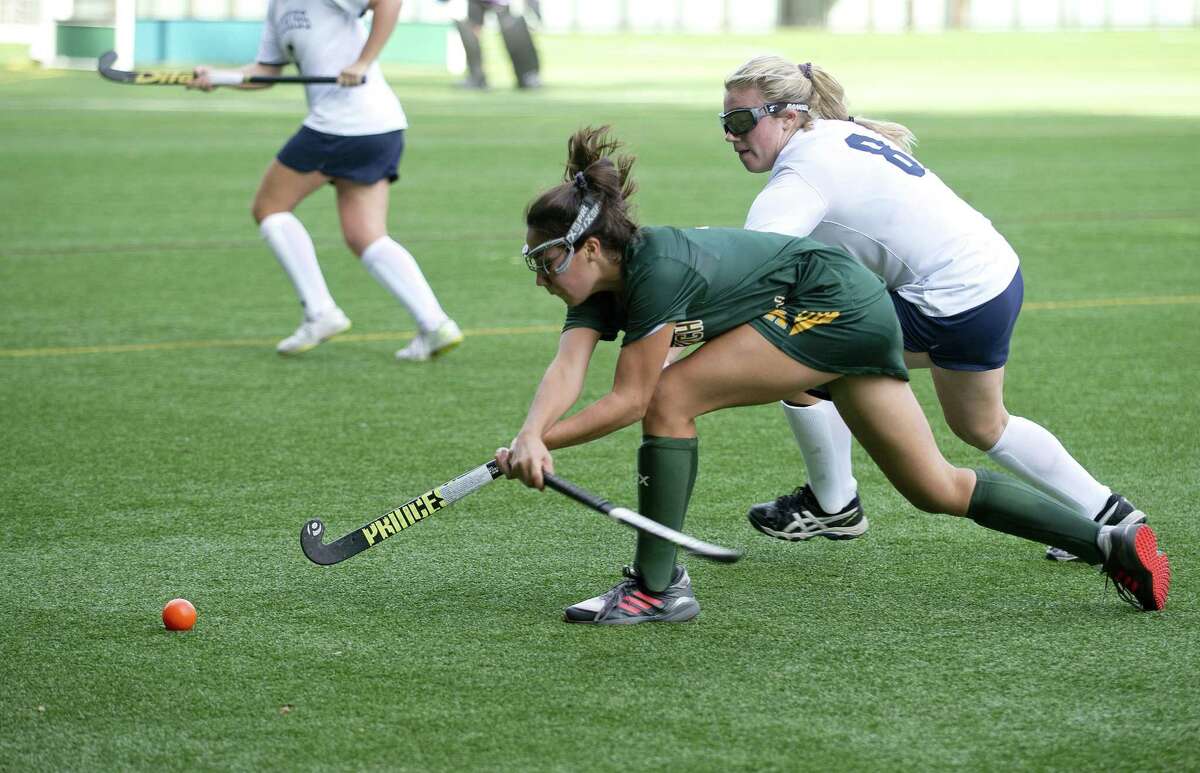 GREENWICH — Greenwich Academy registered a three-goal win over Hotchkiss School in the 2017 NEPSAC Class A Tournament semifinals, but most of the meetings between the rivals over the years was a back-and-forth duel, decided by one goal.
It was back to that Saturday, between the Gators and Bearcats, both of whom are known for their championship pedigrees in New England field hockey.
Host Greenwich Academy entered Saturday's showdown undefeated and unscored upon through five games, but Hotchkiss figured out ways to rattle the cage.
Tallying twice in the first half, then adding the go-ahead goal 6:44 into the second half, Hotchkiss recorded a well-earned 3-2 victory over Greenwich Academy at Tammaro Field.
"It's always a good game when we can play GA, they are always a great team," said Hotchkiss coach Kaitlyn Leonard, who also played field hockey at Hotchkiss during her high school days. "For us, it's really exciting to play well together as a team and get a victory."
Greenwich Academy posted regular-season victories of 2-1 in 2017 (overtime) and 3-2 in 2016 against Hotchkiss and Saturday's matchup had the same intense feel.
After GA tied the score at 2-2, junior forward Sandrine Brien tallied shortly after a penalty corner, putting the Bearcats on top, 3-2 with 23:16 remaining in the second half. Gators goalie Hamilton Doster made the initial save on the penalty corner, but Brien got her stick on the rebound and converted.
"Hamilton was saving the ball, but we did not clear it out the circle once it came off her pads, they showed that hunger in the circle," GA coach Jamie Brower said.
STARTING STRONG
Hotchkiss took a 1-0 advantage at the 14:15 mark of the opening half. Kiernan McGolgan began the Bearcats' penalty corner with an insert pass and after the ball was knocked around in the circle a bit, Abby Hillebrecht tallied from close in for the game's first goal.
"I went in a little further in the corner than I usually do, I felt I had poise with it and I took my time and I took my shot," Hillebrecht said. "We wanted to keep up the pressure after that."
The visitors did, and as a result, extended their lead. Moving the ball in the Gators' circle, Gianna Bruno knocked in a rebound, giving Hotchkiss a 2-0 edge. Mackey Bommer, who had a strong overall game, assisted on the goal.
"Every time we had the ball there were two or three white jerseys right away, so it's hard to do stick work and when you are getting pressured when you have the ball," Brower said. "Hats off to them, they came ready to go and they came out fired up. We started slow and had trouble finding rhythm with all the pressure they put on us."
TYING IT UP
Katharine Glassmeyer put the Gators on the scoreboard with 6:57 to go in the first half, tallying off a penalty corner and cutting the Bearcats' lead in half. Glassmeyer was the recipient of a pass from Maya Walker.
With 26:39 left in the second half junior Grace Schulze made it 2-2, lifting a high shot over the shoulder of Hotchkiss goalie Amanda Hill. Lila Murray set Schulze up for the goal. The Gators generated five penalty corners, but could not get that third goal they were seeking, as Hotchkiss' corner defense was solid.
"We have a wonderful flyer and played a different formation which allowed us to play a little more of a solid team defense on our corners," Leonard said.
Koster made five saves in goal for GA, while Hill also stopped five shots."