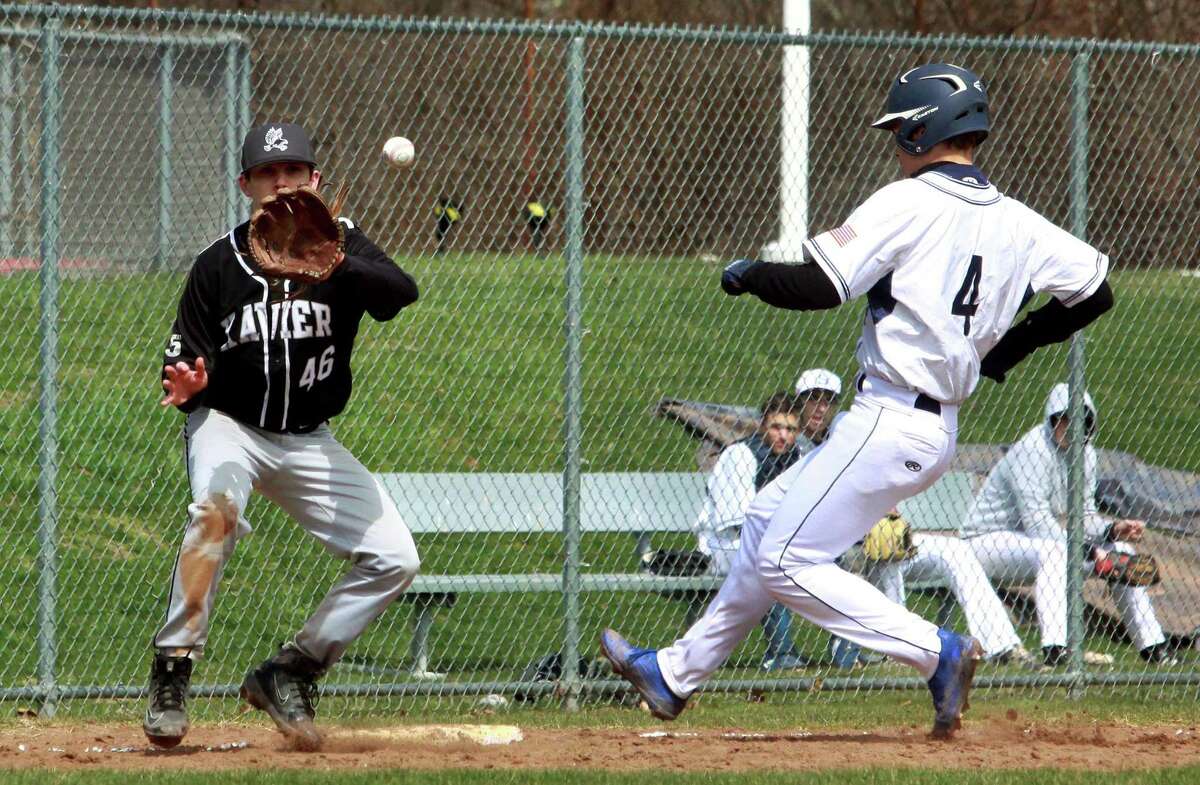 WESTPORT — Well, that didn't take long.
The defending Class LL state champion Staples Wreckers got its season started with a bang as a walk-off three-run home run from Drew Rogers propelled the team over visiting Xavier 5-3 on Saturday afternoon.
"How'd you like that heart attack?" Staples coach Jack McFarland asked with a smile after the game. "We take this FCIAC/SCC thing seriously. I told the kids we're representing the FCIAC. It's not a league game, but we want to play good baseball."
Staples scored two runs in the first inning, but struggled to get any offense going against Xavier starter Ray Seward, who pitched the whole game and made things hard for the Wreckers.
"Ray pitched a gem," Xavier coach Nick Cerreta said. "He's a gamer. He comes in here, first start of the year, throwing against the No. 1 team in the state and you couldn't ask for anything more."
Although Xavier was getting a great performance on the mound, it was the lack of run support that would prove to be their undoing.
The Falcons stranded at least one runner on base in every inning, including in the top of the seventh when they left the bases loaded.
"We didn't give him enough run support," Cerreta said. "We didn't come through with the bats and that's been our Achilles' heel in our first two games. That makes us 0-2 when we could be 2-0. But we're going to fight, we're a gritty team."
Staples was able to get a strong performance from its bullpen after Xavier knocked out starter Jack Portman in the second inning.
Senior Alex Cheema pitched four innings and gave up only one run to keep the Wreckers close.
Sam Robin, Alex Deutsche and Max Popken all came in to get Staples out of some tough situations without allowing a run — including Popken striking out a pair in the seventh inning, stranding the bases loaded — that set the stage for Rogers' heroics.
"This staff is great," Cheema said. "We just have a bunch of pitchers that we know can do the job. Pitching really is the key to our season. We have the hitting, we have the fielding, but we have to pitch. If we keep doing what we did today, we're going to be really good this year."
In the bottom of the seventh, Staples got a man on before Chris Drbal singled. After the runners moved up on a passed ball, Seward struck out Chad Knight, who finished 0-4 with a pair of strikeouts, before Rogers stepped to the plate.
The Staples senior took a first pitch fastball and knocked it over the right field fence.
"It felt great," Rogers said. "I had a great hit my last at-bat, so I just tried to stay with the same approach. I thought he might want to come back with a fastball on the first pitch, so I just waiting for it and looking for something out over the plate, trying to drive it out to right field and I just got under it a little bit and it went just enough. It felt great going around the bases."
BIG WIN TO START THE YEAR
After getting off to a slow start last season, the Wreckers were excited to start the 2018 year with a win.
"We know we're good. But we also know that we have to stay focused if we're going to repeat this year." — Alex Cheema said after the Wreckers 5-3 win.
NO LONGER STUCK INSIDE
After getting its first game of the season rained out on Tuesday, the Wreckers were just happy to get back on the field.
"We were just very energetic today," It's just nice to be outside, this is great." — Cheema said with a laugh about finally getting a chance to play.
STAPLES 5, XAVIER 3
XAVIER 111 000 0—3 10 4
STAPLES 200 000 3—5 8 3
Records: Xavier 0-2, Staples 1-0. Batteries: X—Ray Seward (L, 0-1) and Tyler Lappe; S—Jack Portman, Alex Cheema (2), Sam Robin (6), Alex Deutsche (7), Max Popken (7) (W, 1-0) and Matt Stone. Highlights: X—Dylan Albert hit a leadoff home run. Bryce Hammen went 3-for-3. Seward struck out three. S—Chris Drbal went 2-for-4 with two runs scored. Stone went 1-for-3 with a double.