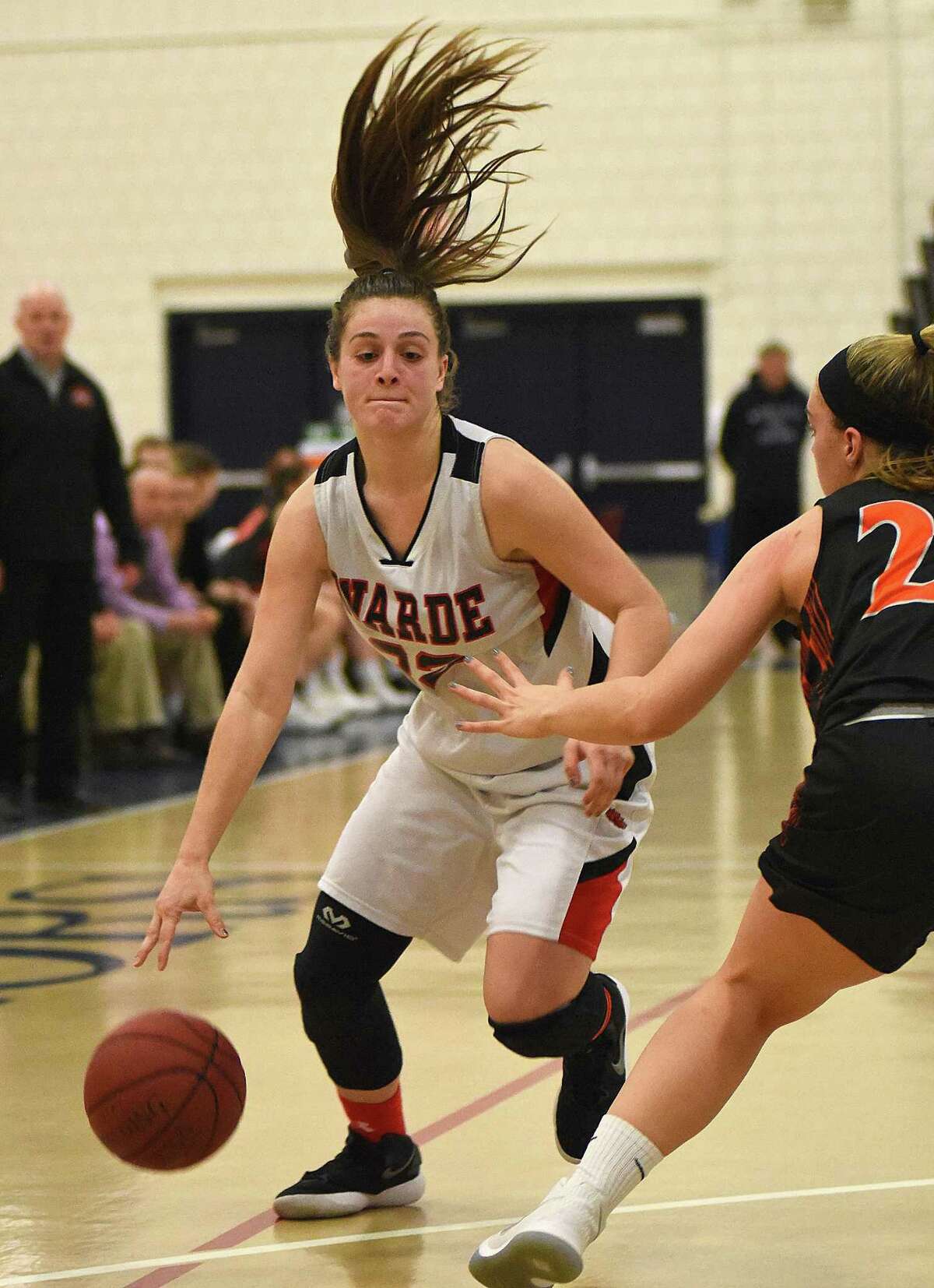 WILTON — Fairfield Warde senior Olivia Parisi was the only player in the conference to be named unanimous All-Conference this season.
It didn't take long for her to show why.
Parisi scored 12 points in the fourth quarter to lead the Mustangs over Ridgefield 38-33 in the FCIAC quarterfinals on Saturday afternoon.
"Without her it would be tough," Fairfield Warde coach David Danko said. "She steps up in the big moments."
Parisi finished with a game-high 22 points, to go along with 12 rebounds, and five assists. After routing the Tigers earlier in the season, Warde knew that this matchup wouldn't go as easy, Parisi said.
"We kind of expected them to have improved a ton," she said. "We played them at the beginning of the season, they were a young team. We beat them by 20 points. But we knew that they were going to be a lot more tough."
Despite a low scoring first half, both teams slowly started to get into the rhythm of the game. Ridgefield leaned on the experience and grit of its lone senior, Caroline Curnal.
Curnal finished with 10 points and 15 rebounds to lead the way for the Tigers, but it was the inability to get the tempo to the pace they wanted or get a timely hoops that made it difficult for Ridgefield to get an advantage, Tigers coach Thomas DiMarzo said.
"We just didn't execute offensively," he said. "We knew they were going to try to keep it here in the 30s or low 40s. We tried to speed it up, but we just didn't make enough shots."
With the win, the Mustangs move on to the FCIAC semifinals to face the winner of the matchup between Wilton and Staples on Tuesday at Fairfield Ludlowe.
Although Warde struggled to take care of the ball — turning it over 20 times — the Mustangs continued to feed the ball down to Parisi, who said getting to this point was no fluke.
Regardless what the rest of the world though.
"We were all kind of fired up at the beginning of the season when no one really though we were going to make the FCIAC Tournament at all," she said. "Before the tournament, all the reports were saying that we were going to lose and everyone got upset. I was like 'guys this is okay, we are going to prove them wrong."
NO MCKENNA
Danko confirmed that the Mustangs will be without starting point guard Libby McKenna the rest of the way. The senior didn't play against Ridgefield and will be out with a concussion suffered late in the season.
SAME SONG, DIFFERENT VERSE
The only matchup during the season between the two teams was back on Dec. 18. It was the third game of the season for Warde and the second game of the season for Ridgefield. The Mustangs knocked off the Tigers at home 47-27.
But Warde coach David Danko said the Tigers are not the same team they played in December.
"There is a foundation set that this team can make some noise here on in. I'm glad I got them early. They've come a long way."
FAIRFIELD WARDE 38, RIDGEFIELD 33
RIDGEFIELD 5 6 10 12—33
FAIRFIELD WARDE 5 7 10 16—38
RIDGEFIELD (14-7)
Caroline Curnal 5 0-3 10 Kate Wagner 2 0-0 6 Bella Giordano 0 0-0 0 Sabrina Grizzaffi 0 0-0 0 Katie Flynn 1 2-2 3 Megan Klosowski 3 3-4 9 Faith Arnold 1 1-2 3 Claire Tannian 0 0-0 0 Katherine Garson 1 0-0 2 Cameron McClellan 0 0-0 0. Totals: 13 6-11 33
FAIRFIELD WARDE (17-4)
Toni Lamparski 0 0-0 0 Ava Fitzpatrick 1 0-1 2 Kristina Krasniqi 0 0-1 0 Emily Johnson 0 0-0 0 Catherine Allison 4 1-2 9 Caroline Aufiero 0 3-4 3 Olivia Parisi 8 4-6 22 Aleysha Henry 1 0-1 2. Totals: 14 8-13 38.
3-Pointers: R— Wagner 2
Highlights: F—Krasniqi had four rebounds, one steal, and one assist ; R—Wagner had two rebounds, two assists, and two steals.