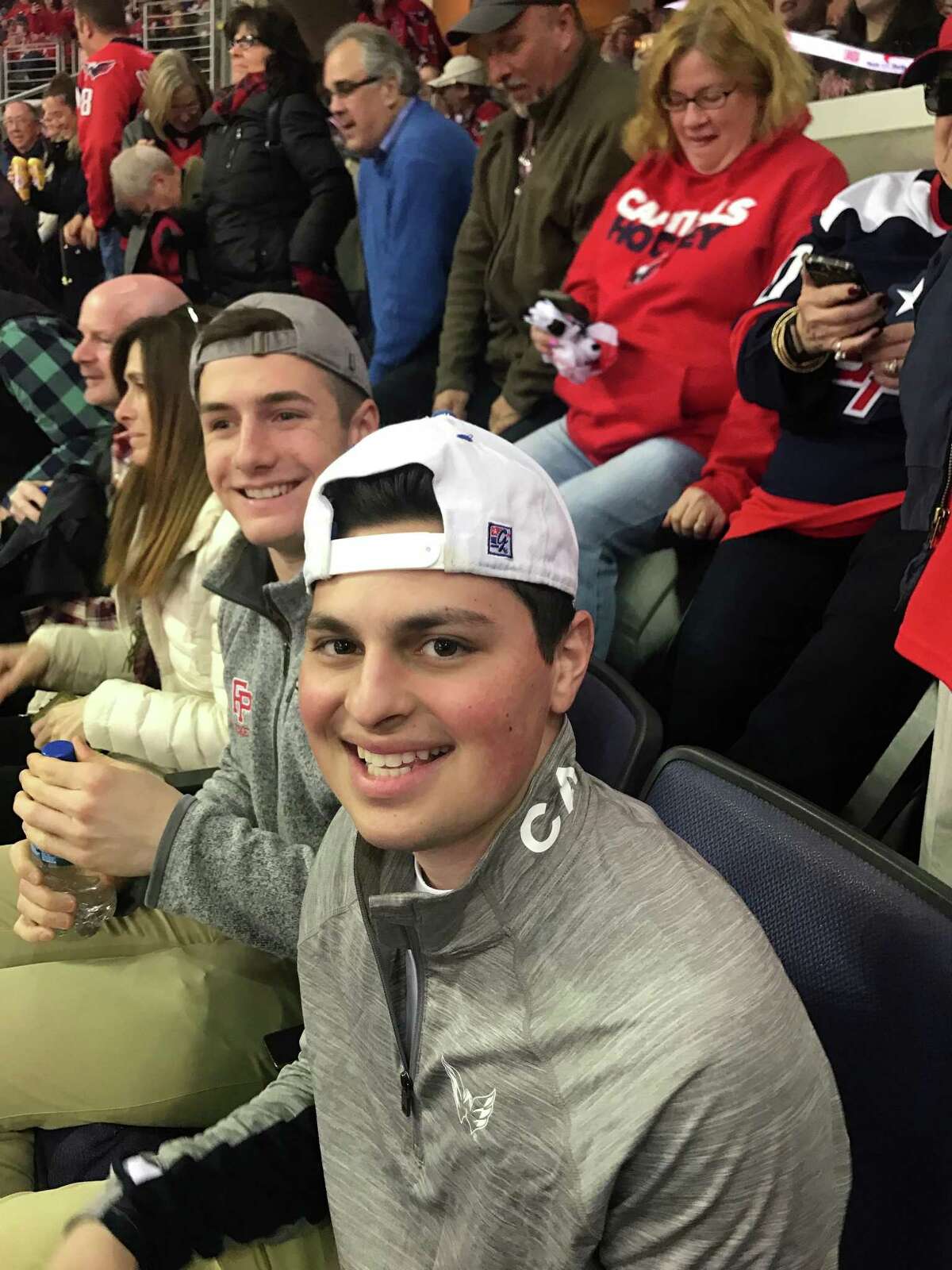 FAIRFIELD – "I want to show you something," Charlie Capalbo is saying as he starts to roll up one of the sleeves on his T-shirt.
But before he finishes the grand unveiling, you can't help but notice Charlie's smile. It's big, it's genuine, it's emotional. For someone that's gone though what Charlie has gone through over the past year, that smile is a sight to behold.
"What do you think?" he asks as he reveals a large, gold ribbon tattoo – gold is the color for pediatric cancer patients – with the year 2017 inscribed on it. A second year, 2020, will be added when all is said and done with his treatments.
"Cool, huh?" he says.
A year ago, a tattoo would have been unthinkable. Honestly, even now, the risks involved in getting it were large. There could have been an infection or poisoning from the ink, but Charlie wanted it. He needed to document the road he's traveled from last year until now. And he was going to keep asking until the doctors finally relented. They did.
"I've always wanted a tattoo, but I never knew what I wanted," Capalbo said. "I didn't have anything meaningful enough that I would want to put on my body forever and once I hit maintenance I was like, this (cancer) is my life now, and I was like 'this is something I want on my body for the rest of my life,' but … I was a little scared of my doctor, asking her …
"So, I asked the nurse to ask permission and the nurse was like, 'Are you out of your mind? Are you crazy?' and I was like, 'Can you please just ask her for me?' "
Charlie's mom, Jennifer, said that the nurse kept trying to talk him out of the thought.
"The nurse was like, 'I don't want to ask her … and by the way, why do you want a tattoo?' " Jennifer said. "He explained it to her and she said, you could get an infection your (blood) counts are low, but I'll ask. And she asked the doctor, not telling her who was asking and right away the doctor said, 'Is it Charlie?' "
Eventually, the doctor relented.
"The doctor said she wouldn't say yes to anyone else," Charlie said. "She told us not to tell anyone. I trust you to keep it clean and go someplace clean and be smart about it."
It's been about 15 months since Charlie and the Capalbo's world was turned upside down with the diagnosis that Charlie had non-Hodgkin lymphoblastic lymphoma T-cell Stage 3 cancer. A tumor the size of a softball was lodged between Charlie's heart and his left lung. It was inoperable. That was March of 2017.
It was about a month earlier when Capalbo – the starting senior goalie for the Fairfield co-op boys' hockey team – started feeling under the weather. He thought it was the flu and battled through it over the next couple of weeks as the Mustangs played in both the FCIAC and CIAC tournaments. In a 5-4 overtime loss to Greenwich in the FCIAC tournament, he made 32 saves. In the Division I tournament, a 5-2 loss to West Haven, he stopped 27 shots.
All with a tumor growing in his chest.
Visits to walk-in clinics and the family physician provided little answers and little relief and when chest X-rays and blood work finally revealed the tumor, Capalbo was racing to the ICU at Yale-New Haven Hospital.
"People ask me if I regret having waited that long (to be officially diagnosed), not a chance," Charlie said. "I didn't want to stop playing hockey. If I didn't get to finish my hockey career … It might have changed how I felt a little bit, but it didn't change the outcome."
"There were symptoms … he wasn't eating, but none of us in any of our wildest dreams, or nightmares, would have ever thought that he a had tumor in his chest," Jennifer said. "After the diagnosis … I cried, every night."
First came a 28-day treatment phase called 'induction.' Next, another 28-day treatment phase called 'consolidation.' Then, a third phase 'intermaintinence' took place. That phase had Capalbo in and out of the hospital, several times fighting for his life.
Eventually, the doctors found better acting medications that have allowed Capalbo to slowly – very, very slowly – get back to trying to become a 'normal' kid.
"I'm almost there (normal). I wouldn't say 'normal' yet but you can see the light," he said. "You know it's almost there, it's coming. I still have these chemo pills that I have to take every day, it's like 20 pills a day … these pills, you can't eat an hour before and two hours after and I love to eat. It's horrible that I can't eat for three hours.
"As for chemo, I go every other week. Technically, you only get chemo once a month, all the stuff in-between is for 'count' checks to see how you're handling the new phase. So, after a while when they get the right dosages on the pills that I take and see how my body's handling maintenance, That week in-between 'count' check will go away."
Of course, there will continue to be setbacks. Recently, Capalbo started a new cycle of maintenance and had what's called a vincristine infusion, methotrexate lumbar puncture (spinal), pentamidine lung treatment and chest X-ray
Say that three times real fast.
It was discovered that Charlie's platelets were too low, so he had to have a blood transfusion. Once at 140 pounds, he's lost about six pounds and has been tired and appetite inconsistent. The good news, however, is the chest X-ray showed no evidence of the tumor.
Recently, Charlie has been feeling pretty good as his doctors continue to try and find just the right dose of his daily chemo pills. The original dose proved to be too much and Charlie had been pretty sick but the doctors have downgraded his medicines to 75 percent of its original dose with the hope that will do the trick.
In continuing to work toward that 'normal' routine, in the spring, Charlie took a micro-economics class at Fairfield University this spring.
What?
"That's pretty much everyone's reaction … it wasn't my first choice," Charlie said. "My first choice would have been psychology, I had an interest in that in high school and I enjoyed it. When registration opened I waited and when I finally booked a course, micro-economics was the only class left."
"I warned him," Jennifer said.
This fall, Charlie will head up South Benson Road to attend Fairfield full-time.
"We're so happy," Jennifer said. "He's happy, he smiles. When he goes to class, don't make fun of me (pointing at Charlie) … he skips down the back steps. Who does that? He does because he can."
Along with the micro-economics class, Charlie has gotten back on the ice and staked, he went skiing for the first time at Butternut Basin and attended a Sound Tigers hockey game. This summer there are plans to vacation at Block Island, visit a friend at UCLA and see Bruce Springsteen.
To see him this happy and active, despite the occasional setback, it's almost surreal to his father, Anthony.
"It's such a feeling of relief," Anthony said. "It feels good … it feels good. It doesn't seem like everything that happened, happened."
Said Jennifer: "It's hard to put into words … I come downstairs sometimes, and I see him and it's hard not to go overboard with love. I want to hug him all the time. There are times when he leaves the house and Anthony and I will look at each other and go, 'Can you believe it?' Just how far he's come and how many times we thought he might not ever get to this point.
"They don't give you odds which is probably smart, what they do is say 'A lot of kids do really well' that's what they say. There are a lot of 'probably's' and 'we hope' … things like that. But he just started off so much worse than everyone else."
On May 24, Charlie celebrated his 20th birthday with his favorite meal, French Toast.
"Last year on his birthday, he was in the hospital, no hair, recent treatment … it was a low point," Jennifer said. "He was in septic shock, pancreatitis had just started, all that has just started."
This year, I'll be making him French Toast … that never gets old for you, does it, Charlie?"
Charlie flashes that big smile.
No, that will never get old.