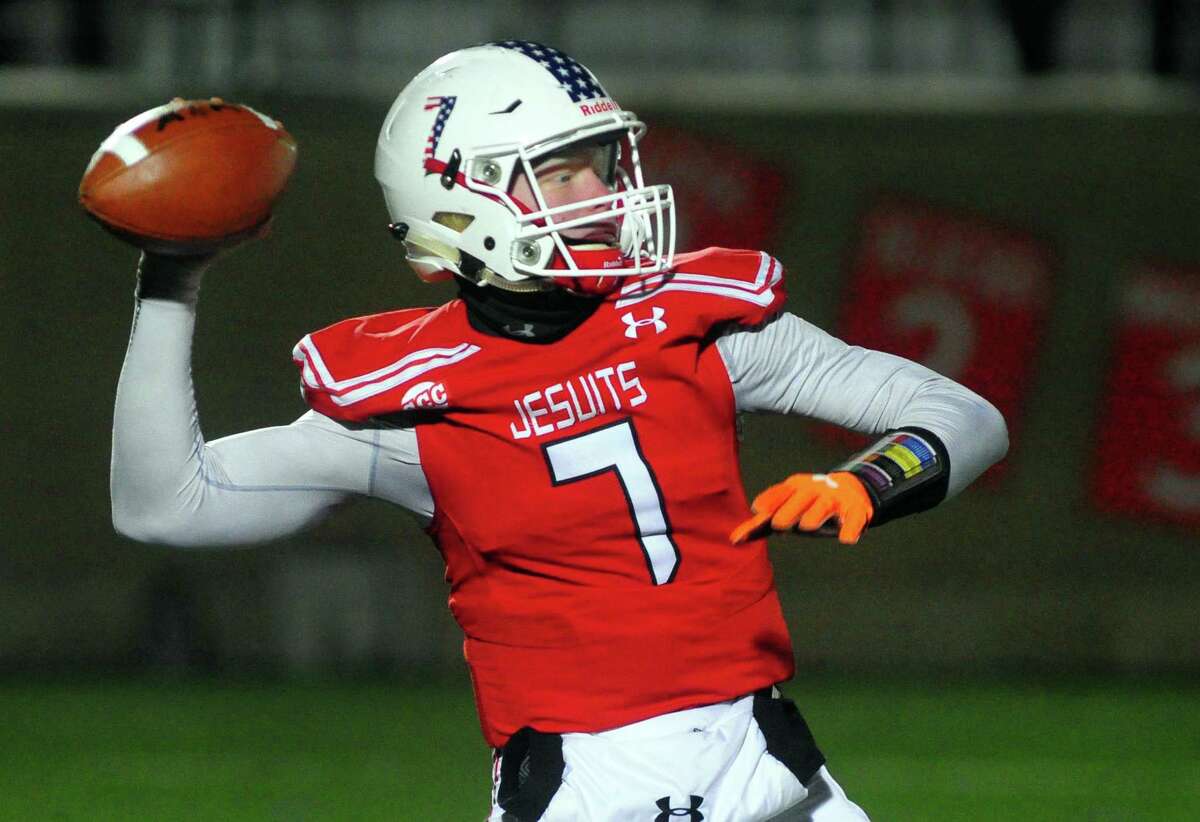 FAIRFIELD — Sean Nelson made sure his final game in a Fairfield Prep football uniform counted.
The senior ran for three touchdowns and 119 yards helping power Prep to a 28-0 victory over West Haven Thursday morning at Rafferty Stadium.
Although Prep saw its Class LL playoff hopes dashed in last week's 49-19 loss to Shelton, the Jesuits seniors bounced back quickly.
"It was absolutely difficult," Nelson said. "The way we lost last week it was hard on the seniors especially, but we came out here and knew we had to end on a high note and finish on a high note. That's what we did."
Nelson helped the Prep (6-4) running game establish itself early on a windy morning that made passing difficult.
On the second play from scrimmage Nelson broke a 39-run up the middle and scored four plays later.
"My O-line opened up a huge hole and knew it was going to be that kind of day — ground and pound," Nelson said. "That's what we've been trying to thrive on all year."
Staked to an early lead, the Jesuits' defense dominated for the first two quarters and eventually the entire game.
Prep held West Haven to four yards in the first half — 26 coming on a pass from Andre Rentas to Troy Nelson on the second-to-last play of the half. One play later junior Kyle Vaccarella ended the half with his second sack, which also jarred the ball loose from Rentas.
Vaccarella finished with four sacks and is optimistic about the direction the Jesuits defense is headed.
"I feel like with everyone getting varsity experience we'll be a very good defense," he said. "We just have to keep grinding."
The Jesuits also gained 93 rushing yards from junior Dean Tsiranides, who also scored on a 23-yard run in the second quarter. Freshman quarterback Champ Long added a 25-yard scramble in the second half.
"I wish we could have been in the playoffs but the important thing about this is the brotherhood and the bond between the boys and how they played for each other," Jesuits' coach Keith Hellstern said. "That's how important football can be helping them become better men."
Both teams mentioned the difficulties and realities of playing an uncompromising SCC Division I schedule over the course of the 10-game regular season.
"We played the most-difficult schedule in the state and our kids never really found a way to pull one of those out," West Haven coach Rich Boshea said. "Prep dominated us today. We're really worn down and beat up. We have a lot of kids out hurt and that's what happens when you play 10 good teams."
West Haven finished its season 2-8.
PLAYER OF THE GAME
Sean Nelson, Fairfield Prep — The senior ran for three touchdowns and 119 yards.
QUOTEABLE
"It's a great feeling. I love these guys more than anything." — Nelson on his final high school game.
FAIRFIELD PREP 28, WEST HAVEN 0
WEST HAVEN 0 0 0 0—0
FAIRFIELD 7 7 7 7—28
FP—Sean Nelson 1 run (Max McGillicuddy kick)
FP—Dean Tsiranides 23 run (McGillicuddy kick)
FP—Nelson 7 run (McGillicuddy kick)
FP—Nelson 3 run (McGillicuddy kick)
Records: West Haven 2-8, Fairfield Prep 6-4